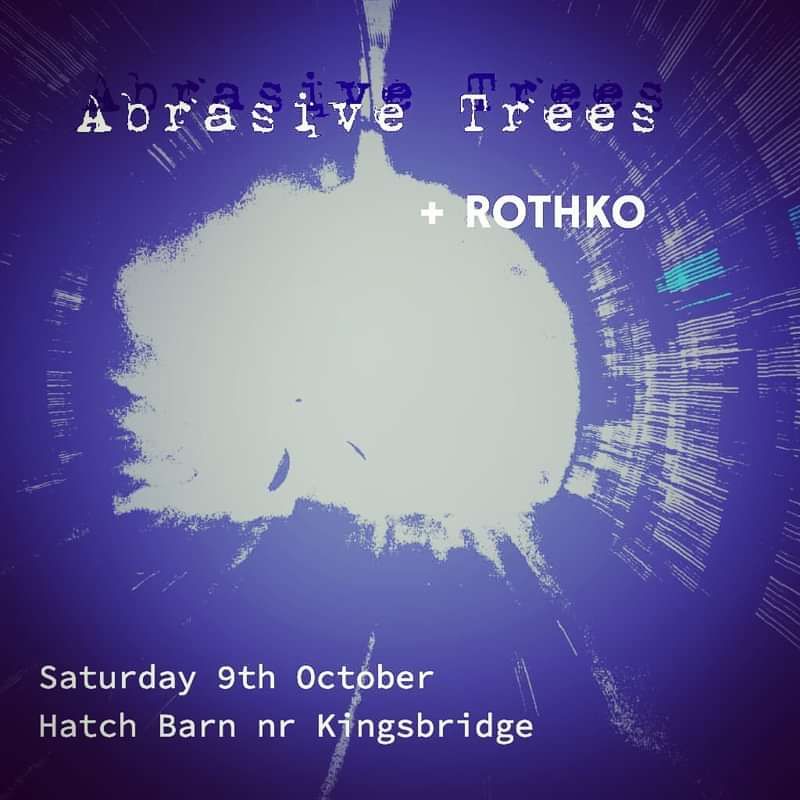 The Black Bird Collective presents:
Abrasive Trees + Rothko
Buy Tickets
After their sell-out show in Totnes, Abrasive Trees will be playing a slightly bigger show at the incredible location of Hatch Barn, near Kingsbridge. Joining them will be sonic explorers and influential no-rock pioneers, Rothko.
Abrasive Trees have been described as 'stunning' (BBC Introducing), 'atmospheric' (Post-Punk.com) and 'perfectly evocative' (Aural Aggravation).
Their musical creations display a willingness to experiment alongside a sound that sits loosely within the post-punk aesthetic with definite influences from post-rock, folk and psychedelic-rock. More accurately though they are the expressions of an inner world that is at times intense, but ultimately hopeful.
Their music connects with themes of the spiritual, the fragility of our psyche, attempts to convey what is ultimately inexpressible - all delivered with irresistible riffs and a powerful mix of distorted cello, entwined guitars and leviathan drums.
Listen/watch: https://linktr.ee/abrasivetrees
Rothko's acclaimed and influential music has been described as 'making space for both the tenderness of resonant quiet and the anguish of distorted noise' (Bandcamp) and spans several decades across labels such as Lo Recording, Fierce Panda and Bella Union.
Seen by many as pioneers of 'no-rock' for their use of electric bass and mainly stripped back but deeply evocative instrumental music, the project continue to release music via their own Trace Recordings label. An impressively collaborative project that has included work with Susumu Yokota, Caroline Ross, Four-Tet and Second-Hand Poet, Rothko is led by London-based musician and producer, Mark Beazley.
Listen: https://rothkobandcamp.com/album/refuge-for-abandoned-souls
The venue for this show is a 200-year-old barn in the South Devon countryside, not far from Loddiswell and Kingsbridge (lift-sharing is available, please email explosion.in.sound@gmail.com). It's an incredible venue and perfect for this night of extraordinary music.
To book your place please use the link within the event or here: https://forms.gle/7UehEeBECrgy7AzQA
You can also book by messaging The Black Bird Collective or by emailing Christian via explosion.in.sound@gmail.com.
Important: payment is £10 payable by cash on the door - but it's important that you book in advance.