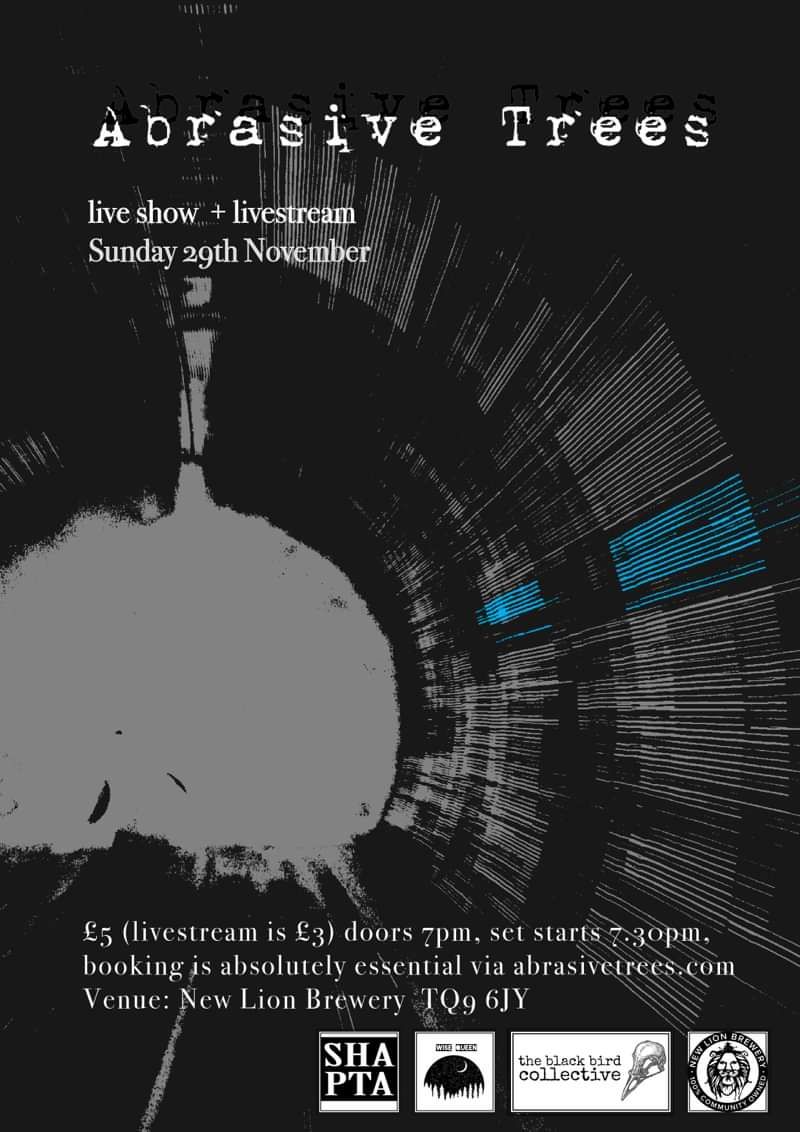 The Black Bird Collective presents:
ABRASIVE TREES
Buy Tickets
Following on from their critically acclaimed debut single, Abrasive Trees are making a special live appearance with full band and visuals at New Lion Brewery in Dartington on Sunday 29th November. There will be a very small number of tickets available for the actual show for £5, with a simultaneous livestream also available for only £3 per ticket.
Abrasive Trees is the creative project of Matthew Rochford (RISE/Rothko/Council Of Giants) and the band features an array of talented musicians in Ben Roberts (Evi Vine/RISE), Jay Newton (Quiet Quiet Band), Will Tyler (Be Water/RISE), Jerome Hutchens (Kuki and The Bard) and visual artist Jess Wooller. Essentially experimental in nature, Rochford's music could be described as spectral, intricate and immersive drawing from a wide variety of sources from post-punk, psychedelia and post-rock. The overall effect is hypnotic and cathartic.
Video: Bound For An Infinite Sea https://youtu.be/onMckhWQ4bw
"a stunning, grungy, moody debut" BBC Introducing
"a sonic narrative, with intricate layers of wandering bass and spectral guitar melodies that give way to gliding flourishes, bringing forth an atmospheric song whose echoing vocals haunt every moment" Post-Punk.com
"emerging from a thick atmospheric mist, 'Bound for an Infinite Sea' has gothic overtones, with picked guitars echoing out over a deep, rumbling bass. With hints of early Cure, Skeletal Family and Salvation, it broods through shadowy shapes in a fashion that's perfectly evocative of the early 80s post-punk sound, but it's also spun with an ethereality that owes as much to the 4AD roster and 90s shoegaze" Aural Aggravation
"it's gorgeous, it's sweet, it's melodic, it's moody, it's beautiful, it's all things. Music straight from the heart" Artgalore
"excellent British experimental post-punk" FV Music Blog
"a great and moody track" Darkness Calling
"eclipses the sun with a thick mist of rumbling notes, echoing guitars and spectral vocals. Through this thick musical soundscape, glimmers of positive energy flit past you before you are again covered by the unrelenting ambient soundscape" The Other Side Reviews
"evocative, flowing tunes tease out emotions and aspirations and keep you reaching for the 'repeat' button" ArtsCulture Mag
"love his music" Independent Music News
Tickets must be booked in advance and are available from abrasivetrees.com. The doors open at 7pm, with the band due to start their set at 7.30pm. Social distancing measures will be in place. Table service will be provided for drinks.