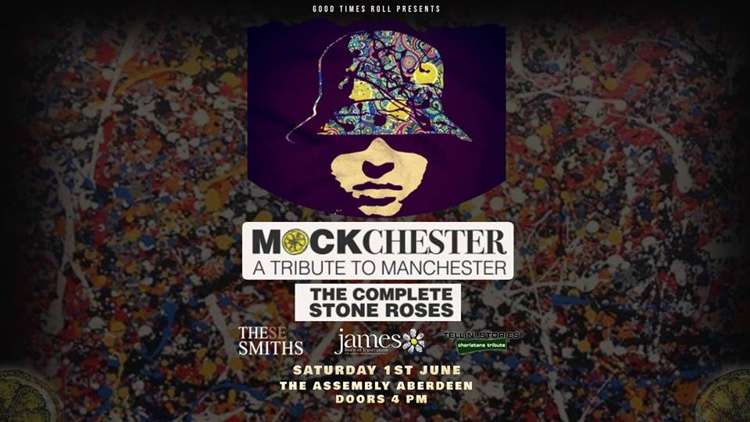 Mockchester
Buy Tickets
Good Times Roll in association with Newmachar Events brings MockChester to Aberdeen.
MockChester Aberdeen Saturday 1st June The Assembly Aberdeen Doors 4pm 18+
A Huge Tribute to Manchester featuring:
The Complete Stone Roses - The UK's most well known, most seen and most authentic Stone Roses tribute band. Selling out venues across the UK and Ireland regularly, they have helped to carry on the music of one of the UK's most influential bands - The Stone Roses.
"They do our songs real justice. At times, they play even better than we did" - Mani, The Stone Roses
These Smiths - The UK's best tribute to The Smiths and Morrissey. The band are from The Smith's home city of Manchester. Formed shortly after their lead singer appeared on the UK television show Stars In Their Eyes, they are renowned as the closest sounding tribute to the real thing. A must see for fans of The Smiths and Morrissey.
Born of Frustration, are a Tribute to Iconic Manchester band JAMES.
James are credited as one of the most influential bands from the Manchester scene, selling over 25 million records and are famous for there Live Shows.
Tellin' Stories came together with a shared love of The Charlatans & a desire to perform their songs to a wider audience around the UK & Ireland.
Performing most of the classic singles, with a selection of rare b-sides & selected album tracks, mainly from The Charlatans first 5 albums.
mockchesteraberdeen #mockchester #aberdeen #goodtimesroll #newmacharevents