The Art School presents:
SUPERST!T!OUS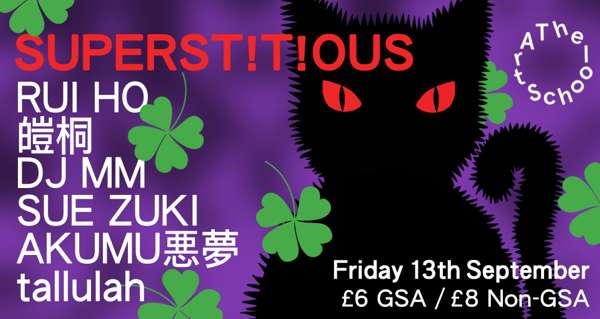 It may be Friday 13th but it's looking like it could be your lucky day! Medicate your triskaidekaphobia at The Art School with our Freshers celebration!
Chinese born, Berlin based DJ and producer RUI HO will be making her Glasgow debut, having recently released her second EP on Objects Limited in the midst of an EU tour. Her esteemed DJ sets are refreshing and experimental, pushing and pulling on the boundaries of expectations of club soundtracks.
Spanning a wide range of club genres, she will be joined by local talent:
😈 皚桐
🤞 DJ MM
🔮 SUE ZUKI
🍀 AKUMU 悪夢
☂️ tallulah
We are excited to host this lineup of provoking DJs who continue to resonate with the ethos and politics of our venue. Expect to hear a spectrum of sounds but more importantly, expect the unexpected.
Immerse yourself in ferocious alternative visuals provided by GSA students across three floors - come and get SUPERST!T!OUS with us!