The Art School presents:
Apostille / Lylo / Bauhaus Girls w/ Raissa DJ /Digi-Man DJ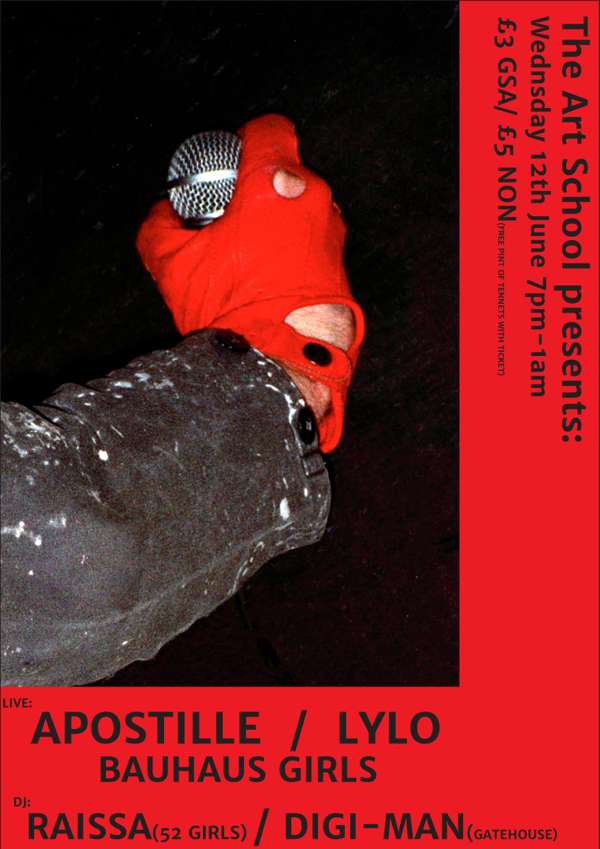 We are excited to welcome Apostille, LYLO and Bauhaus Girls to The Art School as part of our Dress Rehearsal programme. Join us in the Vic Bar for an evening of celebration and dance!
APOSTILLE is the moniker of Glasgow based Michael Kasparis' solo project. Formerly of hardcore punk group Anxiety and also The Lowest Form, and founder of label Night School Records, Kasparis has released two albums as Apostille to much critical acclaim and is about to embark on a European tour with Washington D.C. post-punk band Priests.
"Kasparis certainly knows how to cut a rug with unfettered style, coming across like Future Islands' flailing frontman Samuel T Herring with a far more agreeable soundtrack of playful analogue electronica and an impressive malleable vocal" – Scotsman
LYLO made their mark on the Glasgow DIY scene with the release of their debut album Handsome Devil, followed last year by the follow-up Post Era. They continue to garner a cult like following through their exhilarating live performances – both at home and on tour with the likes of The Orielles and Juniore.
"bold in their framework and fresh in their musicality, playfully manipulating genre and structure" – The List
Cost: £3 (GSA) / £5 (free pint of Tennent's with all tickets)