The Art School presents:
LSDXOXO // JHM // TAAHLIAH (live) // 皚桐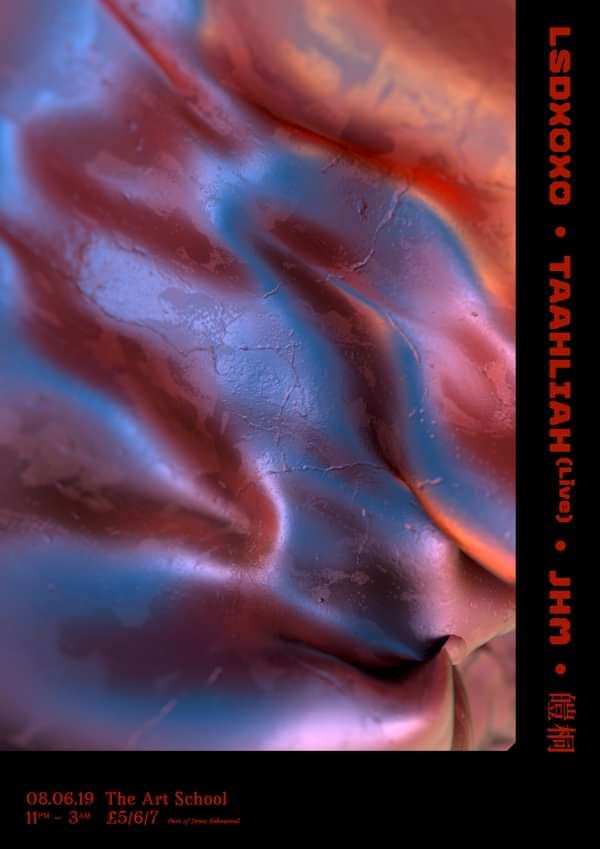 Welcoming Berlin-based LSDXOXO to the Vic Bar, joined by TAAHLIAH who'll be presenting a new live performance, alongside DJ sets by JHM and 皚桐!!
\£5/6 ADV | £6 b4 12 £7 aftr OTD//
~~A free pint of tenants for all on entry~~
Centring sex positive and socially radical narratives, producer and DJ LSDXOXO is an artist that refuses to align with a single genre, creating high energy sets that fuse techno w/ Baltimore club and pop influences.
TAAHLIAH is an artist and DJ based in Glasgow. Through the use of visual and sonic manipulation as well as performance, photography and videography; TAAHLIAH creates work which catalyses conversations surrounding issues and narratives attached to racial identity transness gender sadness happiness heart/mend loneliness togetherness sorrow anxiety stress gender non-conformity feminism transfeminism racism homophobia queerphobia and history.
皚桐 is a submerging DJ and (con) artist who uses the club as one of their primary spaces for exploring themes of collapse, survival and disruption.
Jens Masimov AKA JHM's music & DJ sets strides forward through a portal made out of blaring electronics held together by melting resin. The sound is formed around raw bass-lines and evolving percussion and drums. It's rooted in an interconnected mess of techno, acid and breakbeats and combines the experimental with forward motion.
Expect uncompromising, electrifying electronic music.