The Art School presents:
GarnetHELL: The Art School Hallowe'en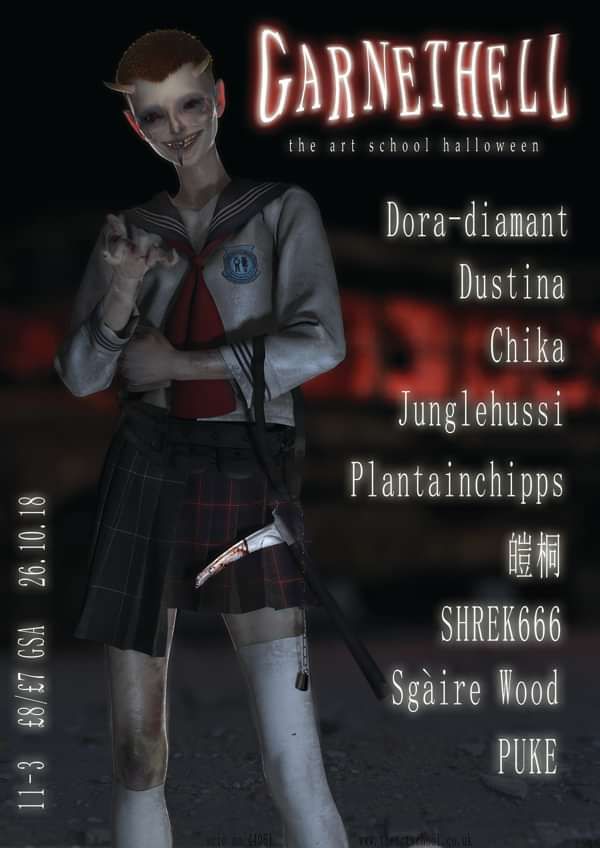 LOADING…
This party contains images that could be considered cruel, violent and disturbing. Dim the lights, turn up the volume and press START…
The Art School has risen from the ashes and she wants her REVENGE! Battle your way to GARNETHELL for a multi-storey, button-mashing, undie-soiling, nightmare fuelling Hallowe'en horror survival extravaganza! Plug in your memory card, save your game and go head to head with international bosses of boogie:
DORA-DIAMANT (Paris)
DUSTINA (Paris)
CHIKA (Tokyo)
Junglehussi (Glasgow)
PLANTAINCHIPPS (Glasgow)
皚桐 (Glasgow)
PLUS Deeply unsettling performances/bonus cutscenes from:
SHREK 666
SGÀIRE WOOD
PUKE
We have spoken with Glasgow City Council Building Control…
and they have abandoned us.
£8/£7 GSA
Paper tickets will be available from The Students' Association starting Mon Oct 15th