The Art School presents:
The Work Room: 10 years & Beyond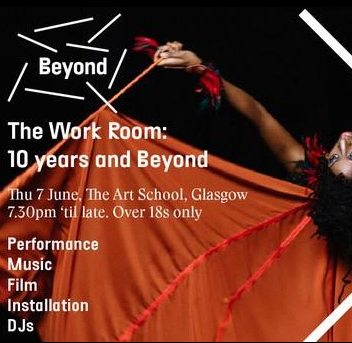 Help us celebrate 10 years of The Work Room and launch Beyond - a new way to support and nurture artist-led dance projects beyond our dance studio.
We are having an evening of live dance, music and installation programmed by The Work Room members - Claricia Kruithof, Jer Reid, Skye Reynolds, Lucy Suggate and Aniela Piasecka at The Art School.
The line up showcases the breadth of work created by our members & includes:
All or Nothing Aerial Dance Theatre with Room 2 Manoeuvre Ashanti Harris V/DA (Mele Broomes + Letitia Pleiades) Ilk Janis Claxton Dance Indepen-dance Charlotte Mclean an installation from Lucas Kao 高智鵬 & more to be announced!
The evening will be hosted by MCs Kandy Ikon & Tony Thrills and after performances we will have DJ sets from Letita Pleiades & Sarra Wild.
Your ticket will include a drink at the bar and canapes will be served.
Tickets to this event are on a sliding scale between £8, £12, £15, and £20. Please choose what to contribute based on your own circumstance. All tickets gain access to all the performances and include a drink from the bar. We won't ask for any proof of your situation. All ticketing income will go directly to support new artist-initiated projects as part of Beyond. Thank you
Book here: http://bit.ly/TWRBeyond
The evening is the launch of new individual giving scheme Beyond, you will have the opportunity to hear more about the programme and sign up to the scheme.
Beyond is a new way to donate money to support and nurture artist-led dance projects beyond our dance studio.
Your generosity will enable The Work Room artists to experiment and collaborate on new projects connecting more people to dance.
The Art School is a fully accessible venue, if you have any particular needs you would like to discuss please contact sara@theworkroom.org.uk