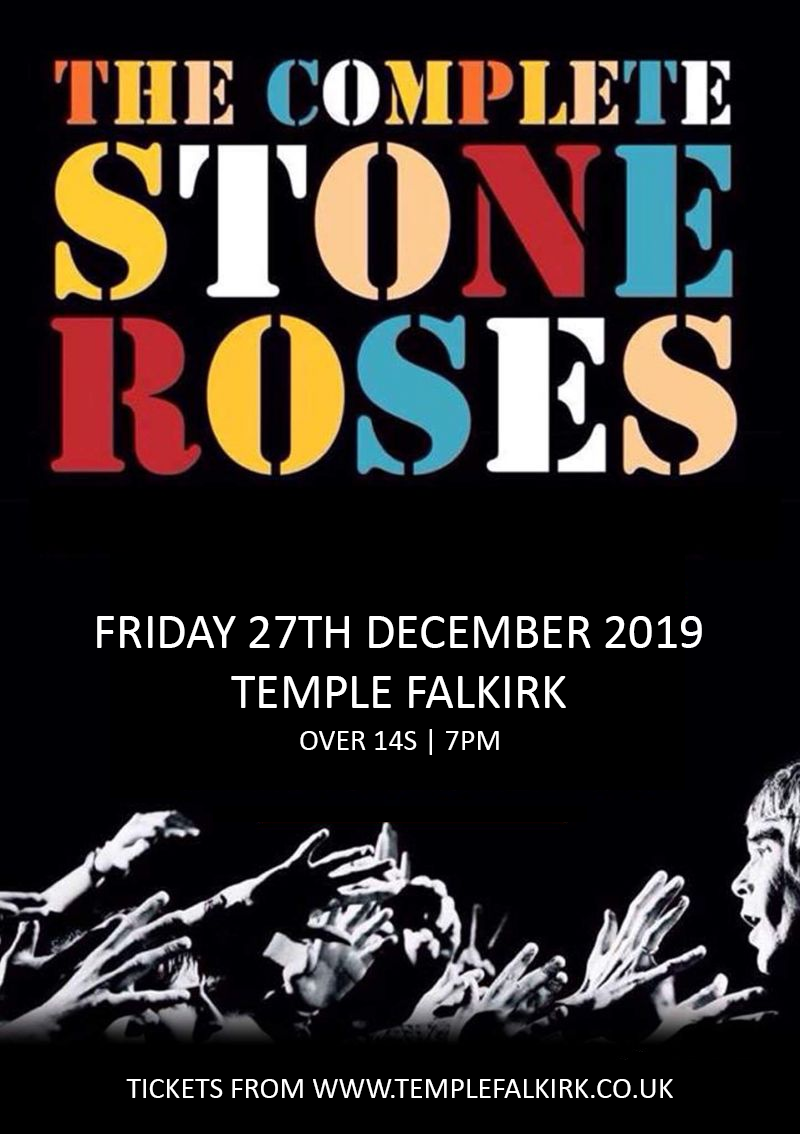 THE COMPLETE STONE ROSES (7-10.30PM - 14+)
£15
Entry Requirements: 14+ (Under 18s accompanied by an adult)
General Admission (e-ticket)
The UK's most well-known & most seen Stone Roses tribute band. Selling out venues across the UK and Ireland regularly, they have helped to carry on the music of one of the UK's most influential bands - The Stone Roses.
From the early beginnings of performing with one of their heroes (Mani) onstage.... to the festival stomping appearances of T in the Park, Oxegen and Isle Of Wight to name but a few, .......to the jet-setting shows in the likes of Sydney Australia, Bahrain & Dubai UAE and Amsterdam Europe..... to the many music videos released and sold worldwide, this band have proved that tribute bands can be successful in their own right. The Complete Stone Roses have created a fan-base like no other and became a cult band for most fans of indie music. There have been many many highlights of their career but most notable ones (excluding those already mentioned) would have to be.....
*Their performance to over 30,000 music fans at the legendary Edinburgh Hogmanay celebrations where they were booked to play a record breaking 3 times, a feat that no other act has achieved either before them, or to date.
*A worldwide distribution deal secured for the band via their creator and manager for the release of their music videos/single 'love will tear us apart' which was produced by legendary New Order/Joy Division bassist and founder member Peter Hook and also featured keys from Inspiral Carpets legend, Clint Boon and *'Tell Me Moses' which was a unique form of songwriting only attempted once previously in the history of music and consisting of using only song titles within the creation of the song itself.
*Raising an incredible £17,000 (sterling) cash for UK charity, Cancer Research UK by performing one show at Glasgow's o2 Academy (previously known as the Carling Academy).
*Performing onstage on 3 occasions with their hero and Stone Roses legend Gary 'Mani' Mounfield.
Additionally, with countless TV shows on the likes of BBC (UK), RTE (Ireland), NRK (Scandinavia) along with radio appearances, (both live and recorded) this is one tribute act who have crossed all boundaries of what specialised cover bands can achieve. You would of course be excused for thinking that there is not much more they can pull off but with a solid management foundation and a committed team of both musicians and crew, the future is just the beginning; with plans for TV documentaries and further bigger & better projects, this band are one that everyone should keep their eyes firmly fixed on and of course catch live because there's nothing quite like a complete stone roses show and as Mani has been famously quoted as saying 'at times they play even better than we did'. Now with the stone roses back on the scene, the completes will have more songs to cover and more live sets to emulate and play to the fans of the stone roses.