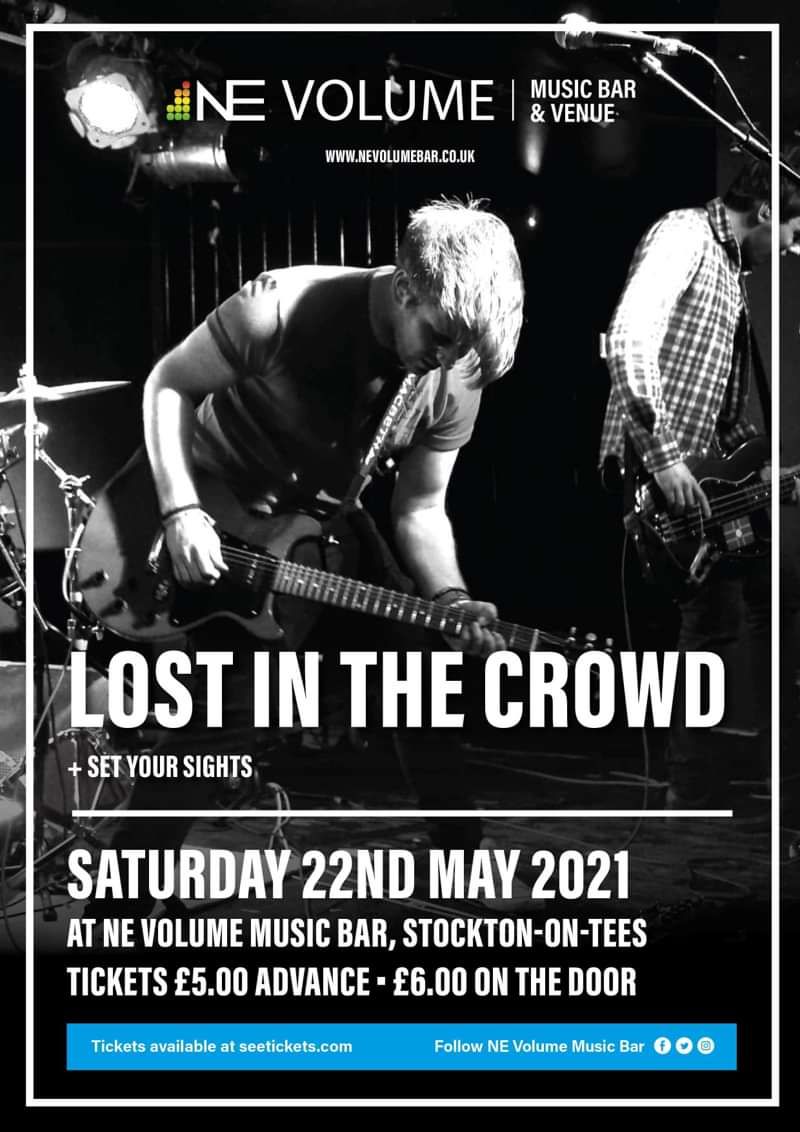 SOLD OUT - Lost in the Crowd & Set Your Sights (acoustic)
Set Your Sights + Lost In The Crowd
Buy Tickets
Join us at the NE Volume Music Bar in Stockton-on-Tees town centre!
Featuring a full-band set from Lost in the Crowd and an acoustic performance by Set Your Sights.
Tickets are priced at just £5.00 per person and are available to purchase now in groups of 2, 3, 4 or 6: https://www.seetickets.com/search?q=ne+volume+music+bar
Info about the artists:
Lost in the Crowd:
Lost in the Crowd are a group of young musicians from very different musical backgrounds. Joining forces, they've created a unique, new sound combining their varying influences into what has evolved to become Lost in the Crowd. "This was the band who I was definitely going to buy an album off. What I really liked was the relationship between the band. The music was great, but they just had that "thing". Cool, good looking & catchy tunes " - LookA Teesides Music
Listen here: https://open.spotify.com/artist/4zi8gLWQpbnVSWrnLFCYiC?si=YDrwP7jKTDOnHbCCTqPf3A
Set Your Sights:
Formed by drummer, Haz Casson, in 2012, North East DIY band Set Your Sights have toured the country and boast decades of combined experience with guitarist, Alex Smith, and bassist, Roy Myers, having been fixtures of the local music scene since the early 2000s.
The power trio's second album, "What I Could Be", was described by Love It To Death as "nothing short of a pleasure to hear" and is out now on CD & all major digital platforms.
Charlie Richardson at NE Volume said Set Your Sights: "provide the kind of crowd-pleasing and crunchy gig that has developed their reputation as a must-see band in the North East."
Listen here: https://open.spotify.com/artist/5YaLTZ4KOGPNv6x00Ql8kh?si=_03nQ8p-TrubWfM0XYuloA
Social distancing:
Of course, all social distancing measures have been put in place to ensure the safety of all attendees - from gig-goers to the artists and the staff. However, if you have any questions, please do email Lee or Adam at nevolumebar@gmail.com.
We'll see all you music lovers soon!