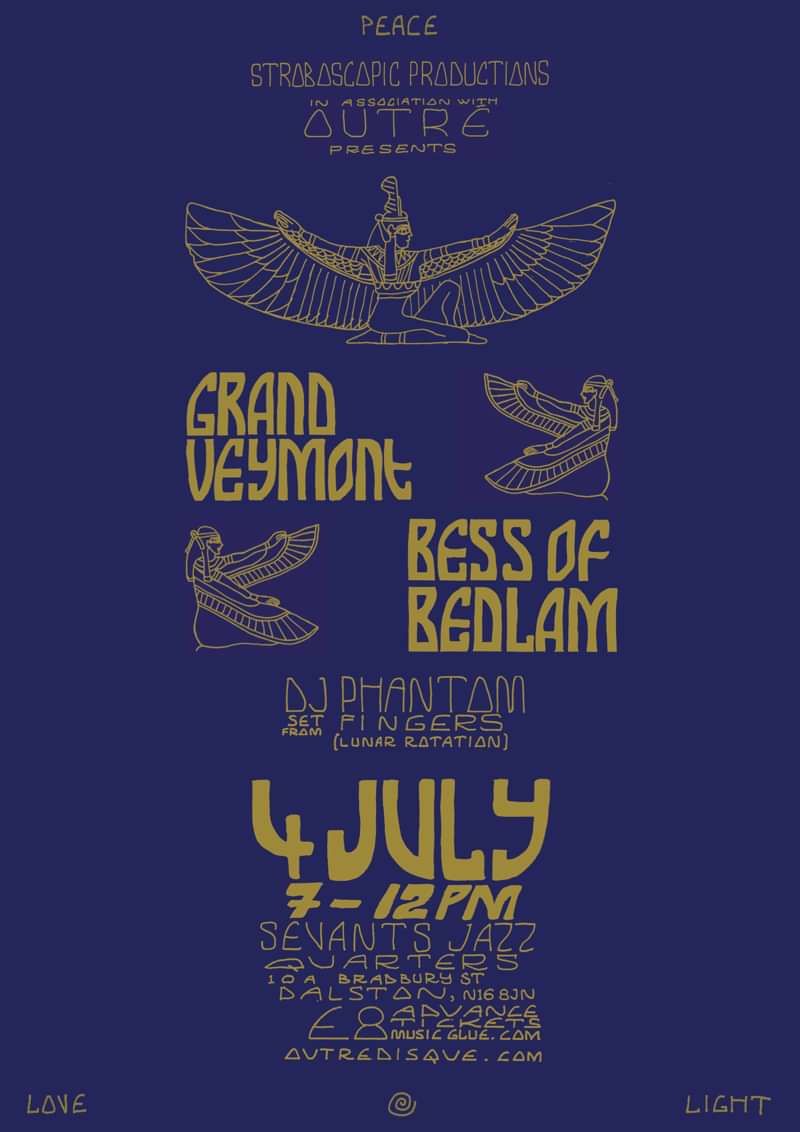 Stroboscopic Productions presents:
Grand Veymont/Bess Of Bedlam
Grand Veymont + Bess Of Bedlam
£8
Entry Requirements: 18 years old
Stroboscopic Productions are extremely proud to team up with the magnificent Outré record label, for what promises to be...a night of truly cosmic proportions!
Making a welcome return back to London Village are the enigmatic Grand Veymont, bringing their "krautrock de salon" musical stylings to delight, entrance and seduce us all, direct from the peaks and terrains of Vercors, France.
Beaming unrestrained melodies of ancient echoes, locked & looped with serpent-like coiled rhythms, forging a progressive line across ancestral lands and deep into cave of dreams underworlds.
Having released a self-titled record early last February to great hurrahs and acclaim, Béatrice and Josselin, in their live persona, are truly a 5th Dimensional proposition. Stretching out...Further...Destination Unknown...but what a Voyagé Voyagé!
https://outredisque.com/grand-veymont/
We are truly blessed with the presence of Bess Of Bedlam!
Her debut album "Folly Tales" is an Acid Folk wonderment...delicately balanced between fantastical illusion and altered reality.
Although hailing from Lyon, France, Fanny L'Hériter's solo outing takes the archetypal English literature character of Bess and transports her tales of days in Bedlam, into an enchanted kingdom full of harmonic sophistication and poised musical arrangements.
An exquisite fever dream.
Live, Bess' stories will no doubt awaken the dormant spirit of the forgotten voices from centuries past and lift the vail for us to soak in and respect.
Line Up
Heading south from Lyon in south-eastern France, an awe-inspiring massif of jagged limestone looms into view. Framed perfectly by the resplendent snow-capped Alps in the distance, the Vercors Regional Nature Park is an area of exceptional beauty.
Grand Veymont is the highest peak of the Vercors Massif from which Béatrice and Josselin take both their inspiration and name.
Resident and natives of the Vercors, everything is often a question of territory, the one where we are born, the one we live in, the one we leave, the one we cross, the one we see or the one we desire. Grand Veymont have been exploring these themes since forming in 2016.
The mountain's fertile terrain and imposing mass has impressed itself upon the imagination through what they describe as "krautrock de salon", a hypnotic medieval soundscape born of restless musical spirits. As free as the swirling wind of the Vercors Massif and as intriguing and playful as a young Marmot. Much like their ancestral landscape they deserve further exploration.
They are very much a product of their environment.
Facebook - https://www.facebook.com/grandveymont/ Twitter - https://twitter.com/grandveymont https://outredisque.com/grand-veymont/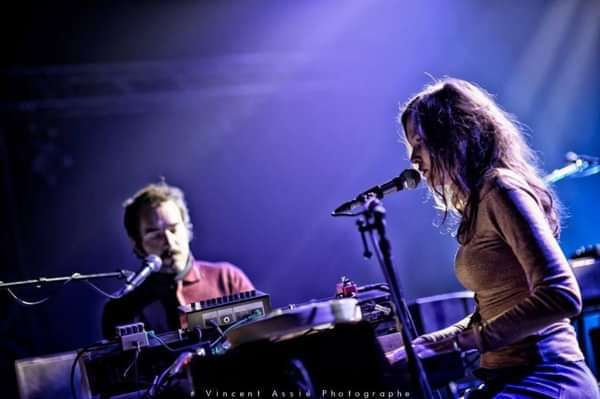 Literature and music have frequently depicted Bethlem or Bedlam as a land of fools or the Babylon of degenerates since its foundation in 15th Century London. In 1683 Henry Purcell published "From Silent Shades" - introducing "Mad Bess" to the world. Bess escaped her imprisonment to tell the tale through the veil of the English Restoration.
A resident of Lyon, Fanny L'Héritier is Bess of Bedlam. Her arrangements employ a variety of instruments (classical and electromechanical pianos, 70's analogue synthesizers, acoustic & electric guitars, banjo & dobro) with charm, whimsy and humour.
Facebook - https://www.facebook.com/itsbedlam https://outredisque.com/bess-of-bedlam