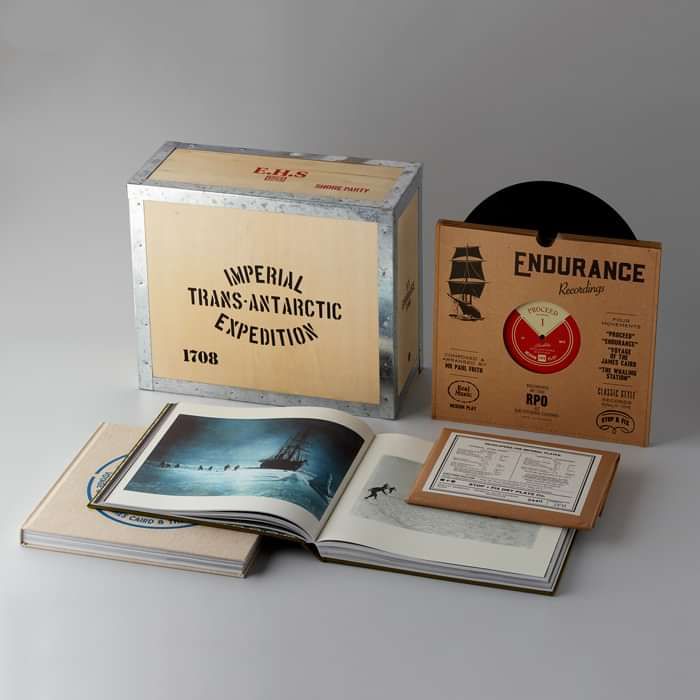 Shackleton Collectors Edition: Deluxe
Limited edition run of 250
Venesta collectors case with original two-tone markings, inspired by the Endurance cargo boxes
Two 10 x 10" cloth-bound books

Gramophone vinyl case
Four 10" etched vinyl records
Four hand-stitched vinyl sleeves
Replica glass plate with paper wrap
MP3 download
Released on the centenary of Sir Ernest Shackleton and his men's Endurance excursion, The Shackleton Collectors Edition Box Set is an audiovisual retelling of an extraordinary tale of survival.
When Shackleton's ship, the Endurance, was crushed by the ice of the Antarctic, the revered polar explorer and his men were forced to abandon their hopes of traversing the continent and instead endure upon the ice floes.
The box set marks 100 years since all hands were saved by Shackleton, after he fearlessly took on the freezing South Atlantic Ocean in a small open top boat to raise the cry for help. A century later, it remains an epic journey with few rivals.
Inspired by these heroics, composer Paul Frith penned a powerful original symphony that captures the peaks of this remarkable journey. Recorded in May 2016 by the Royal Philharmonic Orchestra at Air Studios, the evocative soundscapes closely examine the battle between explorer and environment.
This deluxe version of The Shackleton Collectors Edition Box Set consists of a two-volume photobook showcasing never before published archival photographs from the Trans-Antarctic Expedition. Each volume has been artfully composed to chronologically follow Frith's symphony – the recording of which lives on four etched 10" vinyl discs, placed within hand-stitched sleeves and collected in a deluxe gramophone folder.
The entire work is housed in a plywood Venesta case (stamped in two-tone style for this limited edition) inspired by the original expedition cargo boxes aboard the Endurance. Exclusive to the deluxe package is a replica glass plate inspired by the ones Frank Hurley used on the expedition.
The result is a rich exploration of the dynamic relationship between image and sound, as well as an insightful vision of the Endurance expedition that concluded a hundred years ago.