St Mary in the Castle presents:
Sweeney Todd
Renaissance Theatre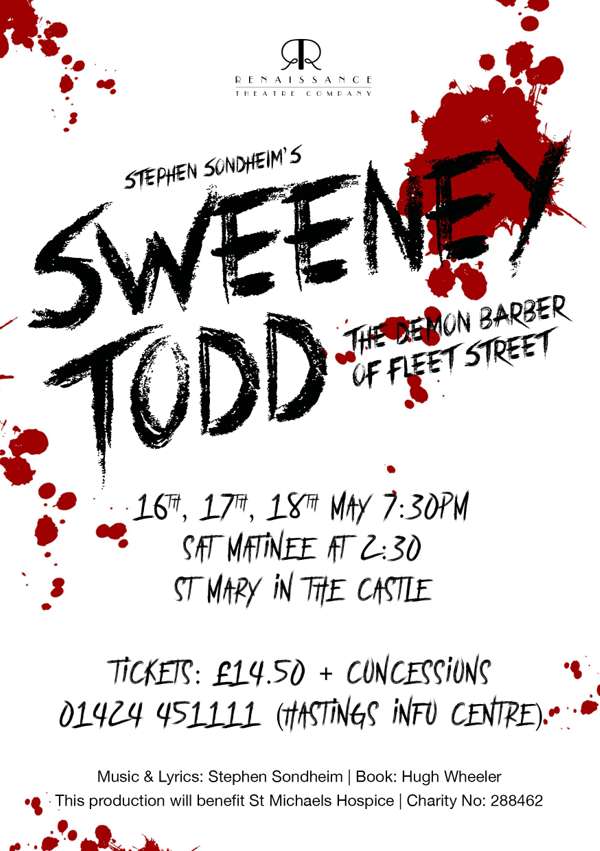 Sweeney Todd is the infamous tale of an unjustly exiled barber who returns to Victorian London seeking revenge on the lecherous Judge Turpin who framed him and ravaged his wife. He slices a chilling path through the city and together with Mrs Lovett, Todd cooks up a macabre revenge scheme in this captivating Musical. Slitting the throats of his customers before passing them onto Mrs Lovett, to be turned into meat pies! His quest for vengeance leads him further and further away from what he once loved , and in the end, it is Todd that causes the destruction of what he once held dear. It is reputed that Sweeney Todd used to work in a Butchers shop in the old Town, spurned by the girl he asked to marry him, slit her throat and moved to London - the rest his history.
Steve Corke is undertaking the demanding role of Sweeney Todd with Kim Sutton as Mrs Lovett. The cast also includes a wealth of local talent including Dan Regelous as The Judge, Ruby Edwards as Johanna, Luke Baxter as Pirelli, Tyler Sargent as Anthony and Michael Woodhams as The Beadle.
St Mary's once again welcomes back Renaissance Theatre, responsible for last year's Anything Goes. Now celebrating 10 years, Renaissance Theatre prides itself on not only staging quality pieces of work, but also raising funds for St Michaels Hospice - a cause very close to the company's heart.