Conquest Hospital presents:
Mike Hatchard by Candlelight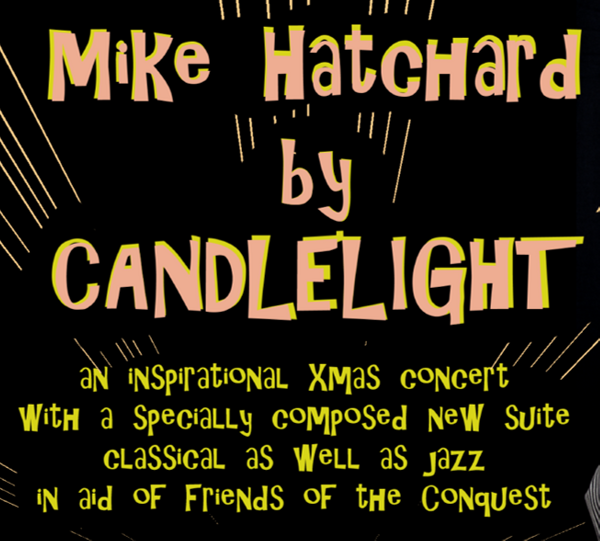 £10
Doors: 7:30pm Start: 8:00pm
An inspirational virtuoso classical and jazz Xmas Concert with a specially composed new suite by Mike Hatchard
Mike Hatchard has had an extraordinarily diverse career as a musician. He began as the pianist for the National Youth Jazz Orchestra, and subsequently toured America as Cleo Laine's accompanist as a member of the John Dankworth Quintet and became Matt Monro's youngest ever musical director.
He has worked with David Essex, the Pasadena Roof Orchestra, Barbara Thompson's Paraphernalia, the Syd Lawrence Orchestra, Julia Migenes Johnson, Liane Carroll, Alan Barnes,
Bobby Worth since his days in the National Youth Jazz Orchestra, as that ensemble's first drummer, he has probably played with absolutely everybody in the jazz scene including Frankie Vaughan', the Bert Rhodes Orchestra, Kenny Baker's Dozen, the Freddy Staff Big Band, the BBC Radio Orchestra, the Stateside Stompers and the Buck Clayton Legacy Band.
Bobby has played in trios and quartets too, led by the likes of Pete King, Jim Mullen, Don Weller, Brian Dee, Simon Spillett, Geoff Eales, Derek Nash, Alan Barnes and Digby Fairweather, and many other leading names.
Paul Morgan also worked with the National Youth Jazz Orchestra, and became the Principal Bass with the BBC Radio Orchestra. Paul continues to work with all types of groups and big bands. He grew up accompanying many visiting American and other international artists at Ronnie Scott's Club, the Concorde Club in Eastleigh, Southampton, and many clubs and concert halls around the world. Paul has played bass for musicians such as Zoot Sims, Peggy Lee, Ronnie
Rock Choir is a pioneering contemporary local community choir singing great songs with a seasonal touch to round off this candlelight show.