St Boswells Live! presents:
Ranagri plus support
Ranagri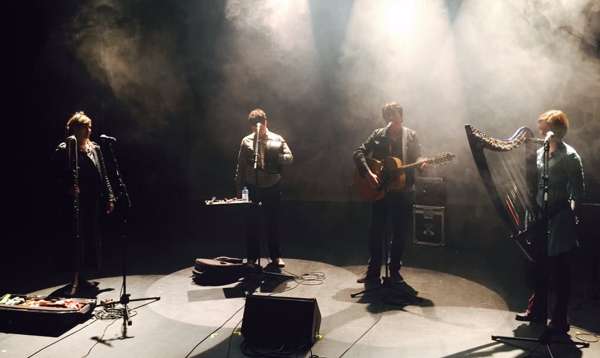 Ranagri is a contemporary folk band of four musicians (Dónal Rogers, Eliza Marshall, Ellie Turner & Joe Danks) who have come together to create some exciting new music. Consisting of flutes, Irish whistles, electric harp, bodhran, guitars, bouzouki and voices, Ranagri fuse celtic folk music with quality contemporary songwriting, enhanced by virtuosic instrumentals, vibrant rhythms and haunting melodies, all interlaced with vivid storytelling.
They will be ably supported by singer / songwriter Steve Dalgleish.
Line Up
"You're unlikely to hear anything more irresistible and more folky this year". Mike Ainscoe, Louder Than War.
"There's little to use as a point of reference when you discuss the sound created by Ranagri, stunning, dazzling, remarkable, any of those will do". Tim Carroll, Folk Worlds
"Ranagri - Album of the Week - 'Voices' If they're not playing near you buy the album, if they are - buy the album and go see". Neil King, Fatea Magazine
'Every now and again the Folk music world needs a gentle kick up the backside and we should be eternally grateful that the four members of Ranagri have slipped into their best Doc Martins to do just that! Beverley Folk Club
'How often do you hear a sound that's completely new, which has great energy and immediately makes you want to dance? I'll be following Ranagri around, I hope they don't mind...' *Katie Derham, presenter BBC Proms and Radio 3*
'Echoes of Pentangle, Jethro Tull and new Celtic folk sounds - cemented by strong contemporary song-writing'. ** Carl Corcoran, Presenter on RTE Lyric FM**
View Profile