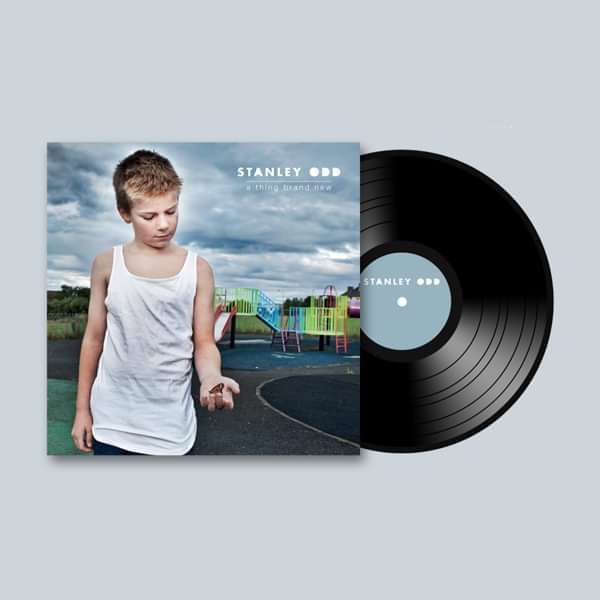 A Thing Brand New - Vinyl (inc. immediate download)
A Thing Brand New on heavy-weight vinyl. Comes with immediate digital download.
From social commentary, to personal stories, 'A Thing Brand New' is a collection of songs - words and music graphically interlaced in ultra high definition. This album is Stanley Odd at their most organic and evolved; comfortable in the awkwardness of their own skins.
The record follows up from the band's second album 'Reject', which was shortlisted for a 2012 Scottish Album of the Year.
Tracklisting: SIDE A 1. Get Back In The Basement 2. To Be This Good Takes Stages 3. Who Am I? 4. Put Your Roots Down 5. Pastime 6. Draw Yir Own Conclusions
SIDE B 7. Knock Knock 8. Monsoon Season 9. The Walking Dead 10. Her Name Was Hip-Hop 11. Son I Voted Yes
Includes digital download code
$20.29
Select from options below to add to basket
This bundle also includes:

A Thing Brand New

MP3s free with CD & vinyl purchases

This bundle also includes:

A Thing Brand New - Vinyl

Pre-order with immediate download of 'Pastime' - Out Mon 10 Nov

From social commentary, to personal stories, 'A Thing Brand New' is a collection of songs - words and music graphically interlaced in ultra high definition. This album is Stanley Odd at their most organic and evolved; comfortable in the awkwardness of their own skins.

The record follows up from the band's second album 'Reject', which was shortlisted for a 2012 Scottish Album of the Year.

Tracklisting: SIDE A 1. Get Back In The Basement 2. To Be This Good Takes Stages 3. Who Am I? 4. Put Your Roots Down 5. Pastime 6. Draw Yir Own Conclusions

SIDE B 7. Knock Knock 8. Monsoon Season 9. The Walking Dead 10. Her Name Was Hip-Hop 11. Son I Voted Yes