Never Went Back - New CD Album & 16 Page PDF Download
Never Went Back - New CD Album & 16 Page PDF Download
This bundle also includes: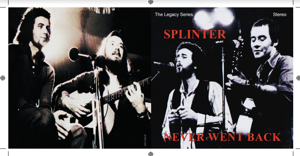 Never Went Back - 16 Page PDF - Free Download
Never Went Back - 16 Page PDF - Free Download
This bundle also includes:
Never Went Back - New CD Album
Never Went Back - New CD Album
Welcome to this brand new album/CD from Splinter. It has been a long time coming, a very long time in fact. Splinter still consists of Billy Elliott and Bobby Purvis, both hailing from the North East of England, from the Newcastle area in fact. Both members are life- long friends, and despite some hiccups, ( and some of them were quite large ones too) along the way, they are still great friends today.
Billy now lives in Portugal, while Bobby has preferred to stay true to his roots and resides in the North East of England. As a group and members in the music industry, they decided to call it a day in the early 1980's after the company they were contracted to - Bellaphon ceased trading and the fallout left a sizeable mess to which they realised it would be near impossible to climb out from, so it was off to pastures new for them, and it has largely stayed that way ever since.
Music is a veritable force to be reckoned with, and fan clamour is a most powerful ingredient in the mixture,- if there are enough fans not only holding on to memories, but still desiring new material. The best example known to everyone the world over is The Beatles clamour for new product from them is insatiable and will no doubt remain so. Splinter having links with the fab foursome, have now entered that field.
Not only were they an excellent singing duo who could effortlessly harmonize from each other taking vocal, they could play their own instruments, and write very good songs into the bargain, and that is a very powerful compound indeed, and one that will insure the name remains long in the memory.
It has done so here. Before we enter into their notes for the album and the songs, there is one thing that is so very important to this new album and to the Legacy Project - it's that all of these recordings have not been enhanced or altered from when they were recorded. Yes, they have been gently and painstakingly cleaned , removing that irritating static that builds up and manifests itself as crackle n clicks. They have also been made crisper to the ear for pure listening pleasure, and that's it! No re-mixing at all.
1: Passing Through 2: Don't Leave Me Now 3: Another Time Another Place 4: Sail Away 5: Pull On Your Heart Strings 6: Fixing To Stay 7: Too Far Down The Line 8: Never Went Back 9: Take It Or Leave It 10: A Plane Leaving Tokyo 11: Innocent