Spacific presents:
Modern Maori Quartet
Modern Maori Quartet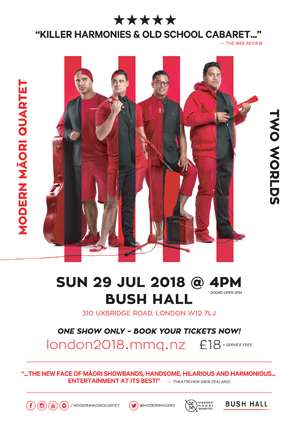 The Modern Maori Quartet return for a pre Edinburgh Festival warm up matinee show
Line Up
The award-winning Modern Māori Quartet (MMQ) are a good looking, suave contemporary Māori showband in the vein of forebears such as the Hi-Marks, Māori Volcanics Showband, Dalvanius and the Fascinations, Māori Hi-Five, Māori Troubadours, Quin TIkis and The Howard Morrison Quartet.
"…the new face of Māori showbands, handsome, hilarious and harmonious… entertainment at its best!" – Theatreview.co.nz
MMQ's accomplished artists hail from different corners of Aotearoa (New Zealand) to bring the concept of a "Māori Ratpack" into the present, weaving acting and musical abilities together to croon their spin on modern and classic numbers.
MMQ's live shows are parties like no other, with a mix of off-beat comedy, stage routines, unique takes on showband hits as well as pop music, and displays of distinctively Māori song and dance. With hearty voices in epic harmony, they share Māori traditions, aroha (love) and tell Kiwi stories through waiata (song) with tongue-in-cheek Māori humour, charm and charisma.
MMQ are regulars at festivals and venues throughout Aotearoa and the globe. Performing to over 60,000 people across 5 countries in 2017, highlights included the release of their debut album "That's Us!", touring a Summer Pops programme to twelve centres across Aotearoa with the New Zealand Symphony Orchestra, the World Masters Games in Auckland, multiple tours to Australia, an eleven-city tour of China and a successful debut season at Edinburgh Fringe Festival.
"The four performers are both professionally accomplished and slyly flirtatious, playing off each other in back chats and musical duels... by the end of the hour they've cast a Kiwi spell over the room, which it's hard to leave behind." The Edinburgh Reporter
At the core of it all, MMQ are a classy celebration of the entertainment legends of Māoridom; hearty Māori entertainment that will warm your heart and make you cry with laughter.
Official website: www.modernmaoriquartet.nz
Facebook: www.facebook.com/modernmaoriquartet
YouTube: www.youtube.com/modernmaoriquartet
Instagram: www.instagram.com/modernmaoriquartet
Twitter: www.twitter.com/modernmaoriq
MMQ's TEDxAuckland Talk: https://youtu.be/cQO3kPM3YRE