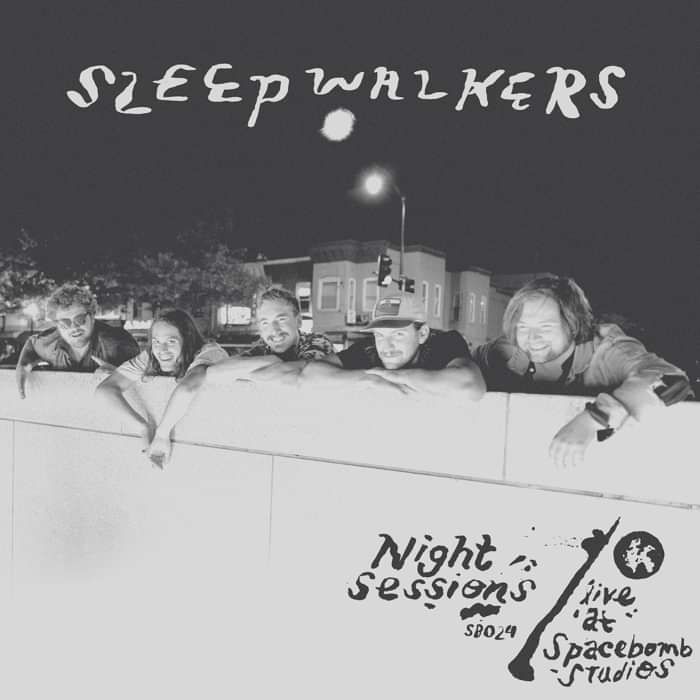 Sleepwalkers – Night Sessions / Live at Spacebomb Studios (Digital Download)
Wake Up - Live at Spacebomb Studios
Reasons To Give Up In You - Live at Spacebomb Studios
Never Enough - Live at Spacebomb Studios
Night Sessions is what it sounds like: a five-piece rock band hitting the studio at their favorite time of day, with the brief from their record label of making "some acoustic versions of your new songs." But here's the thing: Sleepwalkers call the shots. Always have, always will. You want an acoustic version? Here's a sexy, vibed out track with tons of reverb which would sit equally well at a cafe in Amsterdam or a late night cocktail bar in LA. Absolutely no acoustic instruments in sight. You're welcome.
Live at Spacebomb Studios is a series that began with the release of Natalie Prass' Side by Side. The second iteration of the live series comes from new Spacebomb Records signing Sleepwalkers. The release is three alternative versions of tracks released earlier in 2018, all from Sleepwalkers' forthcoming full-length LP due out next year. Spacebomb will continue the series with a release from Eric D. Johnson of Fruit Bats and Andy Cabic of Vetiver at the top of 2019.
What we love about Sleepwalkers is their way of nailing a melody, their ability to find that hook you've been looking for your whole life, and their unwillingness to compromise their style for the sake of fitting into a neat little box. Night Sessions is three new Sleepwalkers songs released earlier in the year, but from an alternate reality where less is more, the party's in bed, cigarettes are joints, uppers are downers. They may not be "acoustic," but we're happy they're not. This is as stripped back as Sleepwalkers get.