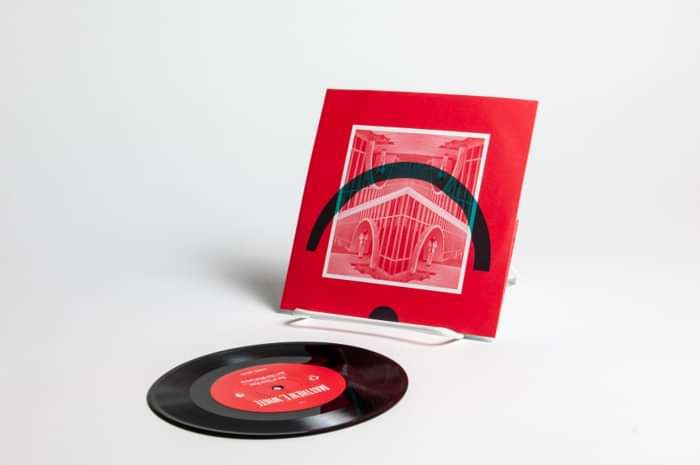 Matthew E. White – 'One of These Days' 7" Vinyl
Available for purchase on Domino Records.
A languid, snaking beat. A glowing trail of strings. Rising horns. Mournful get-it-on vocals. "One of These Days" is your calling card for Matthew E. White and your first taste of "Big Inner", White's debut album. Backed with "Ain't That What Love Is" (an exclusive gem featuring Phil Cook of Megafaun on keys), this 7″ single is also your introduction to Spacebomb, a brand-new-big-little record label in Richmond, VA.
A gentle, musical polymath, Matthew E. White radiates a passion for the history of harmony. He's a vibrant, prodigious arranger. A hypnotizing performer. A guitar wizard. As a singer, White travels in the same pathways as Allen Toussaint and Randy Newman: modest, soulful, personal, and utterly confident. In these two magic tracks, you'll begin to hear his wide orbit through sonic history and the clues to "Big Inner": New Orleans R&B, Curtis Mayfield, Terry Riley, Reggae, Sly Stone, Tropicalia, The Band, and Harry Nilsson.
SB001 / HT055
A. "One of These Days" B. "Ain't That What Love Is"
33rpm 7" Vinyl Released on July 24, 2012
1000 hand-numbered, hand-stamped copies assembled by Spacebomb in Richmond, VA.
Out of print
A. One of These Days 5:19 Engineered by Karl Blau at Spacebomb Studios and Lance Koehler at Minimum Wage Studios
B. Ain't That What Love Is 4:10 Engineered by Trey Pollard at Spacebomb Studios
The Spacebomb House Band Cameron Ralston on bass Pinson Chanselle on drums Matthew E. White on guitar with The Spacebomb Horns, The Spacebomb Strings, and the Spacebomb Choir
Piano on Ain't That What Love Is by Phil Cook
Horn Arrangements by Matthew E. White String Arrangements by Trey Pollard Choir Arrangements by Phil Cook
One of These Days produced by Matthew E. White Ain't That What Love Is produced by Matthew E. White and Trey Pollard One of These Days mixed by Karl Blau at Post-Consumer Studios Ain't That What Love Is mixed by Trey Pollard at Spacebomb Studios Mastered by Gene Paul at G&J Audio
Photography by Shawn Brackbill Styling by Emily C. Swinson Design by Joel Speasmaker and Travis Robertson