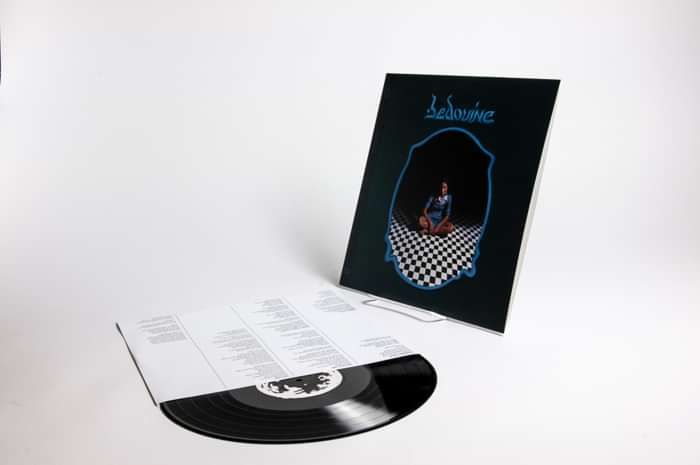 Bedouine – 'Bedouine' – Vinyl
The self-titled debut album from Bedouine
Bedouine is singing, like rain down a granite ruin, sweet as jasmine in the summer darkness, lilting crystal movements, precise and sure, the kind of voice that forms civilizations. Bedouine has a story to match the name, Azniv Korkejian, born in Syria to Armenian parents, spent her childhood in Saudi Arabia, and moved to America when her family won the Green Card lottery. Living at various times in Boston, Houston, Lexington, Austin, and Savannah, she found a community of musicians in Los Angeles that feels like home.
One day she walked into Gus Seyffert's studio to inquire about getting a reel-to-reel tape machine, something analogue and portable to record herself in small, quiet places. On a whim, he asked if she would play a song right then, so she stepped into the room and cut "Solitary Daughter" in a first take, and they were off on a three year collaboration. One night, she approached Matthew E. White of Spacebomb Records after a show at The Echo in L.A., saying that she wanted to send him a song. He remembers listening to "One of These Days" on the rest of that tour "like a thousand times," it knocked him and his band right out, and they even set it as their alarm to wake up to in the morning. If that all sounds a bit mythic, a bit rock-and-roll legend, remember that reality always outdoes the script, even in a town like Hollywood.
Working on around thirty tracks, with remarkable musicians like Smokey Hormel stopping by to contribute parts, Korkejian selected ten, united by a sustained mood and presence, to bring east for the Spacebomb treatment and Trey Pollard's expressive symphonic arrangements. It's a celebration of the patient process of recording and discovery. Bedouine's voice is at the center, a serene narrator, restless or still, taking deep pleasure in moments of trust and recognition, close observations or oblique truths, exploring the deep complications of displacement. Her debut collects two coasts, combining L.A. studio magic and Richmond's Spacebomb sound in a rich new world of style and song.
Tracklisting: 01. Nice and Quiet 02. One of These Days 03. Back to You 04. Dusty Eyes 05. Solitary Daughter 06. Summer Cold 07. Mind's Eye 08. You Kill Me 09. Heart Take Flight 10. Skyline
Released June 23, 2017
★★★★★ – The Independent "A modern folk masterpiece" – The FADER "One of the most charming albums of the year" ★★★★ – The Guardian "A hushed, haunted, delicate wonder" – Associated Press "Gorgeous… stellar" – The Line of Best Fit "A triumph" ★★★★ – Mojo ★★★★ – Q 8/10 – UNCUT "Dreamy" – UPROXX "Captivating" – Rolling Stone The Best of What's Next – Paste "Downright stunning" – Stereogum