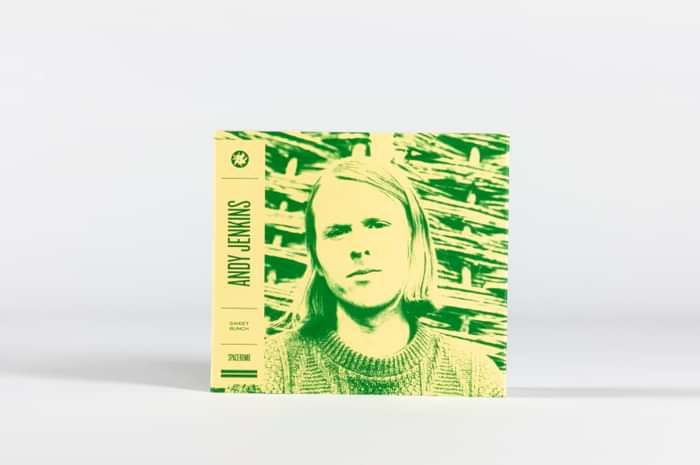 Andy Jenkins – 'Sweet Bunch' – CD
The debut album from Andy Jenkins, released June 15th, 2018.
From the front porches, alleys, and rivers of Richmond, Virginia comes Andy Jenkins carrying a crisp, newly cut album, Sweet Bunch. Hatched in the tradition of Southern culture—unhurried in his art, yet weirdly ahead of the curve by the time he arrives— Andy is a joyously idiosyncratic songwriting talent, ripened over years of relative obscurity. Sweet Bunch springs into the world fully-formed, sitting at the crossroads of modernism and timelessness, sensitivity and decision, with the expansiveness and musical drawl of Big Star, the bounce of John Prine, and the curly, perfectly-carved melodies of George Harrison. Each song paints a wild landscape, the mood of a sun setting on a damn good day among friends and favored creatures.
Andy is a kind of unheard counterpoint, originating from the same small scene of independent Virginia youth culture that produced artists like Justin Frye (PC Worship) Natalie Prass, and Matthew E. White, all friends from his teenage years. He found the perfect seedbed for his particular sensibility in Spacebomb Records, a label known for offering high musicianship outside of the predictabilities of New York, Nashville, and Los Angeles. Produced by longtime collaborator White, with the Spacebomb crew and another old friend, Phil Cook, running hard into midnight, Sweet Bunch was essentially recorded in three days of flow-state, with the drums, bass, keys, and guitars all live and nothing to regret. The source of this musical surety lies with Jenkins' songwriting— natural and effortless as the glide of a swan or sailboat— matched in spirit and strength by the sweet bunch in the studio. Backed by some ringers and a very full chorus, Andy's warm words come buoyed on cool streams of melody, telling the greater world that Virginia has become, once again, a musical frontier.
Track listing: 01. Hazel Woods 02. Curve of Love 03. Genuine Heart 04. Ascendant Hog 05. Sweet Bunch 06. White Linen 07. Illuminated 08. Get Together 09. Song for Me
*"Jenkins emerges as a distinctive artist on Sweet Bunch, an affably charismatic vocalist and supremely resourceful songwriter…like Harry Nilsson if he'd been born a Southerner. 8/10" * — Uncut
"Matching Americana to underground indie rock, his style is personal but always open, a charming personality who engages at every turn." — CLASH
"...its intermittent sing-talking and indie twang somewhat resemble a stripped-down Beck" — Stereogum