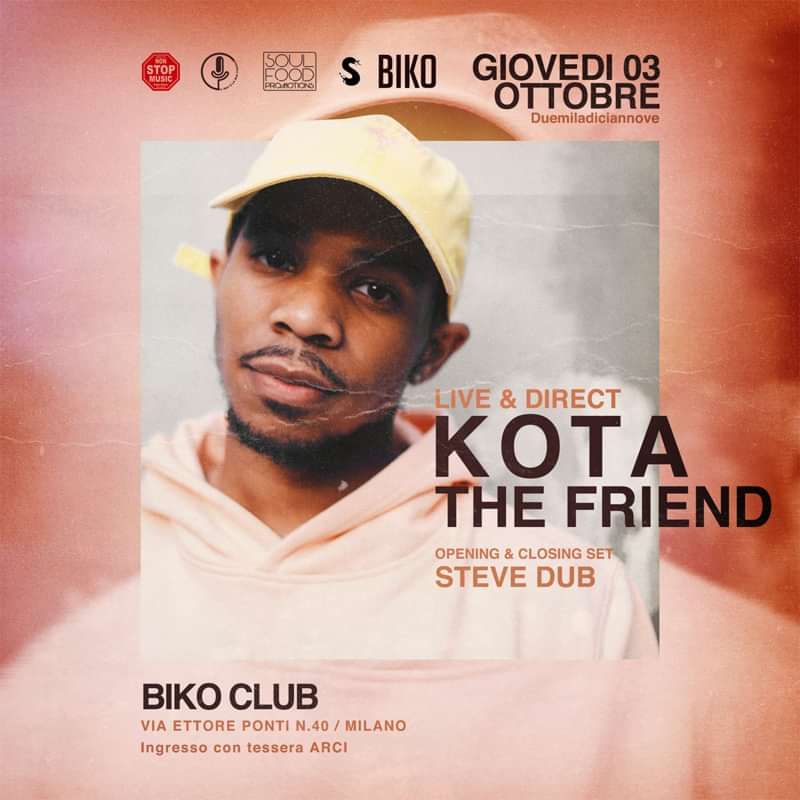 soulfood promotions presents:
Kota The Friend Live Show - Biko Club
kota the friend
15 euros
Entry Requirements: tessera arci
SOULFOOD PROMOTIONS in collaborazione con AkaSoulsistaradio & Radio Milano International presentano :
GIOVEDI' 03 OTTOBRE 2019
KOTA THE FRIEND "FOTO" Tour
Kota the friend ė un'artista e un musicista hip hop di Brooklyn NY. Ha scoperto il suo amore per la musica hip hop, R&B, jazz e soul quando era molto giovane. Dopo il liceo ha continuato i suoi studi alla performing arts school. Ora Kota ė un chitarrista, un bassista, un tastierista e scrive e produce la sua musica.
Kota ė molto conosciuto anche come cineasta e ha girato video per rapper come Asher Roth, Blu e molti altri artisti underground.
Da quando Kota si ė dedicato esclusivamente alla musica ha continuato a produrre senza mai fermarsi un attimo, attirando da subito l'attenzione e comparendo su noti magazine e blog quali XXL, FADER, BILLBOARD, Pigeons & Planes, HipHopDX, NYLON, The Souce, MILK e molti altri.
FACTS: • 870k monthly spotify listners� • 9M+ streams on youtube � • new album "FOTO" released 15th of May 2019
LINKS: https://song.link/album/i/1462867554 www.facebook.com/Kotathefriend/ www.youtube.com/channel/UCZG99ay_aiiY5GpX2z0lGuA/featured https://soundcloud.com/kotathefriend
opening & closing set: Steve Dub #akaS_radio www.mixcloud.com/akaSoulsistaradio www.radiomilano.international
media-partner: Il Rap è la mia strada
---
doors h 22.00 🎫 prevendite 15€ + d.p. disponibili online a giorni 🎫 in cassa : 18€ tessera ARCI obbligatoria
Admission only with Arci membership Card
Circolo Arci BIKO via Ettore Ponti 40 Milano http://www.bikoclub.net MM2 Romolo - bus 90/91 - 47 - 74