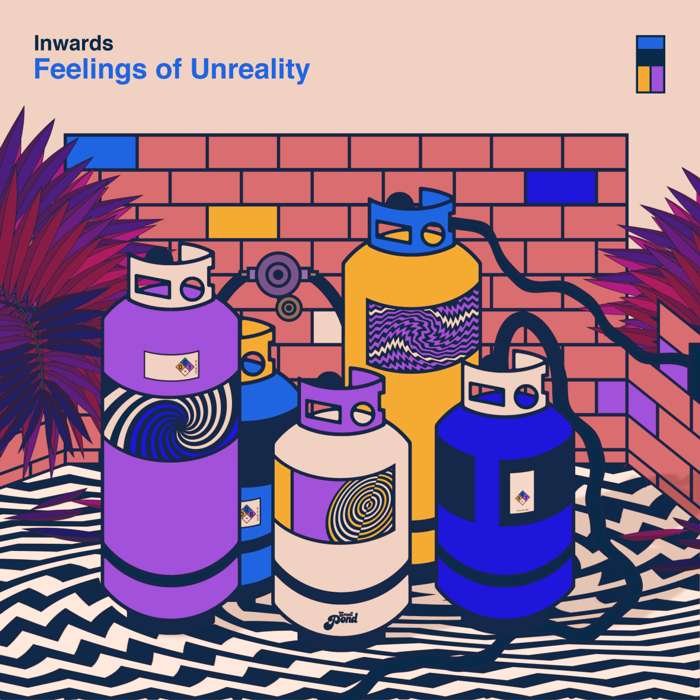 CD: Inwards - 'Feelings Of Unreality'
Pre-order the new Inwards EP on CD digipak
"A lovely piece of electro trickery…one of my best of 2018" – Steve Lamacq (BBC 6Music)
"Sounding really great" – Huw Stephens (BBC R1)
"Isn't that gorgeous" – Tom Ravenscroft (BBC 6Music)
"A restless, consistently engaging set… an artist to look out for... bold and intriguing" - The 405
"Exceptional… deserves recognition for its positive drug-like power" - Our Culture
"Never a dull moment… it's a sublime sound" – Electronic Sound Magazine
"Feelings Of Unreality" is the new upcoming EP from Inwards, due for release on March 8th. Kicking off 2019 in emphatic style, this new material follows an exciting past year for the experimental electronic producer which saw the release of his debut album, 'Diesel', to major press acclaim and radio support across BBC 6Music, Radio 1, Radio X, Amazing Radio and beyond.
Lead single "Dart" sees Inwards experimenting with drum breaks and dark synths, as well as staccato-chopped vocal samples featuring the warm and ethereal voice of Rose Dutton (from the band Rokorokubi). Warped bass sounds infiltrate the low end, while up high skittish, broken music-box melodies dash in and out of earshot. In typical Inwards fashion, "Dart" swiftly channels an intensely felt sensation in musical form. "It's about an elephant who gets hit with a dart whilst on the run", he says; "The song is like fighting an unpleasant experience. Like the elephant is trying to run away but it can feel the dart kicking in and just can't fight it anymore. It gives me that solid melancholic rave feeling that I love. My friend Sam Organ describes it as 'Sad Rave' - I thought that was spot on musical description, cheers Sam."
On the construction of the track, he continues: "I made this tune deep in the winter, and it was the first tune I had made by routing things out of my interface and into loads of other gear – that's why it has a really live and spontaneous structure as I was almost making it like the dub guys used to make their tracks, just recording the actions of the mixer."
Inwards is the alias of Kristian Shelley, a multi-instrumentalist and experimental music programmer from Worcestershire who draws influence from the far borders of dance music, using a modular synthesiser and other electronic/acoustic instruments to create playful yet emotionally potent tracks. While he draws external inspiration in the peaceful rural surroundings of his home/studio (a log cabin, next to a nature reserve on land farmed by previous generations of his family), for Shelley, music has always fulfilled an urgent need to communicate where words fall short, and his tracks capture fleeting snapshots of an inner world.
Shelley became hooked on the cathartic and expressive power of music while channelling his difficult teen years into several bands, and the compulsion has only strengthened since. On discovering electronic music (voraciously listening to Aphex Twin, Luke Vibert and other luminaries, to replace his previous obsessions with psychedelia, metal and funk), he was compelled to go it alone to express himself more fully – but he still sees his electronic instruments like bandmates who are joining him for a jam, ideas flowing back and forth in a spontaneous flurry.
Released in late April, the 'Diesel' album introduced experimental electronic producer Inwards in emphatic style, with a cracked, psychedelia-tinged energy and colourful sonic palette. The record pricked up the ears of tastemakers including BBC 6Music's Tom Ravenscroft, Steve Lamacq, Lauren Laverne and Don Letts; BBC Introducing (for whom he performed a live session), TRAX mag, Our Culture and Electronic Sound magazine. The "When She Flashes Her Smile On Me" single was crowned BBC 6Music Recommends Track of the Week, and has gained 150K Spotify streams. including a BBC 6Music Recommends Track of the Week, a Guest Mix for Tom Ravenscroft, heavy airplay from Huw Stephens on BBC Radio 1, and a live session for BBC Introducing.
Crackling with the same sense of spontaneity as his studio productions, Inwards' absorbing, organic live shows (which see his tracks taking on new forms each time, often complemented by live visuals), have seen him gaining quite a reputation, playing sets alongside Forest Swords, Lapalux, Adam Betts (Three Trapped Tigers) and Tyondai Braxton (Battles) to add to headline dates and festivals including The Great Escape and Brighton Digital Festival.