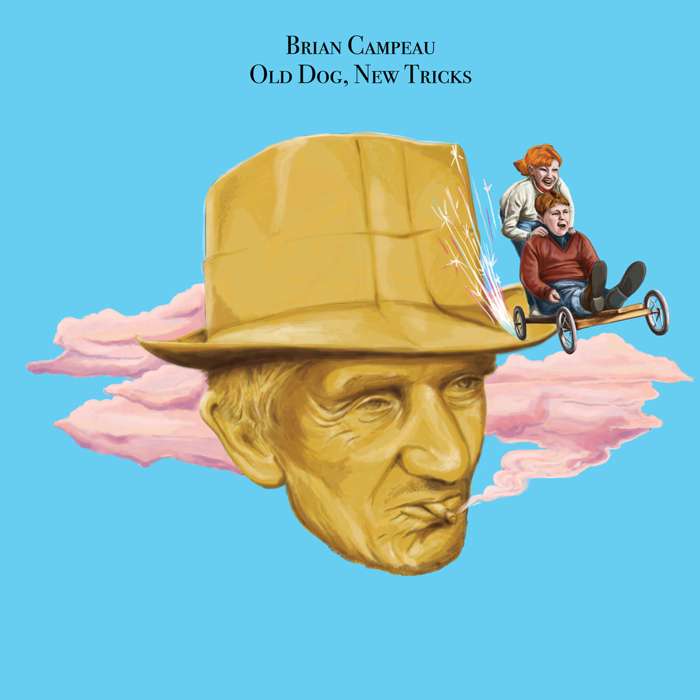 CD: Brian Campeau - Old Dog, New Tricks
"That's ridiculously good! The guitars are stupendous…Truly majestic!" - Mark Radcliffe (BBC 6Music) "I absolutely love it" – Stuart Maconie (BBC 6Music) | "Dreamy" - Lauren Laverne BBC 6Music "A remarkable glitch-pop document" - Clash "Takes his cues from Super Furry Animals on this delightful psych-pop swoon" - Mystic Sons
Out 24th August, 'Old Dog, New Tricks' is the new album from Canadian-born, Australian-resident indie troubadour Brian Campeau. This exhilarating record illuminates an artist who is equally concerned with musical complexity and creative progress as with straight-up, damn good, life-brightening pop songs.
First single "Whatever Happened To Xanadu" - a psychedelic jam piled high with intricate guitar hooks, iridescent vocals and oddball production flourishes - introduced the record with heavy daytime BBC 6Music play from Radcliffe & Maconie and Lauren Laverne (who also championed it on 6Music Recommends), and positive press attention. The folk-laced, harmony-laden "Next October" (out online 20th June), continues the trajectory, gaining equally high profile early support.
Having become ensconced in the Sydney music scene, Campeau is widely regarded as one of the most confounding and creative artists working in Australia today. In addition to his previous solo albums (which also include 2007's 'Two Faces' and 2009's 'Mostly Winter, Sometimes Spring') he has recorded and toured as one half of folk-pop act The Rescue Ships and as part of Sydney's bluegrass revivalists The Green Mohair Suits, while also producing records for artists including Melanie Horsnell in his studio, and supporting the likes of Joanna Newsom live.