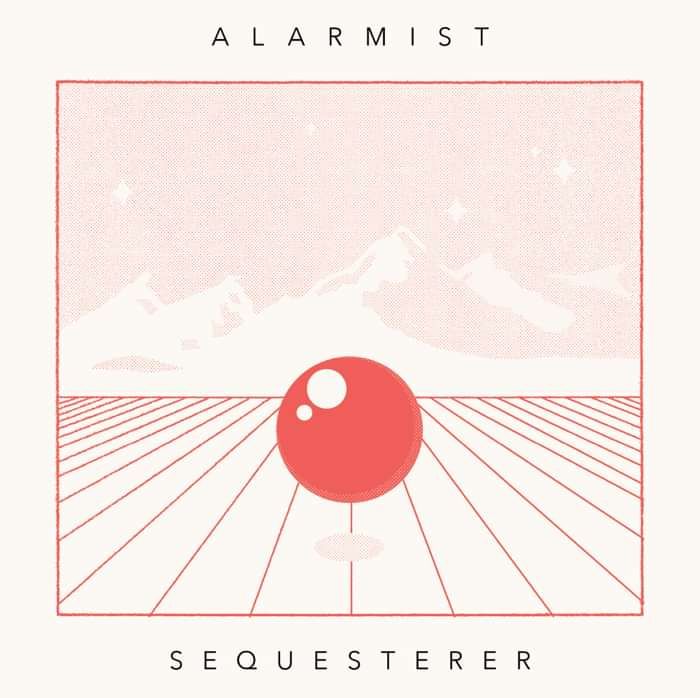 CD: Alarmist - Sequesterer
Dublin's instrumental maximalists Alarmist return with their second LP, 'Sequesterer', out 19th July. Like 2015's acclaimed 'Popular Demain' album, the new record pulsates with kinetic energy, while also making detours into the more spacious and slower-paced avenues of the band's collective imagination.
The trio, consisting of Neil Crowley, Elis Czerniak and Barry O'Halpin, draws upon backgrounds in post-rock, electronic, jazz and contemporary chamber music – foundations on which they build with an ever-increasing sense of freedom and adventure. Embracing the collision of frenetic percussion, clanging guitars and vaporous synths, they absorb faded relics of retro-futurism and bygone musical eras into their own new and twistingly melodic musical language.
"At the start we all shared a vision of getting beyond the standard rock setup to something really expansive and colourful incorporating winds, synths, percussion and electronics, with a strong rhythmic core', say the band, who originally lined up as a four-piece with two drummers. "Over the last decade we've developed a lot on our own individual musical paths, but Alarmist has consistently been a base for us creatively and a unique outlet for ideas we couldn't try out any other way… We're probably now at a point where we've achieved a lot of our earlier goals so we can take more risks and experiment".
Juxtaposed with the trio's serious musical chops is a high-spirited, footloose sense of fun that runs through the music itself, even spilling over into the track titles. "District Of Baddies" channels the strange and thrilling journey of the opening song, which ranges through genres and moods "like being chased through multiple themed city markets". "Boyfriend In The Sky" came from a romantic novella name generator, the title finally finding its musical mate in a radiant track with contrasting squashy synths and romantic, '80s Cocteau Twins-inspired guitars.
"Bronntanasaurus" sums up the expansive terrain that Alarmist cover throughout their new album, with their signature combination of sprawling colour and rhythmic drive, and a blurring of boundaries between electronic, post-rock and jazz elements. With a time-travelling, psych-infused quality, the track departs from weathered analogue textures and warbly Rhodes piano, gradually being consumed by waves of shiny digital synths and twisting melody.
The close-knit, open-minded Irish music community proved a nurturing environment for Alarmist to connect, try out ideas, and form a unique identity as a young band, but they also became eager to progress beyond its surrounding waters. The success of their early releases, which all scaled Bandcamp's experimental rock and math-rock charts, revealed audiences and opportunities in far-flung places. "Playing gigs and festivals abroad, and meeting people who are already fans, is surreal but very satisfying for an underground band. It makes you realise how far music can travel internationally even within its own niche", they elaborate.
They have brought their blistering live sets to an opera hall at 12 Points Festival in Sweden, a Sum 41-esque halfpipe stage in a Toronto bike shop, and many places in between, including ArcTanGent, Brilliant Corners (UK) and Out of The Crowd (Lux) festivals. Airplay has come from the influential likes of Simon Raymonde (Amazing Radio/Bella Union), Jon Schaefer (New Sounds, WNYC), BBC, RTÉ and Swedish National Radio, and press props from The Guardian, All About Jazz, Hot Press, Nialler9, Sunday Times Ireland and the Irish Times.
Enjoying the best of both worlds, they still remain embedded in the local scene, collaborating on wild jazz supergroup projects, as well as working with Dublin visuals gurus Slipdraft and Algorithm on music videos and ambitious live AV builds. "And of course, it's always a great experience getting back into the studio and making the records themselves", they add. "This is our third record with producers the Deaf Brothers in the Meadow Co. Wicklow, and at this point we have a great, dangerously informal working relationship".
That rapport manifests itself in the confidence and fluidity of this eclectic new record, on which they also more heavily blur the boundaries between live and electronic elements than ever before. "Lactic Tang" jigsaws off-kilter, unquantised beats with wildlife samples. It's dense rainforest of sound recalling the aesthetics of labels such as Warp and Brainfeeder, grounded by the onset of dirty drums and detuned shoegaze guitar textures.
"Life In Half Time" defies the band's maximalist impulses and allows luxurious space to experiment in its deceptive simplicity. A meandering melody takes centre stage in a narcoleptic landscape of prepared pianos, breathy sax and clarinet, and warm percussion.
On "Helical", constantly churning synth textures nod to earlier electronic pioneers like Harmonia as well as contemporaries such as Oneohtrix Point Never, before "Expert Hygiene" expands the same impish hook into a gripping exercise in disorientation, uniting it with the band's raw core of guitars drums and keys. The bounding, cartoonish and nostalgic "Kalite Quest" embraces surf-twang guitars and psychedelic phasers.
Marking their subtle yet seismic sonic shift, the dulcimer, slide guitar and toy piano of "Nvymr" make it something of a companion piece to "Lost Console" from their previous album, the newer number's sense of melancholic peace and breathing space coalescing neatly with the current sound. It is clear that this hyperactive trio have found a calmer and more reflective strand to their music – but the slamming piano lid that closes the track, and the album, provides final, gleeful, mic-dropping reassurance that Alarmist's penchant for drama and spectacle is still going strong.