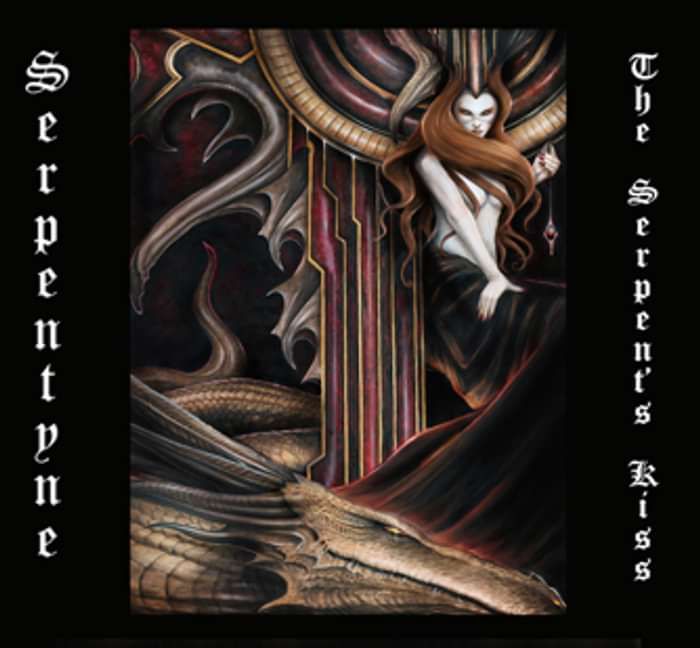 The Serpent's Kiss audio CD (2016)
Review by Dewey Gurall of Progression Magazine USA, October 2016.
…Serpentyne… embrace galloping rhythms from the power-metal genre. Nightwish comparisons might seem unavoidable, at least initially. But by the fourth track "Jeanne D"Arc", the fusion of Mark Powell's hurdy-gurdy and Maggiebeth Sand's angelic/operatic voice atop heavy guitar riffs confirms Serpentyne's uniquely adventurous approach to genre bending.
Serpentyne smartly knows when to diverge toward keeping things fresh.
Instrumental "Saltarello" for instance, includes an unexpectedly jazzy piano solo.
'Morrighan's Jig" sounds like that collaboration Thin Lizzy and the Chieftains never got around to pulling off.
The exotically ethnic, celebratory "Lammas Night" (incorporating a traditional Croatian tune) will inspire wild dancing under the next full moon.
And melodic themes from a pair of traditional Macedonian tunes lend beguiling intrigue to the title track.
Orchestrations thought "The Serpent's Kiss" add cinematic majesty to compositions inspired by romanticized historical figures/events and mysticism. All is topped off by a gorgeous six-minute plus extrapolation of the "Game of Thrones" theme! What's not to love?
**** (4 Stars)
Dewey Gurall, Progression Magazine USA, October 2016.