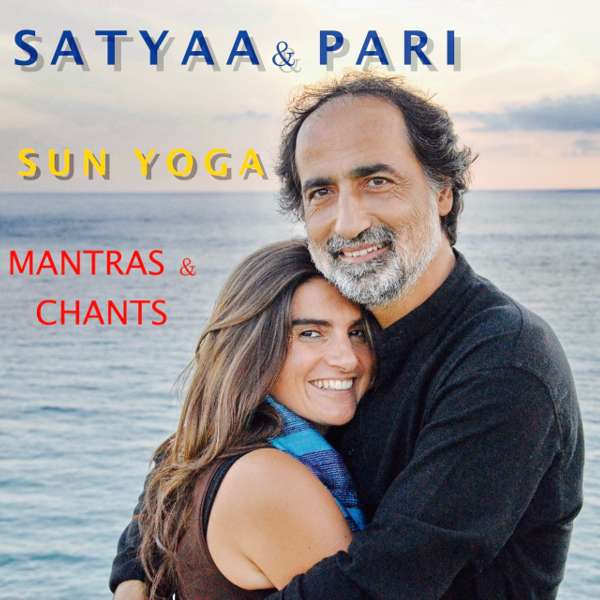 Sun Yoga - Digital Download
Satyaa & Pari Mantra Music
Om Hrim Sum Suryaya Namah
Ra Ma Da Sa Sa Se So Hung
Om Hram, Hrim, Hraim, Hrum, Hraum, Hraha
Om Hram, Hrim, Hraim, Hrum, Hraum, Hraha
Loka Samasta Sukhino Bhanvantu
(Für Bestellungen in deutscher Sprache scrollen Sie bitte ganz nach unten links - und wählen Sie Ihre gewünschte Sprache.)
Für Bestellungen mit Banküberweisung klicken Sie bitte › hier.
For Orders with Bank Transfer please ›' click here.
An exceptional compilation of sacred mantras
A specific collection of Mantras to invoke the inner light represented by the Sun- God Surya. Deep, soft and truly relaxing healing mantras can accompany various yoga practices and specially the sun salutation yoga.
Tracklist:
Om Hrim Sum Suryaya Namah 4:45

Asato Ma Sat Gamaya 3:17

Ram Ma Da Sa Sa Se So Hung 6:57

Om Hram, Hrim, Hraim… 5:57

Om Hram, Hrim, Hraim… 3:39

Om Mitraya Namaha 8:34

Gayatri Mantra 5:05

loka Samasta Sukhino Bhavantu 8:47

The power of light for the body, mind and soul to discover new New findings about the sun not only keep the science in breathing. The healing power of the sun also has great significance for our physical and mental health. Light is a living being and sun-Yoga a comprehensive program, body care, food and energy to provide full power of the sun – a source of well-being and clear consciousness. To sun-Yoga exercises include body, the sun salutation and asana. You learn how to integrate hands and breathing techniques. Even the singing of the sun mantras syllables of spiritual power is one of them. Meditation, sun food and beauty care are also part of the solar yoga as the latest discoveries in solar research.
Die Kraft des Lichts für Körper, Geist und Seele neu entdecken Neue Erkenntnisse über die Sonne halten nicht nur die Wissenschaft in Atem. Die heilende Kraft der Sonne hat auch große Bedeutung für unsere körperliche und psychische Gesundheit. Licht ist ein lebendiges Wesen und Sonnen-Yoga ein umfassendes Programm, dem Körper Pflege, Nahrung und Energie voller Sonnenkraft zukommen zu lassen – eine Quelle für Wohlgefühl und klares Bewusstsein. Zum Sonnen-Yoga gehören Körperübungen, das Sonnengebet und Asanas. Sie lernen, wie Sie Hand- und Atemtechniken integrieren können. Auch das Singen von Sonnen-Mantras, Silben von spiritueller Kraft, gehört dazu. Meditation, Sonnennahrung und Schönheitspflege sind ebenso Teil des Sonnen-Yoga wie die neuesten Entdeckungen der Sonnenforschung.
Artist name:
Satyaa + Pari
Year released:
2010
Label:
Satyaa + Pari
Musicians:
Satyaa - Vocals, Harmonium
Pari Vocals, Guitar
Andreas Mock: Keyboards

Artists Bio:
In the early 1990's Satyaa, originally from Switzerland, and Pari, who is Greek, met in Lucknow, India at the sangha of Sri HWL Poonjaji. Papaji as he was lovingly called by his devotees, emphasized the importance of Bhakti, devotion, as a direct way to recognize God within ourselves. Both Satyaa and Pari were called to sing for Papaji, and in this way they were brought together and eventually married at the ashram with Papaji's blessing.
Their mutual love for the Divine is expressed in Satyaa´s and Pari´s music which is mostly self-composed mantras and devotional songs, and also includes some beautiful traditional bhajans.
Satyaa and Pari share their music and their love at the Alexis Zorbas center in Corfu, Greece where they live in summer, and during the winter months at various yoga centers in Europe.
For more information ,visit the website of Satyaa & Pari and their center's website: www.satyaa-pari.com and www.alexiszorbas.com