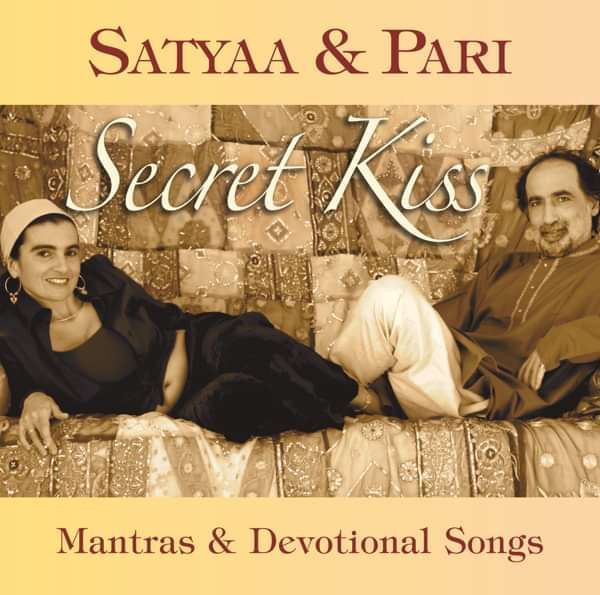 Secret Kiss
Satyaa & Pari Mantra Music
(Für Bestellungen in deutscher Sprache scrollen Sie bitte ganz nach unten links - und wählen Sie Ihre gewünschte Sprache.)
Für Bestellungen mit Banküberweisung klicken Sie bitte › hier.
For Orders with Bank Transfer please › click here.

For Orders with Bank Transfer please › click here..

*Orders of physical CD's to the US are not possible during the pandemic but feel free to order our digital download of the CD instead.
Dive into this ancient flow of devotion to love.
Welcome to Love! Welcome to this garland of mantras and devotional songs nurturing our hearts longing for unity in love. Love, the only thing that never changes, never comes nor goes. Who could understand this? Understanding dawns upon us just like a secret kiss, a silent consent in a peaceful heart! These songs, empowered by the words of ancient healing mantras, are being humbly laid at your feet, Beloved Heart. "The Self reveals itself to itself by itself". H.W.L Poonja (Papaji)
Tracklist:
Radhe Radhe    8:46

Secret Kiss    5:14

Radhe Govinda  7:32

Guru   8:03

Pranam  7:52

Buddham Sharanam  5:14

Vande Gurudev   6:47

Secret kiss (remix)  5:22

This selection of holy mantras
…are pointing towards Truth, Love, God, Guru. These are very strong healing mantras giving rest to our eternally seeking and questioning mind – giving up all hopes and aspirations, resting in those hands of Love- Consciousness- Beauty, that are holding us, sustaining our very life!
This wave of gratitude is a love affair between the Eternal and the Eternal where the Guru and the disciple merge into one.
As Papaji often said: " Be effortless and in an instant you will discover that you have always been free. Om Tat Sat"!
Artist name:
Satyaa + Pari
Year released:
2015
Label:
Satyaa + Pari
Musicians:
Satyaa: Vocals, Harmonium
Pari: Vocals, guitars
Rishi: Keyboards, Percussion, Drums, Bass, Guitar (track 5)
Chintan Relenberg: tablas on tracks 3(Radhe Govinda) and track7(Buddham Sharanam) and percussions on track 7
Nandin: silver flute on tracks 1( Radhe Radhe) and 4 (Guru)
Manose: Bamboo flutes on track 3
David Springborg: Guitars on tracks 2(Secret Kiss) and 7(Vande Gurudev)
Michael Bruun: Guitars, Wurlitzer, Bass on track 8(Secret Kiss)
Sten Ørting: Strings on track 8( Secret kiss)
Stephan Langenberg: Accordion on track 7(Buddham Sharanam)
Veetkam: Bongos on track 7(Buddham Sharanam)
Wolfgang Prechter: Bamboo flute on track 7(Vande Gurudev)Osho

Artists Bio:
In the early 1990's Satyaa, originally from Switzerland, and Pari, who is Greek, met in Lucknow, India at the sangha of Sri HWL Poonjaji. Papaji as he was lovingly called by his devotees, emphasized the importance of Bhakti, devotion, as a direct way to recognize God within ourselves. Both Satyaa and Pari were called to sing for Papaji, and in this way they were brought together and eventually married at the ashram with Papaji's blessing.
Their mutual love for the Divine is expressed in Satyaa´s and Pari´s music which is mostly self-composed mantras and devotional songs, and also includes some beautiful traditional bhajans.
Satyaa and Pari share their music and their love at the Alexis Zorbas center in Corfu, Greece where they live in summer, and during the winter months at various yoga centers in Europe.
For more information ,visit the website of Satyaa & Pari and their center's website: www.satyaa-pari.com and www.alexiszorbas.com