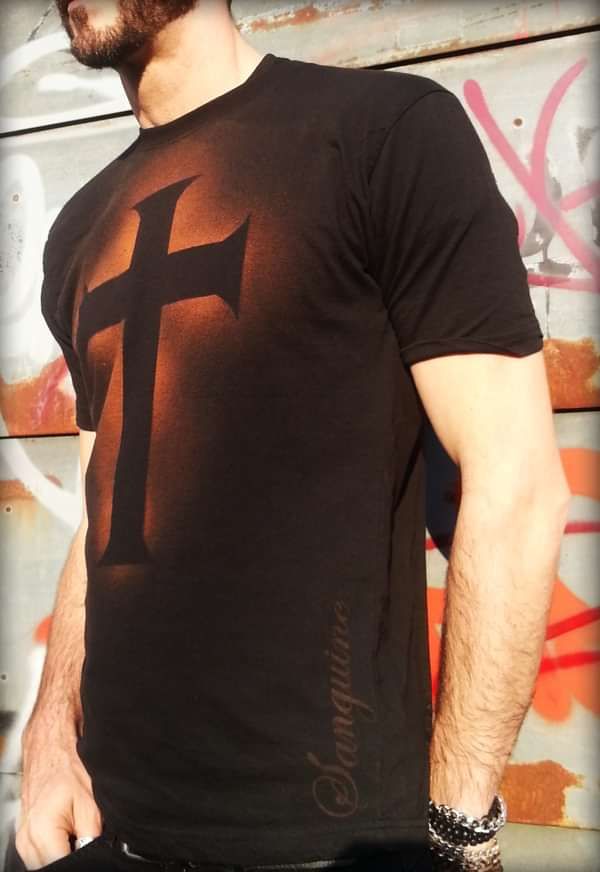 CROSS T-shirt
Black t-shirt featuring the Sanguine cross (handmade by Sanguine Art).
This is a handmade item using "Sanguine Art" techniques, each one is unique and hand-crafted especially for you.
The "Cross" design is printed on the front of the t-shirt; "Sanguine" is printed on the left-hand side of the t-shirt.
To ensure the best fit, please compare and measure your size below: Small: 18" (Chest) x 27" (Length) Medium: 18.5" (Chest) x 28" (Length) Large: 21" (Chest) x 28" (Length) X-Large: 21.5" (Chest) x 29.5" (Length)
Chest is measured from arm-pit to arm-pit. Length is measured from back of neck to bottom of the t-shirt.
Please compare these measurements to an existing garment you own to ensure that you order the right size. Garments can vary in size from product to product.
Take 5 minutes and Google 'Sanguine Art' - The term refers to pictures with blood like qualities - named so because the orange/brown effect creates looks much like dried blood on paper. We love the style and thought it would be awesome to create clothes based on the ancient technique.