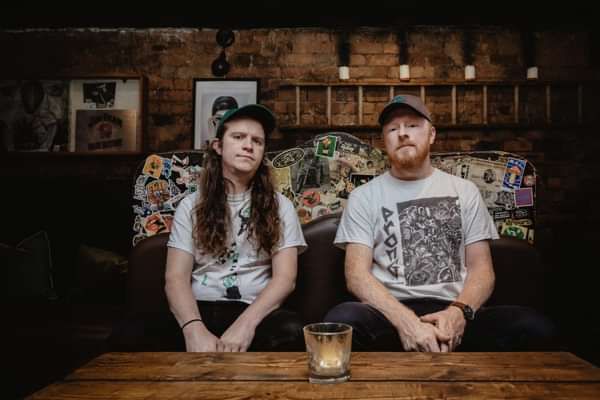 For Joel Harries and Malcolm Middleton, Lichen Slow is a band steeped in mutuality and patience. As musicians both individually involved in a wealth of solo and collaborative projects, the pair are well aware of the creative roadblocks that can arise in the midst of deadlines and expectation. However, on their debut full length Rest Lurks, Harries and Middleton bend to the exhale of instinctive spontaneity that doesn't seek to have expectations confirmed but rather amplifies a certain curiosity and openness to the world. Through kaleidoscopic, intimate arrangements and lush, celestial vocals, Lichen Slow rid themselves of rigidity to produce an open-chested ode to the beauty of trusting the process.
Middleton is primarily known for his work in Scottish indie rock band Arab Strap, who are hailed for their unconventional, intricate instrumentation and candid ruminations on the tragi-comedy of navigating today's world. The multi-instrumentalist's solo records dug deeper into Middleton's ability to blend humour and poignancy, alongside anthemic, acoustic-driven indie bangers. Meanwhile, Harries' discography spans gorgeous, stripped-back solo records, the gentle-electronica of duo Team Leader and instrumental-noise band 72%.
After a chance meeting thanks to a mutual friend, Harries and Middleton soon found themselves drawn to collaborate. "We just clicked and had a good chat about Bolt Thrower," Middleton says. "I sent Joel an acoustic guitar bit and he immediately came back with a complete song. That's when we thought we might be onto something. We just started writing songs and couldn't stop." While the pair joke that their "lack of communication" is the key to their collaborative success, there is a certain kind of blossoming that can happen between relative strangers: a place where we can reinvent ourselves, and outstretch ideas past the constraints of working with those who might know us a little too well.
Harries and Middleton both approached Rest Lurks from different places, but found themselves steering toward themes of mental health struggles and grappling with the different selves we morph into throughout the years. Delicate opener "Hobbies" focuses on the existential fear of taking a wrong turn in life while mimicking our perseverance through gentle pulsating percussion and ethereal backing vocals performed by Quincey May Brown. "I hold you in my arms and I think about death," Middleton laments, over yearning horns and plodding strums.
Elsewhere, "Pick Over The Bones" leans into the universality of swirling anxiety and reflection against a backdrop of urgent, almost frantic drums, as Harries offers: "Hoping to find a way to let time pass / Without filling every second of it / With my trivial concerns." It's one of the songs on the album that surprised both Harries and Middleton, after morphing from a soft acoustic ballad into a swirling indie-pop gem. "The way I write songs on my own is very specific and my usual way of doing things is quite linear," Harries says. "B ut working with Malcolm, and working in this way, allowed us to make a really diverse album, which I wouldn't have made otherwise."
"Preset" continues the urgent progressive swells, but teams them with Middleton's more tongue-in-cheek lyricism, as he comments on the mundanity and frustrations of modern mainstream music. In an age where most of us live through the online highlights of others––where our self worth is measured by the attention of strangers––"Preset" is a relatable call-to-arms to pause amongst the chaos, and to really take in the present moment. Glittering closer "Garden Gate" also offers a reprieve from overwhelm, as Harries' celestial vocals act as a friend in the dark, spotlighting the struggles of depression. "Rest lurks at the garden gate / Watching me stumble in the weeds," he sings, as the echo of a tender guitar softly fades.
Rest Lurks is a record that proves the magic in being creative for the hell of it. The album pieces together a patchwork that amplifies the raw talents of two musicians who don't write songs because they have to, but simply because they need to. Shedding any assumptions we have for ourselves and others, Lichen Slow is a band that urges us to soak in the small moments, and if it helps, to poke fun at the things that frustrate us the most.