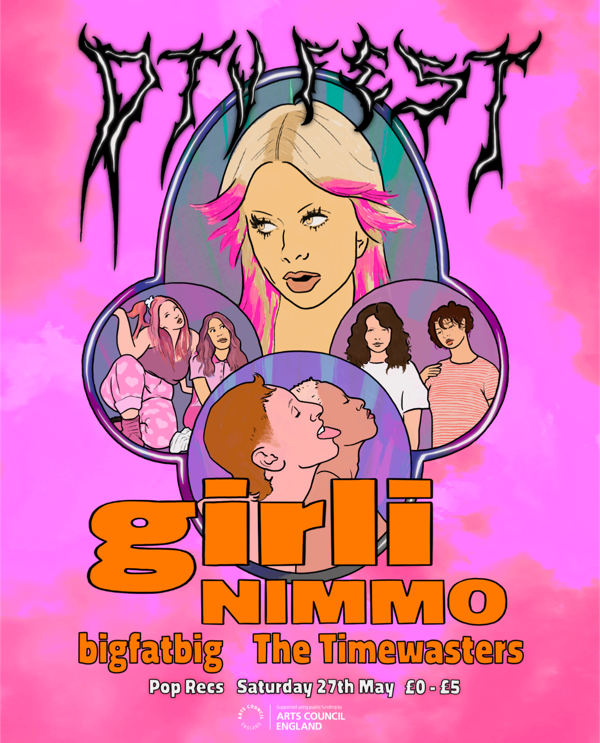 Daemon TV & Pop Recs present: DTV FEST
A night bringing the queer community together from the North East and beyond featuring GIRLI, NIMMO, BIGFATBIG, THE TIMEWASTERS + DJ SET FROM SAMARA LABORIEL
DTV Fest will celebrate artists from Non-Binary garage-rocker Du Blonde's queer DIY record label Daemon TV, as well as close pals and queer icons.
As a record label centred around inclusion, representation and removing barriers in the music industry, they're teaming up with Pop Recs to bring an experimental programme showcasing regional and national queer artists to new audiences in Sunderland - focussing on accessibility with low and pay as you feel ticket pricing
DTV Fest will be headlined by unapologetic pop-rock princess girli. A previous collaborator with DTV, the queer pop songstress is currently selling out dates accross US and Europe on her F**ked It Up tour, stopping off in Sunderland for this one off performance before a host of summer festivals.
Girli will be joined by queer dance-music duo NIMMO, bringing their high-energy, cathartic and joyful performance style to the North East. Joining the bill will be local pop-punk legends and long-time DTV family bigfatbig, geordie rock-pop non-girlband The Timewasters and local DJ Samara Laboriel
The night will also host a pop up from local non-profit queer cic Tyne & Queer, as well as a stand for all DTV merch, clothing and music.
ALL WELCOME but this event particularly aims to provide an accessible and safe space for the LGBTQIA+ community that is currently lacking in Sunderland and the North East as a whole. No one turned away for lack of funds. All profit will go towards CIC Pop Recs to help them continue their fantastic work in aiding the local community.
Funded by Arts Council England
Line Up
GIRLI Soundcloud I am GIRLI, a young London-based singer/rapper/producer making electronic cyber-sugar pop and garage about girls, kids, rebellion and city life. I write, record and perform my own songs. My influences include M.I.A, Kyary Pamyu Pamyu, Charli XCX, Hannah Diamonds, GFOTY & Alunageorge to name a few and I combine themes of girlish rebellion and teenage dissatisfaction with fresh, urban, electronica sounds to make quirky music with attitude. Both my music and style are heavily influenced by kawaii, 90s trance, K-pop and J-pop and I love experimenting with my voice as an instrument with endless possibilities, also incorporating London child-like spoken-word phrases and half-rap into my songs. I have a very wide vocal range. I have just started at the new Music Industry Academy established by Chase & Status and backed by Universal Music in London, East London Arts and Music. This year I've performed in venues around London solo and as lead singer/guitarist in my previous all female band Ask Martin, during which I have worked with a number of a high profile industry professionals including recording with producer Spider L Johnson, who worked with Estelle, Tinie Tempah and Stevie Wonder; co-produced and recorded a track with Will Kennard from Chase and Status; recorded in L.A with the production partner of rapper Tate Tucker, who worked on the Harlem Shake hit last year, and caught the attention of agents at Primary Talent International, MamaCo and publishers from SONY in London. I am also currently working with the rapper Infecta on several pop tracks for Red Bull Music.
My live shows are exciting and I'm a bundle of energy who loves to shake up the crowd, having gigged at coveted London venues and festivals including at Lovebox Festival 2014 on the Aperol Spritz Social Stage, The 02 Islington Academy, Jazz Cafe Camden, The Garage in Islington as well as having worked with numerous promoters including Mama Group, Hotvox, Symptomatic Presents, Discovery Artists and Absent Kelly. I also recently played on the same bill as members of Earth, Wind and Fire at the Sessions 58 event in Hackney and will shortly be officially releasing new material, including a music video, from my recording sessions in L.A and London.
Twitter, Instagram, Facebook and YouTube @girlimusic and GIRLI.
View Profile