Lande Hekt + Holly Rees + Onlooker
Lande Hekt + Holly Rees + Onlooker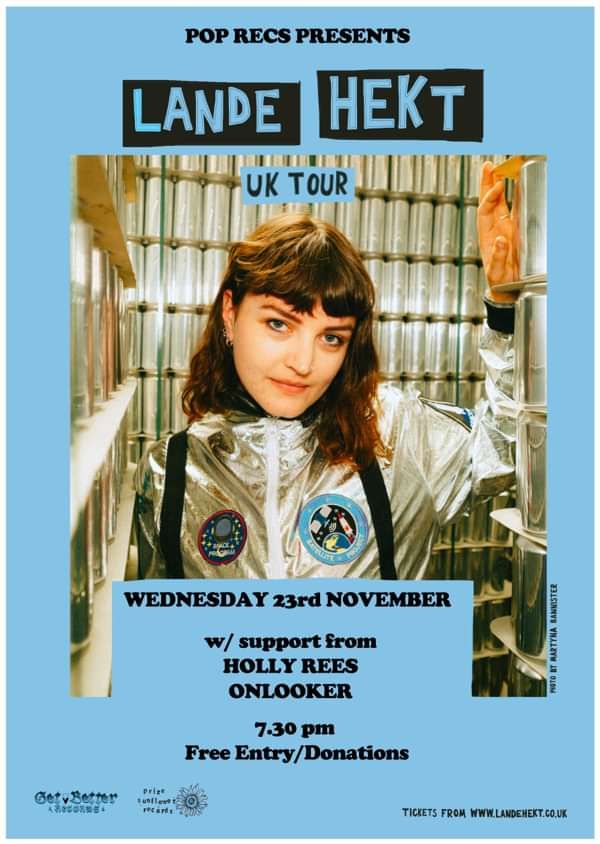 LANDE HEKT
Lande Hekt's voice in music is one that's socially aware yet often introspective, drawing awareness to serious issues but at the same time baring her soul. Much of Hekt's compositions act as a personal diary of what's going on in her life at any given time. This is evident in her discography with Muncie Girls, the band which she formed in her hometown of Exeter as a teenager and have released two critically acclaimed albums to date. This knack of combining her own experiences and feelings whilst highlighting larger socio-economic issues has carried through to her more contemplative solo material, which began life in an EP 'Gigantic Disappointment', self-released in 2019.
https://landehekt.bandcamp.com/
HOLLY REES
An indie-rock act based in Newcastle, UK, described as Laura-Marling-meets-Courtney-Barnett. From heartfelt solo acoustic to her rockier full band set-up, these songs are full of feelings.
https://hollyrees.bandcamp.com/
ONLOOKER
Based in Teesside, Onlooker have developed a garage rock sound utilizing everything at their disposal in a short, sharp format. Angry songs in a major key!
https://onlookertheband.bandcamp.com/
7.30pm Free Entry/Donations (link below)
Line Up
Lande Hekt
"I was listening to a girl from the North East the other day, Holly Rees, and her track 'Toast' and it floored me. It was so brave and created by someone who was really, truly, being themselves. Don't believe anyone who tells you there is no future in music. There is. All you have to be is good." - Tom Robinson, BBC 6 Music
"…A delicate voice that will rip through your ears and leave a lasting impression" - Songwriting Magazine
"Holly Rees' songs ache in all the right ways—she's an unreasonably gifted singer/songwriter…" - Stereo Embers Magazine
"Her stage personality, songs, and voice reminded me of some legendary singer/songwriters from yesteryear" - Spotlight Music UK
"Unapologetically down to earth lyricism" - RIDE MUSIC
"…An earnest brand of songwriting that will take Holly farther than she thinks." - The Music Mermaid
Holly Rees crashed her motorcycle when she was 17 and ended up taking her AS Level exams on morphine. She had five stitches after slicing her hand open making a sandwich. And she once broke a toe in her sleep.
Although Rees has been described as a "loveable idiot", these haphazard events aside, the Durham Dales-born singer songwriter's work is a fluid blend of indie folk played with finesse and grace.
Falling somewhere between Laura Marling and Courtney Barnett, Rees' work is redolent with poetic precision, meticulous phrasing and seamless, elegant arrangements.
After BBC 6 Radio's Tom Robinson backed her on his show with plays from her 2017 debut EP Ilex, Rees carried that momentum all the way to booking festival slots at Hit The North and Evolution Emerging and playing supporting gigs with CoCo and the Butterfields, Joseph J Jones, X Factor's Sam Lavery, and Hannah Trigwell.
Rees' follow-up EP Slow Down came out in August of 2018, climbed to #6 on the iTunes chart and garnered airplay across the United States and Europe alongside support from BBC Introducing in the UK. With Slow Down under her belt, Rees joined the critically-acclaimed Northumberland singer/songwriter Matt Dunbar on a co-headline UK tour that was met with widespread rave reviews.
A prolific songwriter, Rees released single Stick Around at the end of 2018, launched with a packed hometown show in which Rees also broke into full-band territory, heralding the release of the live EP "Text Me When You Get There" in May. As for the song's hushed immediacy, Rees says: "I was listening to a lot of beautiful, soft songs and I just wanted to try and write one, too. I have a playlist of 'Healing Tunes,' which is where I put all my favourite soft songs, for when you just need to pause and be gentle with yourself, and I wanted to challenge myself to write something I could put on that. It's just a kind of weird soft song for everyone who's a bit sad that I want to just say, Hey, I get a bit sad too, but let's stick around -- things will get better."
2019 saw Rees take her live show to an international level. Since setting off on her solo tour across Canada back in April, she performed to new fans at over 40 venues as well as several festivals across Canada, including Calgary Stampede and Canadian Music Week, where she appeared as one of only 5 UK acts to be invited. Just before heading back to the UK, Rees graced listeners with Getting By, a full-band anthem rivaling 2018's softer release Stick Around. This time Rees and her band throw down for a punchy singalong about messy mental health, which has since received international airplay as well as support from home with BBC Introducing In The North East and has solidified her move into the rockier full band setup to take on 2020.
For this 27-year-old singer/songwriter, the journey is just beginning and it won't be long before she's a household name. But Rees is one of those artists who's not one to take future successes for granted—she's just happy she gets to do the thing she loves the most.
"It still blows my mind that this is something I get to do full time," she says. "And that I'm lucky enough that people connect with me and the tunes I make."
View Profile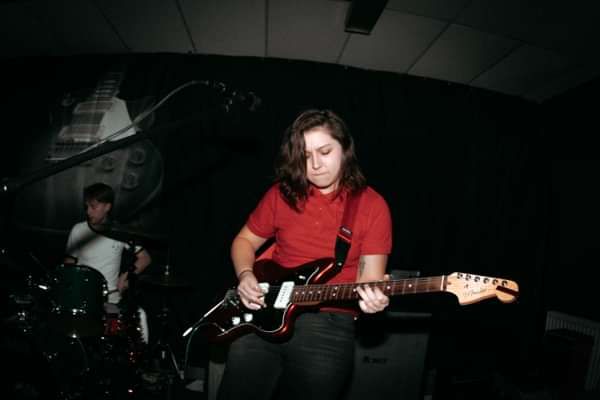 Onlooker