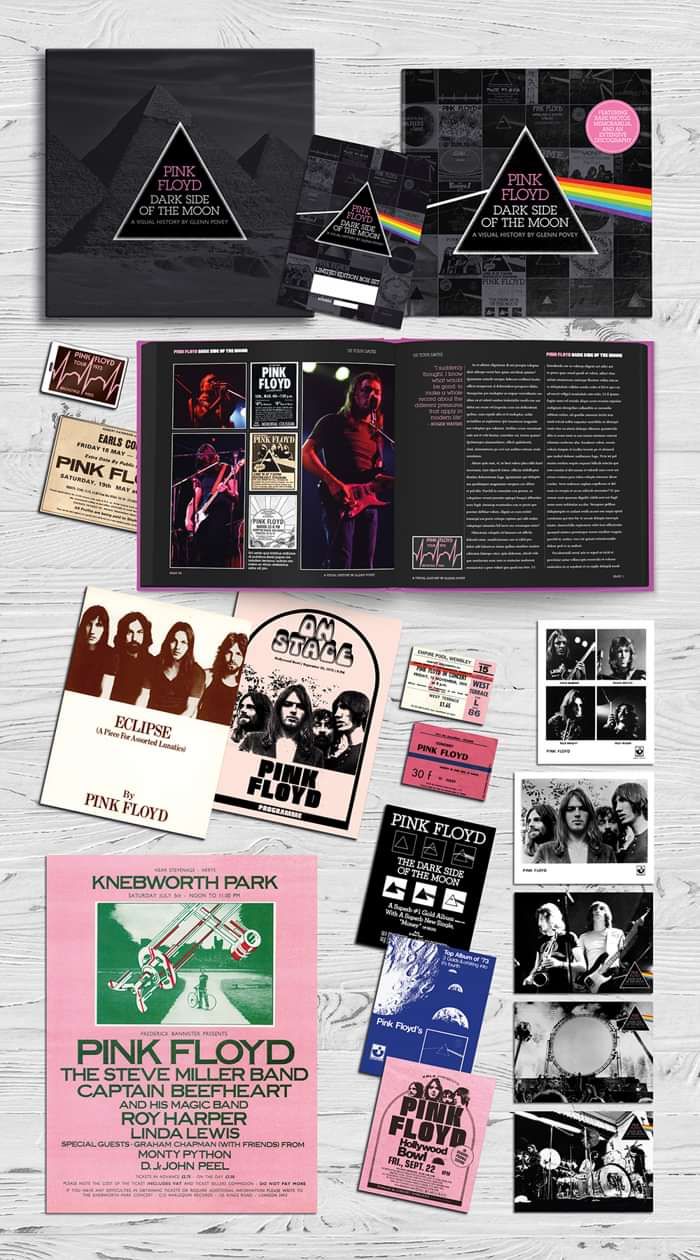 Pink Floyd - Dark Side of the Moon - Super Deluxe Edition
'The Dark Side of The Moon' will always remain Pink Floyd's greatest achievement. A landmark album in every respect and housed in one of the most iconic album sleeves of all time.
Statistics for its sales – 50 million worldwide and counting – and chart history – 15 consecutive years on the Billboard 200 - are mind-boggling. As the album enters its 50th anniversary year it still shows little sign of waning in its popularity as new generations of music lovers discover its wonders.
Its release in March 1973 saw the album go straight to No.1 in the US and No.2 in the UK. Previous albums had been a hit and miss affair, a series of tracks both with lyrics as well as instrumental, but 'The Dark Side of The Moon' presented a more literal concept, a continuous piece woven with tracks dealing with the pressures of life, birth, death, war, mental illness and inequality to name a few. This clearly struck a chord.
Similarly, their live shows had built a steady cult following too, which had seen their new album previewed live as a work in progress since January 1972.However, it was with the release of the single 'Money' to FM radio in North America that it suddenly propelled the band into the sphere of stadium touring.
Consequently, their live shows began to take on another dimension, becoming a multi-media extravaganza with inflatable props, pyrotechnics on a grand scale and a giant circular projection screen featuring specially made live action and animation films.
Pink Floyd had finally arrived in grand style and with it followed a slew of highly regarded conceptual albums and live shows that are remembered as nothing short of spectacular.
Inside this box of wonders you will find the complete recording history of the 'The Dark Side of The Moon', documentation of all the live performances of the album by the band, previously unpublished photos and illustrations as well as facsimile memorabilia including photos, programs, handbills and passes.
This super deluxe box contains:
• Signed and Numbered certificate by the one of the world leading Floyd authorities and author Glenn Povey,
• Reproduction of very rare and interesting; memorabilia, photos, posters from the era
• A CD of interviews with band recorded in the day.
The first one is from 1972, where the band discusses been on the road, the Live at Pompeii film, the band are very relaxed and laughing. Rick Weight says at one point, "We understand each other very well. We are very tolerant of each other". Nick Mason says, "We are all from the British aristocracy with the exception of David Gilmour…."
This band interview is a rare gem, from a band which seldom gave interviews. Its sure to raise an eyebrow or two looking back from 2023.
The longer interview is over 30 mins long with Rick Wright, where he discusses tour and looking back at Dark Side of the Moon, the bands inner workings on how they write and play together, solo albums, along with living in the English countryside…….
This CD of interviews, along with all the memorabilia and legendary Floyd historian Glenn Povey's commentary makes this limited-edition super deluxe box set, the perfect companion to official Dark Side of the Moon set.
A must for all serious collectors of Pink Floyd.