Dead Young Records presents:
Chambers
CHAMBERS + La Bête Blooms + Yung Chiks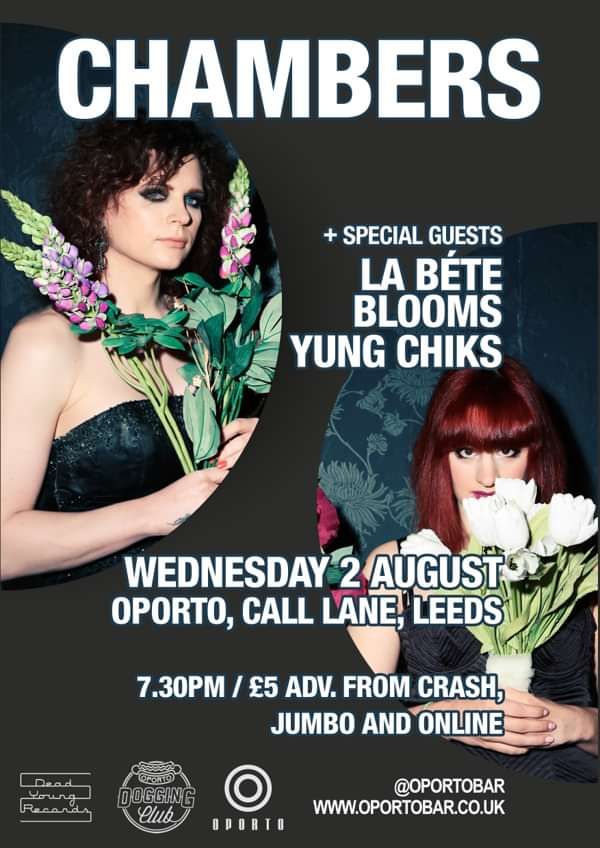 "Hauntingly psychedelic… dark, disjointed and angular" – Louder Than War
"Probing, dramatic music coming from a very real place" – Clash Magazine
Listen/share 'Sister Doom' here: https://soundcloud.com/ukchambers/sisterdoom/s-ZGcnb
Formed in the summer of 2014, Churchill and guitarist/vocalist Aeris Houlihan were both already playing in another band together at the time. Finding a distinct lack of fellow musicians that she was drawn to on her Leeds College of Music course, Churchill finally realised that the answer to starting her dream band was right in front of her the whole time.
"At the time I felt like I wanted to be more involved creatively with song-writing and contribute more than just putting drums to songs that guitarists had sat down and already written" explains Churchill "I wanted to share the creative process with a guitarist."
"Life has a strange way of pulling two people together" adds Houlihan "The first time I entered the band practice room I felt a magnetic pull towards Ellie. An energy I get that I can't describe in the form of words. My auntie is psychic, it runs in my family. We were destined to start Chambers together." The pair are also big horror film fans which they feel is where their darker, doom-influenced material stems from. It's not just the horror films that lend Chambers their otherworldly quality, though.
There's a hint of the mysterious and arcane about everything they do, an embracing of the darker side and the unknown elements of life and death that give them somewhat of an edge when compared to their poppier contemporaries and counterparts.
The name Chambers is in itself a reflection of their desire to peek inside Pandora's Box. When you think of a chamber it makes you wonder: what's inside? What does it look like? What's it for? Everyone has their own Chambers, full of weird and wonderful thoughts and emotions. It's this sense of mystery inside the self that lends itself to the pair's dark themes, bursting as they are with a raw and hopeful energy.
"The concept of sister-doom is sort of like a spirit that drives us to do what we do" the pair finish up "It's sort of that feeling you get when you're stood in a dark, empty house with all the lights turned off. A figure suddenly appears in front of you and your eyes try to work out if it's real or not. It's sort of that adrenaline you get from the unknown. Like something you shouldn't do but you just want more."
Line Up
Genre - Sister Doom/Grunge/Alternative Rock
CHAMBERS are a two piece signed to I'm Not From London records based in Nottingham.
The band has recently had Radio 1 airplay on the Huw Stephens Radio 1 show.
"Raring to take 2017 by the horns? This is the angry power anthem for you" – Buzz Feed
"Hauntingly psychedelic…dark, disjointed and angular" – Louder Than War
"Probing, dramatic music coming from a very real place"; – Clash Magazine
The band has supported the following bands, Black Honey, The Black Delta Movement, Gap Dream, Sister Mantos, The Mirror Trap, Dinosaur Pile-Up, Heck, Clean Cut Kid. Some of which are support slots, all dayers and festivals on the same stage.
View Profile
Hull post-punk five piece La Bête Blooms kick off the year with their second E.P 'I Know It's Nothing' after gaining praise for their single 'Breaking In' which included support from BBC 6Music's Steve Lamacq, playlist and chart action on Amazing Radio and Xposure Hot One accolade from Radio X's John Kennedy and excellent reviews from Gigslutz, UberRock and more. Previous support for La Bête Blooms aggressive sound included BBC 6Music DJ's Lauren Laverne, Tom Robinson and Tom Ravenscroft while the NME Radar were early to recognise the band's promising output when they reviewed soundcloud demos of the band's Mac Demarco-esque Wishing I Could Kill and their overdriven thrasher Stay Away. Having recently supported the likes of Buzzcocks, Ratboy, Jaws and The Big Moon whilst touring key venues across England, La Bete Blooms' new EP welcomes you into a paranoid and abrasive world via Hull labels The Adult Teeth Recording Company and Warren Records.
La Bete Blooms have grown in confidence since their inception, and by merging a wall of noise with a keen eye for melody, they have developedfrom their shoegaze beginnings to become a post-punk powerhouse. The band's desire to prove their worth with a unique take on life up North echoes their home of Hull's sentiments as it becomes 2017's UK City Of Culture.
View Profile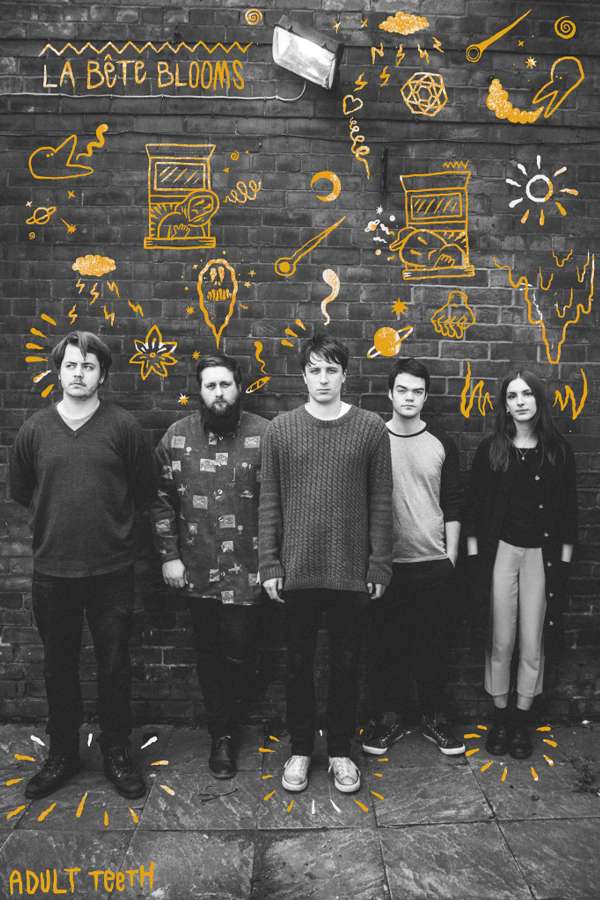 Yung Chiks