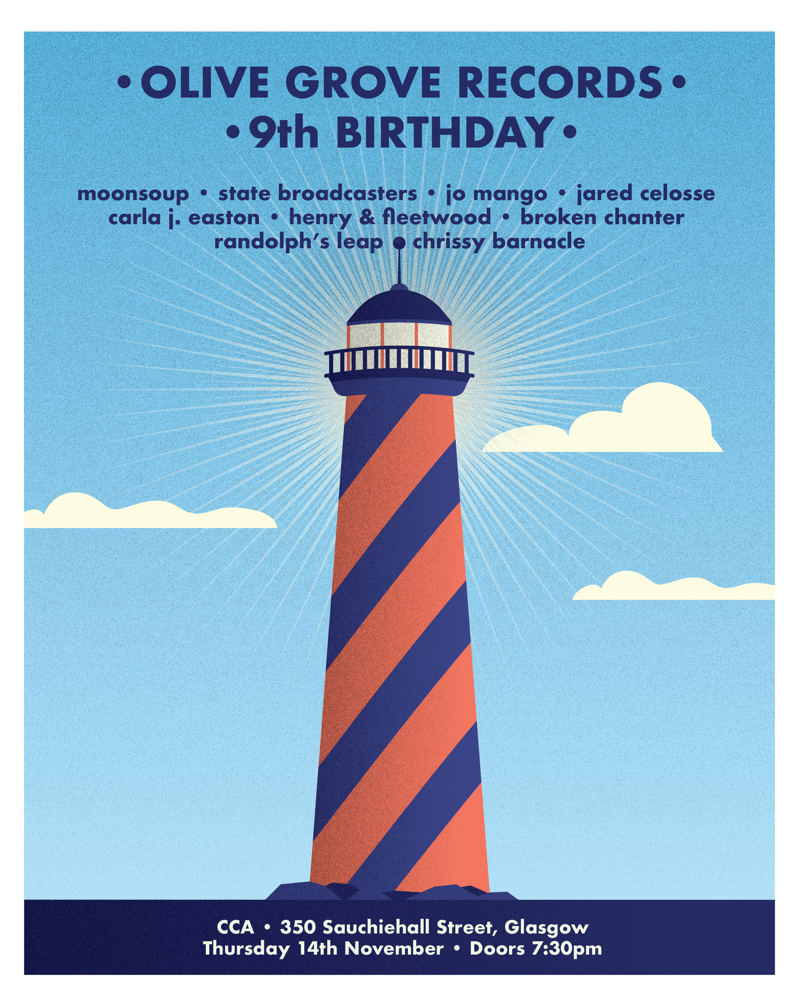 Olive Grove Records presents:
Olive Grove Records 9th Birthday Party
Randolph's Leap + Moonsoup + State Broadcasters + Jo Mango + Jared Celosse + Carla J. Easton + Henry & Fleetwood + Broken Chanter + Chrissy Barnacle
9:00
Entry Requirements: Over 18s
Buy Tickets
Glasgow DIY label, Olive Grove Records, celebrate their 9th birthday with an intimate gig showcasing the amazing of wealth of talent that that has amassed on their roster over the years. There will be 9 acts in all, made up of artists who have been with the label since it's inception, to exciting new up and coming artists.
Artists playing: Moonsoup, State Broadcasters, Jo Mango, Jared Celosse, Carla J. Easton, Henry & Fleetwood, Broken Chanter, Randolph's Leap and Chrissy Barnacle.
Line Up
21 year old singer-songwriter.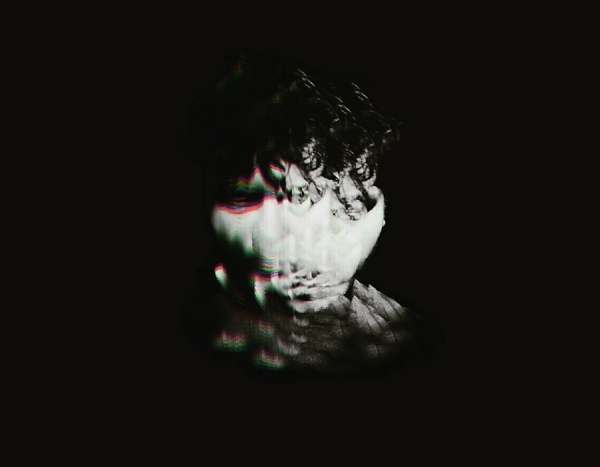 Wondrous, synth-soaked and uncompromising symphonic pop, Easton started out writing in the now cult-like MySpace-kids FUTURISTIC RETRO CHAMPIONS before founding the Spector-esque Wunderkind Girl-Group TEENCANTEEN. A productive 2016 saw the release of 2 critically acclaimed albums – TeenCanteen's 'SAY IT ALL WITH A KISS' (Longlisted for the Scottish Album of The Year 2017) and her debut solo album 'HOMEMADE LEMONADE' released under the alias ETTE (Bandcamp's #4 Album of 2016). Championed by BBC6Music's Marc Riley, Easton has performed across many key festivals and showcases both in the UK and Internationally – The Great Escape, Kendal Calling, Xpo North, Festival No. 6, Indietracks, Wickerman, T in The Park, Electric Fields, POP! Montreal (Canada) and Indiefjord (Norway).
Building a New Wall of Sound that fuses analog synths, anthemic brass and strings with dynamic drums, 2017 saw Easton working with producer HOWARD BILERMAN (ARCADE FIRE/ LEONARD COHEN/ GOD SPEED YOU/ BRITISH SEA POWER) to record her second full-length solo studio album at Hotel2Tango, Montreal, Canada. A development of songwriting, this collection of songs sits in a timeless dreamlike state, seductively introspective with outstanding pop melodies at their core, lyrically exploring themes of lucid dreaming and the blur between reality and fantasy.
The first single LIGHTS IN THE DARK was released in January 2018 (RECORD OF THE DAY, BBC SCOTLAND SINGLE OF THE WEEK) accompanied by a sold out tour (Edinburgh, Manchester and London) including a headline show for CELTIC CONNECTIONS, Glasgow.
Not one to rest, this was quickly followed by BEST FRIEND on the BELLE & SEBASTIAN 'HOW TO SOLVE OUR HUMAN PROBLEMS EP (PART 3)' (Matador Records) which Easton sings lead vocals on and co-wrote with Stuart Murdoch.
2018 will see Easton release more music from the Montreal sessions, with a further tour of the UK in October.