L Tango Promotions presents:
Martin Alvarado: Asi es mi tango
Martin Alvarado + London Tango Orchestra trio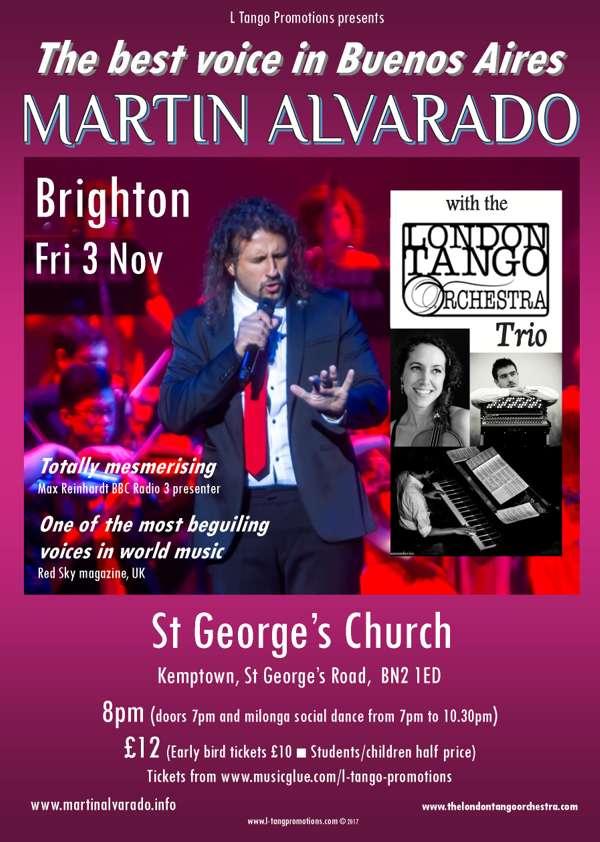 Martín Alvarado is a tango troubadour who has been described in Argentina as the "best voice in Buenos Aires" and in Britain as "one of the world's finest vocalists".
A mesmerising tenor known for his sublime live performances, he has been enchanting audiences as a soloist around the world for 14 years, performing in many major concert halls and festivals around the world, including the 6,000 seat Kremlim Palace Concert Hall in Moscow earlier this year. Among Alvarado's various plaudits is winning the Latin UK Award for Concert by International Artist of the Year in 2013. Over the past six years he has performed around the UK more than 100 times to great acclaim.
He will be joined by a trio of top musicians from the internationally renowned London Tango Orchestra with Caroline Pearsall on violin, Andrew Oliver on piano and Bartosz Glowacki on bandoneon
"The world need to experience this extreme form of aural pleasure… totally mesmerising, a tango epiphany." Max Reinhardt, BBC Radio 3 Late Junction presenter
"Indisputably one of the world's finest vocalists." – DJ Ritu, A World in London, Resonance RM
"The best voice in Buenos Aires" Hector de Rosas, former singer with Astor Piazzolla
"Stunning vocals … pure class!" Nottingham Post
"Glorious vocal phrasing … a masterclass in vocal expression" Derby Telegraph
Line Up
Martin Alvarado is Argentina's finest and most significant contemporary tango vocalist.
With his stunning tenor voice, he has achieved wide acclaim across the world over the past ten years, performing at major venues and festivals and often to sold-out concerts.
He is the most exciting voice to have emerged from Buenos Aires' tango scene for decades and his carefully chosen and highly praised repertoire includes old tangos, new tangos, and some rare work by Astor Piazzolla as well as some classic South American favourites.
His artistic mission is to take tango beyond the nostalgic cliche and his influences and inspiration to sing are drawn from beyond it and from artists such as Stevie Wonder and former Deep Purple vocalist Glenn Hughes.
Reviews "The world needs to experience this extreme form of aural pleasure ... totally mesmerising .... a tango epiphany" Max Reinhardt, BBC Radio 3 presenter
"Completely beguiling" Mary Ann Kennedy, BBC Radio 3
"The best voice in Buenos Aires" Hector de Rosas, former singer with Astor Piazzolla.
"With his high ranged and sensitive voice, Martín Alvarado turns on its head the tango model created by Carlos Gardel." El Universo, Ecuador
"One of today's great voices in tango" Oscar del Priore, La 2x4 Radio, Buenos Aires
"The quality of his voice is something very special indeed… Each night isn't just a show, for Alvarado, it's a work of art. In Martín Alvarado's hands – and moreover, his voice – tango has found not just a curator but an innovator to carry it forward." worldmusic.co.uk
"Tango is lucky not to have lost Martín Alvarado to opera" Aamulehti, Finland
"Martín Alvarado is taking tango to a whole new dimension" Rainlore's World of Music
"Incredible sets by Martin Alvarado and Mikko Helenius. What a show! A really wonderful revelation. Martin Alvarado's voice has range, power, feeling and charm. A gifted, very technical singer and superb showman." Negracha Tango Club, London (March 2012)
"A brilliant singer." BBC Radio Nottingham (July 2012)
"He has an extraordinarily beautiful voice." Helsingin Sanomat, Finland, (February 2012)
"… a certain Latino charisma mesmerises his audiences… the emotive phrasing was pure Argentinean seduction." Nottingham Post (March 2012)
"A voice to melt a thousand hearts." DJ Ritu SOAS Radio, London (November 2011)
"I believe I have been given a gift to play and sing and reach people's hearts. So iving it all whenever I have the chance to perform is my way to honour that gift I have been given." Interview in Nottingham Post (July 2011)
View Profile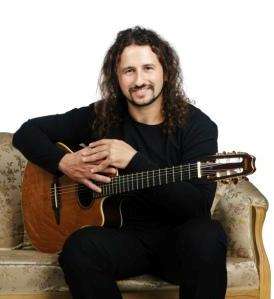 The London Tango Orchestra is the UK's leading professional tango "orquesta tipica" and performs tango, old and new, at concerts, milongas and workshops. Their performances so far include the Southbank, Chelsea Arts Club, the Royal Albert Hall, the City of London Festival, Union Chapel, the Quarterhouse in Folkestone, Reading Tango Festival and Halle Tango Festival in Germany.
The trio comprises orchestra director and founder violinist Caroline Pearsall who studied at the Birmingham Conservatoire and tango music with Juan José Mosalini and Gustavo Beytelmann in Paris and Holland and with and with celebrated tango violinists such as Pablo Agri, Ramiro Gallo, Leonardo Ferreira and Mauricio Marcelli in Argentina. She has performed with numerous tango projects and artists including Daniel Melingo, the Grand Orchestra of Juan Jose Mosalini, and Amelitar Baltar, touring in Morocco, Algeria, Spain, France, Belgium, Switzerland, Holland, and Sweden.
She founded the London Tango Orchestra in 2009 and is involved in various other world music projects which have toured Europe, the Middle East, and Argentina.
London-based pianist and composer Andrew Oliver performs and composes contemporary music across many genres but with a focus on contemporary jazz.
He studied in New Orleans before returning to his hometown of Portland, Oregon in 2005. Since moving to London, England in 2013, he continues to be involved in a wide range of interesting musical projects.
After traveling to Africa in 2007 on an American bursary. he has been involved in various world music projects in the USA, winning various grants and fellowships. In Oregon while working to encourage the creation and dissemination of jazz and creative music in the region, Andrew worked with Portland tango dancer and bandoneonist Alex Krebs in his tango orchestra.
In London, he performs regularly with his swing band, Oliver's Dime Notes, and other groups in the old-time jazz genre.
Bartosz Glowacki (bandoneon) is one of the leading lights of a new generation of accordionists.
He was born in Poland, where he has studied classical accordion at the National Music School in Sanok. In 2015 he graduated from The Royal Academy of Music with the first class diploma and Regency Award for noticeable achievements.
In 2009 he won the Polish Young Musician of the Year - one of many national and international prizes he has won - following which he represented Poland in the Eurovision Young Musicians Competition in Vienna.
As a soloist he has also performed in many prestigious concert halls, including, The Wigmore Hall and The Royal Festival Hall. As well as tango and being a soloist, Bartosz is an active chamber musician, founding the internationally acclaimed Deco Ensemble and has collabaorated with many world famous musicians such as Nigel Kennedy, Trevor Pinnock, Rob da Bank, Atom String Quartet, and Meccorre String Quartet.