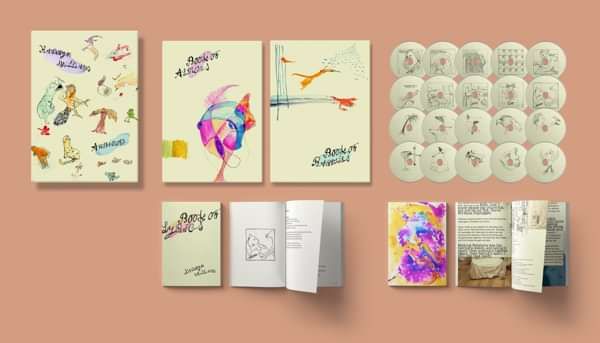 Kathryn Williams Anthology
In this new musical world when we talk about an artist's body of work we tend to think of a handful of records stretched out across of a handful of years, if we're lucky. A changing industry and a focus on immediacy has done little to alter such notions, which makes Kathryn Williams something of an anomaly - releasing eleven full-length albums under her own name (and more with various side-projects) since her debut LP, Dog Leap Stairs, was released in 1999 via her own CAW Records label.
As impressive a stat as that might be, it does little little to capture the true magic of Williams work; the enchanting craft that has grown and expanded as she's moved from one project to the next, from the breakthrough success of her Mercury Prize nominated 'Little Black Numbers' LP all the way to her Sylvia Plath tribute project and his year's 'Greatest Hits' collection - not a greatest hits at all, in fact, rather an imagined retrospective for a fictional artist and an inspired soundtrack to Laura Barnett's new novel of the same name.
---
Beautiful box featuring front cover painted by Kathryn contains:
10 x CDs of studio albums 1999 → 2015

10 x CDs containing bonus content for each album

1 x lyric book featuring drawings by Kathryn

1 x descriptive booklet containing: an essay by Jude Rogers introduction to every album by Kathryn paintings and drawings by Kathryn
Tracklist:
Dog Leap Stairs (Album)
Leazes Park
Night Came
What Am I Doing Here?
No-One To Blame
Something Like That
Lydia
Handy
Dog Without Wings
Fade
Madmen And Maniacs
Dog Leap Stairs (Bonus Disc)
Gran's cassette tape recording of KW aged 4
Mad Men And Maniacs (studio version from fade EP)
Kiss The Forehead (from Fade EP)
Cradle (from Fade EP)
Night Came (from hand painted cover record 1999)
Crazy (from hand painted cover record 1999)
I Wish (from hand painted cover record 1999)
Fade live at the Spitz London 2000 (bootleg from David Chandler)
No-one To Blame (live at the 12 Bar London 1999)
Fade (live at the 12 Bar London 1999)
Something Like That (Sam's Studio)
Little Black Numbers (Album)
We Dug A Hole
Soul To Feet
Stood
Jasmine Hoop
Fell Down Fast
Flicker
Intermission
Tell The Truth As If It Were Lies
Morning Song
Toocan
Each Star We See
We Came Down From The Trees
Little Black Numbers (Bonus Disc)
Some Kind Of Wonderful (Carole King - from the Soul to Feet EP)
Foreign Skies (B side from Jasmine Hoop single)
Stood (from home cassette recording 1995)
We Came Down From The Trees (from home recording 1999)
Changeling (unreleased from home recording)
Say Nothing (unreleased from home recording)
Fell Down Fast (live at the 12 Bar London 1999)
Flicker (live at Queen Elizabeth Hall Southbank London)
Jasmine Hoop (live at Queen Elizabeth Hall Southbank London)
Soul To Feet (live at Queen Elizabeth Hall Southbank London)
Old Low Light (Album)
Little Black Numbers 2.White, Blue and Red
Mirrorball
Devices
Daydream And Saunter
Beatles
Wolf
Tradition
Swimmer
On For You
No One Takes You Home
3am Phone Call
Old Low Light (Bonus Disc)
Little Black Numbers (live with loop pedal live at the Union Chapel)
Mirrorball (live at Cabaret Frappe Grenoble France)
Devices (live at Cabaret Frappe Grenoble France)
3am phone call (live at Cabaret Frappe Grenoble France)
Swimmer (live at Cabaret Frappe Grenoble France)
Beatles (live at Cabaret Frappe Grenoble France)
Daydream And Saunter (live at Colston Hall - solo support for the Be Good Tanyas)
Question Love (unreleased home recorded)
Without Beat Of Drum (B side of No-one Takes You Home)
On For You (live at Cambridge junction September 2002 bootleg)
Wolf (live at Cambridge Junction September 2002 bootleg)
Little Black Numbers (Live At The Union Chapel) 15 march 2017 - The Flying Seagull charity show
Relations (Album)
In A Broken Dream – David Bentley
Birds – Neil Young
Thirteen – Alex Chilton/Chris Bell
Hallelujah – Leonard Cohen
The Ballad Of Easy Rider – Roger McGuinn
A Guy What Takes His Time- Ralph Rainger
Candy Says - Lou Reed
How Can We Hang On To A Dream – Tim Harding
I Started A Joke – Gibb/Gibb/Gibb
Easy And Me – Lee Hazelwood
Spit On A Stranger All Apologies – Kurt Cobain
Beautiful Cosmos – Ivor Cutler
These Days – Jackson Browne
Relations (Bonus CD)
We are Kathy and Davey and Laura (Roches cover) from Bush Hall
Buzzin Fly (Tim Buckley)
People Ain't No Good (Nick Cave)
Hang Onto A Dream (Tim Hardin) demo
Saturday Sun (1999 Nick Drake tribute barbican)
Beautiful Cosmos (demo) (Ivor Cutler)
Candy Says (live at the Purcell Rooms South Bank London) (Lou Reed)
Strange Feeling Tim Buckley (home recording)
Piece Of My Heart (Janis Joplin - home recording
Overs (Paul Simon - B side to Beachy Head single {recorded with quartet live in garage})
Bird On The Wire - recorded by Raevennan Husbandes at St Pancras Old Church (Leonard Cohen)
All Apologies -Nirvana- home demo (Kurt Cobain)
Bird Can Sing (Beatles - un released track from studio)
Set Me Free (Kinks - girls night in)
Dancing In The Dark (Bruce Springsteen)
Thirteen - live at Bush Hall London (Alex Chilton & Chris Bell)
Spit On A Stranger – Live at Bush Hall London (Stephen Malkmus)
What Goes On - live at Cambridge junction bootleg (Velvet Underground)
Over Fly Over (Album)
Three
Indifference #1
Breath
Old Low Light #2
Just Like A Birthday
Shop Window
Beachy Head
Escaping City Streets
Untilt The Dark
Baby Blues
Full Colour
Over Fly Over (Bonus Disc)
Old Low Light (monitor mix Miloko Studios)
Three (lounge mix)
Breath (live Cabaret Frappe Grenoble France)
Baby Blues live (Bush Hall London, encore with support for the tour Clayhill Gavin Clarke singing)
Indifference (demo 2003)
City Streets (demo 2003)
Shop Window (demo 2003)
Full Colour (demo 2003)
Overcast (unreleased. Home recording)
The Gift (unreleased. Home recording)
Old Letters (unreleased. Home recording)
Leave To Remain (Album)
Blue Onto You
Let It Happen
Sustain Pedal
Stevie
Sandy L
When
Glass Bottom Boat
Hollow
Opened
Room In My Head
Leave To Remain (Bonus Disc)
Sustain Pedal (live at Cabaret Frappe Grenoble France)
Calderstones (unreleased song. Home recording)
Inside The Inside (unreleased song. Home recording)
May Be Here (unreleased song. Home recording)
Wintertime (unreleased song. Home recording)
The Long Ride (unreleased song. Home recording)
Let It Happen (demo)
Glass Bottom boat (demo)
Opened (home recording)
Hollow (demo)
Sustain Pedal (home recording)
Two (Album)
6am Corner
Innocent When You Dream
Come With Me
Before It Goes
Blue Fields
Frame
Grey Goes
Weather Forever
Shoulders
Armchair
Rolling Down
All
Holes In Your Life
Two (Bonus Disc)
My Dream (unreleased studio recordings from album session)
Just Let Me Go (unreleased studio recordings from album session)
Keep Score (unreleased studio recordings from album session)
Time Machine (unreleased studio recordings from album session)
Up North (unreleased studio recordings from album session)
Watch Him (unreleased studio recordings from album session)
Show Love (unreleased studio recordings from album session)
Ghost (Kath Williams And Neil Macoll Monitor Mixes For Two 09.06.07)
Star and Shadow (home recording)
Christmas In Hell (recorded for For Folks Sake Christmas album)
Grey Goes (home recording)
Come With Me live (live at the Union Chapel)
Grey Goes (live at the Union Chapel)
The Quickening (Album)
50 White Lines
Just A Feeling
Winter Is Sharp
Wanting And Waiting
Black Oil
Just Leave
Smoke
Cream Of The Crop
There Are Keys
Noble Guesses
Little Lesson
Up North
The Quickening (Bonus Disc)
Timer (unreleased studio recordings from album session)
Starlings (unreleased studio recordings from album session)
Nothing To Offer ( b side Just A Feeling)
Just A Feeling (live at the Purcell Rooms South Bank London)
Wanting And Waiting (live at the Purcell Rooms South Bank London)
Somewhere There Are keys (live at the Purcell Rooms South Bank London)
Just A Feeling (writing demo)
Pass Us By (home recording)
Pass Us By (Neill Maccoll studio)
Gateshead (unreleased song. Home recording)
It's Love (unreleased song. Home recording)
Master Of Me (unreleased song. Home recording)
Crown Electric (Album)
Underground
Gave It Away
Heart Shaped Stone
Count
Out Of Time
Monday Morning
Darkness Light
Picture Book
Morning Twilight
Arwen
Tequila
Sequins
The Known
Crown Electric (Bonus Disc)
Covers (unreleased songs recorded in studio session for album)
Same Page (unreleased songs recorded in studio session for album)
Sorrow Flies (unreleased songs recorded in studio session for album)
Morning Twilight (recorded late at Ed Harcourt studio as we wrote it and drank)
Tequila recorded at 50 50 studios
Heart Shaped Stone (demo recorded at Neill Maccolls house)
Arwen (writing demo with Chris Sheehan Tilton House)
The Known (writing demo with andy nunn (morcheeba) Tilton House)
Underground (home recording)
Gave It Away (writing demo)
Monday Morning (solo demo recorded on tour, in a hotel room with a bad cold)
Count (writing demo 2am recording at a Chris Difford writing retreat Hurst House Laugharne)
Picture Book (live at the Union Chapel
Sequins (live at Union Chapel)
Heart Shaped Stone (live at the Union Chapel with strings)
Hypoxia (Album)
Electric
Mirrors
Battleships
Cuckoo
Beating Heart
Tango With Marco
When Nothing Meant Less
The Mind Has Its Own Place
Part Of Us
Hypoxia (Bonus Disc)
Mirrors (recorded on tour in Aberdeen by Ben Trig with David Page)
Mind Is Its Own Place (recorded on tour in Aberdeen by Ben Trig with David Page)
Electric (recorded on tour in Aberdeen by Ben Trig with David Page
Beating Heart (recorded on tour in Aberdeen by Ben Trig with David Page)
Tango With Marco (recorded on tour in Aberdeen by Ben Trig with David Page)
Cuckoo (first draft recorded on tour in Aberdeen by Ben Trig with David Page
When Nothing Meant Less (recorded on tour in Aberdeen by Ben Trig with David Page)
Battleships (writing demo with Jon Thorne. Recorded in Travelodge room on day off at the side of the A1)
Part Of Us (recorded with David Saw in a stairwell. Hurst House at a Chris Difford retreat)
Nothing Meant Less. (Home recording)