Karousel Music presents:
Reeperbahn 2022: Karousel, SESAC, MNRK & Campaign Pass Networking and Showcase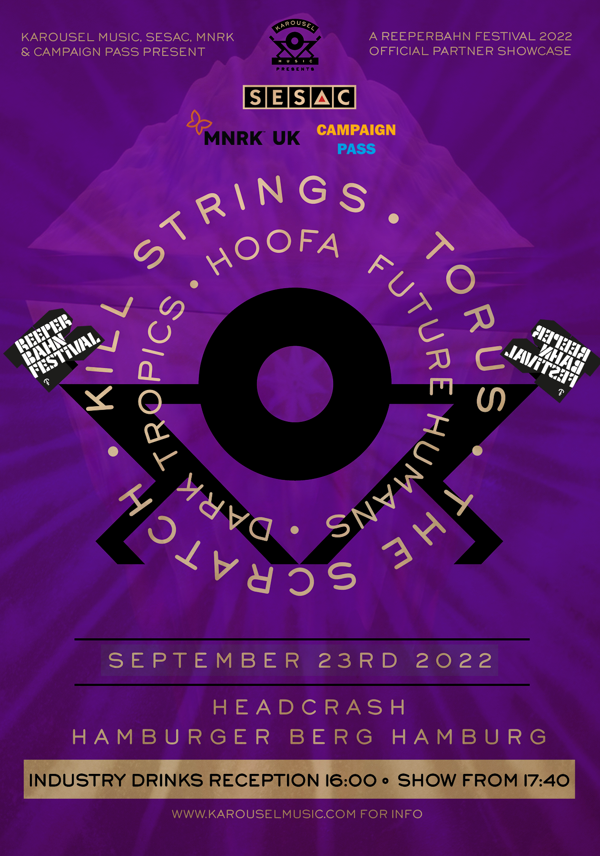 We would love to see you at headCRASH for our annual Reeperbahn industry networking drinks with US Collection PRO SESAC; alongside our friends from MNRK Music Group and
ADDRESS IS: Hamburger Berg 13, 20359 Hamburg, Germany Click HERE for Googlemaps location.
Meet our collaborators:
SESAC
SESAC is a US Performing Rights Organisation, and competitor to BMI and ASCAP. SESAC is the only U.S.-based Music Rights Organization that administers public performance, mechanical, synchronization and other rights. Artists include Adele, Bob Dylan, Neil Diamond, Guns n Roses and REM. From the UK, in addition to Adele, SESAC is proud to represent the creative forces behind artists as talented and diverse as Disclosure, Sam Smith, Glass Animals, Alt-J, Wolf Alice, Mumford & Sons and many more Come and say hello to John Sweeney, the Vice President, Creative Services International. www.sesac.com
MNRK MUSIC GROUP
Global independent music company MNRK is a home for world-class music creators. Home to over 50 labels including Dualtone, Last Gang, and Indieblu as well as management and music publishing divisions housing GRAMMY Award winners and platinum sellers. MNRK Music Group has offices around the world, including New York, Los Angeles, Toronto, Nashville, Miami, London, Hamburg and Melbourne.
CAMPAIGN PASS
Campaign Pass is the one stop shop for Music Campaigns, providing access to professional advice and support across the three main pillars behind music campaigns, Advertising, PR & Strategy. Campaign Pass is a monthly subscription service for just £49 a month, this cost covers our time and effort supporting Artists. We don't take commission on ad spend, so we'll never recommend you advertise unless we think it's worth it, and we know that not every Artist wants to (or can afford to) advertise, so we also provide support and guidance around the best PR and Playlisting options available without breaking the bank. Strategically we can help you plan a release, figure out where the best value per pound is, and support you there. We look at the whole picture and add value where it's needed most.
KAROUSEL MUSIC
is a music industry CIC running industry showcases and networking events around a boutique publishing and management roster. Karousel also recently launched their label, Buried Treasure. Read about it in MBW here. By the end of this show we will have given 517 showcase slots to artists in front of industry since 2011 where the acts keep 100% of ticket sales and tips. www.karouselmusic.com
The networking will be followed by a 6 act showcase, playlist and videos below.
STAGE TIMES
17:40 + Hoofa
18:35 + Kill Strings
19:30 + Dark Tropics
20:25 + Future Humans
21:20 + The Scratch
22:15 + Torus