Karousel Music presents:
Michele and Romeo Stodart (The Magic Numbers) Present...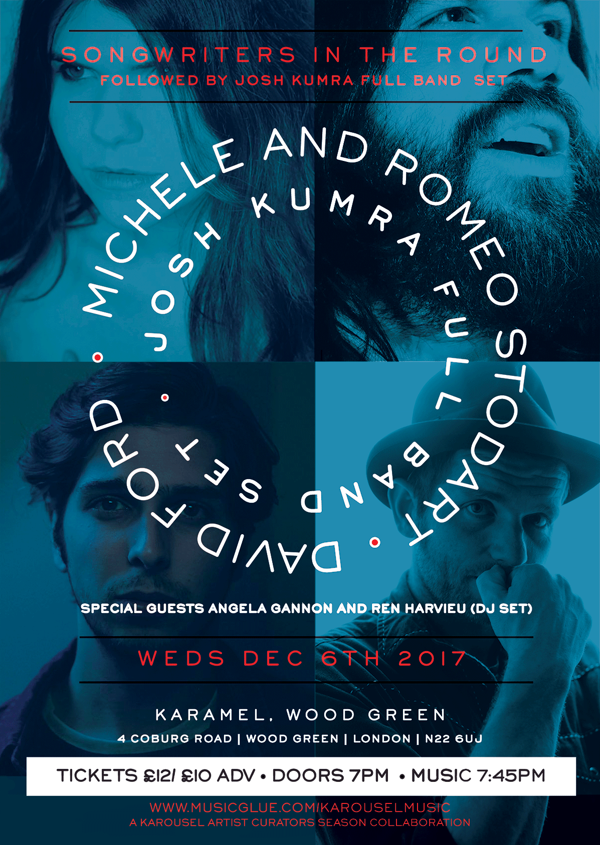 Michele and Romeo Stodart (The Magic Numbers), in association with Karousel Music, present Songwriters in The Round, followed by full band set from Josh Kumra, and special guest appearance DJ sets from Ren Harvieu and Angela Gannon.
This promises to be a beautiful night of music and songwriting. With 2 sets & 4 artists not to mention some special guests included Ren Harvieu & Angie Gannon.
The night kicks off with a 'Songwriters In The Round'. Michele Stodart Official, brother Romeo of The Magic Numbers - Official and Eastbourne's hunk David Ford, will be playing and talking about songwriting, lyrics, muses, secrets, dark times, and all things that make those three chords and the truth really come to life.
Then after with a short break of DJ skills... and song requests we close the night with the incredible Josh Kumra Official and full band - check out more details of these artists below and support LIVE MUSIC! x
Biographies:
JOSH KUMRA:
A thoughtful singer/songwriter originally from Swindon. Likened to a young Ray Lamontagne, Josh is best known for providing the raspy vocals on Wretch 32's UK chart topper Don't Go. He released his debut album on Sony RCA and has since toured throughout the UK and Europe with artists including Lianne La Havas, One Republic and Gabrielle Aplin. He is currently working on his next album set to be released early next year. A must see performer with a voice thats older than his time.
Facebook: https://www.facebook.com/joshkumra/
---
DAVID FORD
With four critically-acclaimed studio albums and a live show defined by the British music press as "unmissable," David Ford is essential listening for anyone who gives a damn about music.
Ford's songs combine Americana, English melodicism and a touch of rock 'n' roll, tied together with finely-crafted lyrics. His emotive stories of social commentary, politics and love in a world going to hell are powerful, engaging and hark back to an era of classic songwriting. Think Tom Waits, Neil Young and Randy Newman. From raw-throated passion to delicate piano balladry, Ford's music is intelligent, witty and authoritative.
Hailing from the South Coast of England, Ford has been lauded by press and public alike throughout his decade-long solo career. His debut album, I Sincerely Apologise For All The Trouble I've Caused, was included in both The Times and Word Magazine's top ten albums of the year and his latest album, Charge, was described by press as his "best album to date. " His records have achieved number one slots on iTunes and in February 2014, a bizarre twist of fate saw him travelling to Paris to receive the French Grammy award for song of the year. Ford ended 2014 with a sell-out tour of the UK backed by a string quartet, playing selections from his new mini-album, The Arrangement. Then in a shift of direction that has come to typify his uniquely eclectic brand of creativity, Ford toured the UK in May 2015 with a show he called "The One-Man Full-Band Show". This featured Ford playing an entire stage full of instruments linked together by a home-made array of loop machines and triggering devices that helped him produce a full-on rock show played by one person.
A multi-instrumentalist and master of the loop pedal, Ford's mesmerising live performances regularly sell-out venues on both sides of the Atlantic. As well as playing headline shows to his devoted and loyal fan base, he has toured with and supported artists such as Elvis Costello, Ray LaMontagne, Aimee Mann, Sara Bareilles, Gomez, Aqualung, Richard Ashcroft, Suzanne Vega, Augustana, Ingrid Michaelson and Jakob Dylan.
Despite countless plaudits, the songwriter flies below the radar for many, a subject he has documented in a book entitled, I Choose This – How To Nearly Make It In The Music Industry. Yet Ford's exquisite songwriting and powerful live performances ensure he remains one of the UK's most important singer/songwriters in the eyes of critics and genuine music lovers.
"Unmissable – 5 out of 5." The Guardian
"One of Britain's best." The Times
"Genuine depth and striking authority."** Rolling Stone**
"Smart, angry, witty, emotional songs, delivered with raw-throated passion."** The Telegraph**
"Puts everything into every word." The LA Times
"David Ford is the eternal thrill of a young man going way too far and pulling it off." Word Magazine
"Sends a chill up the spine." The Sunday Times
Useful links: Website: http://www.davidfordmusic.com/ Facebook: https://www.facebook.com/davidfordmusic Twitter: https://twitter.com/davidfordisdead Contact: davfordisdead@gmail.com
---
MICHELE STODART:
Over a decade since The Magic Numbers landed in the top ten with their double-platinum-selling debut album, Michele Stodart has taken temporary leave of the band she formed with her brother Romeo, to release her second solo album 'Pieces'. Released four years after her solo debut, 'Wide-Eyed Crossing', the nine songs that comprise 'Pieces' confirm that, almost by stealth, Michele has turned into an artist in her own right and is building up something really special and intimate with her audiences.
The bedrock of Michele's writing is a reliance on rock-solid melodies that always stop short of outstaying their welcome. Keen to ensure that the tunes earned their place on the record, Michele wrote most of the songs on 'Pieces' away from her guitar – only setting them to chord sequences when they refused to leave her head. "Steeped in languid melancholy... [it] sits in a rich tradition that encompasses such touchstone female performers as Karen Dalton, Judie Sill... Emmylou Harris and Gillian Welch...
'Pieces' may just be the most impressive record she's ever made" - 8/10 - Uncut "...instantly engaging and evocative melodies and sung with an open and honest conviction that reflects the experiences that inform her words... Stodart's album is a thing of perfection" - Folk Radio UK