Karousel Music presents:
IAFAR Educational Event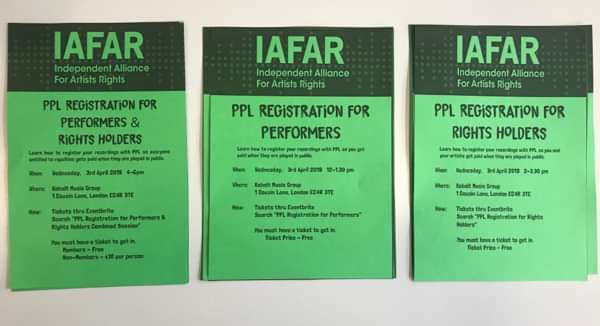 IAFAR
Our great friends at IAFAR (The Independent Association For Artist Rights) are running an educational workshop for performers and rights holders to get you the crucial info on your neighbouring rights (eg PPL). We are well aware of how tricky this is to navigate, and we want to get you the information you need to ensure your career and income are cared for properly, and set up how they should be.
For more info on IAFAR, and to join the organisation please visit their website here.
SESSIONS
The first two sessions are open for all, for free. The 4pm session is £10 for non members and free for members.

12pm - 1.30pm - Registrations for Performers (10 places) - A step by step guide
2pm - 3.30pm - Registrations for Rights Holders (10 places) – A step by step guide
4pm - 6pm - Joint session of each of above (10 places) - A Step by step guide - £10 or free for Members


We will send you a very brief 6 question survey following the event to help us create the best possible events for you.