Karousel Music presents:
Reeperbahn 2018 Networking Drinks With Karousel Music, SESAC, Help Musicians UK & Leaf
Lydmor + Friedberg + Be Charlotte + Fatherson + Makola + LIFE
headCRASH, Hamburg, DE
Free with Festival Wristband
Entry Requirements: Festival Wristband or Artist Guestlist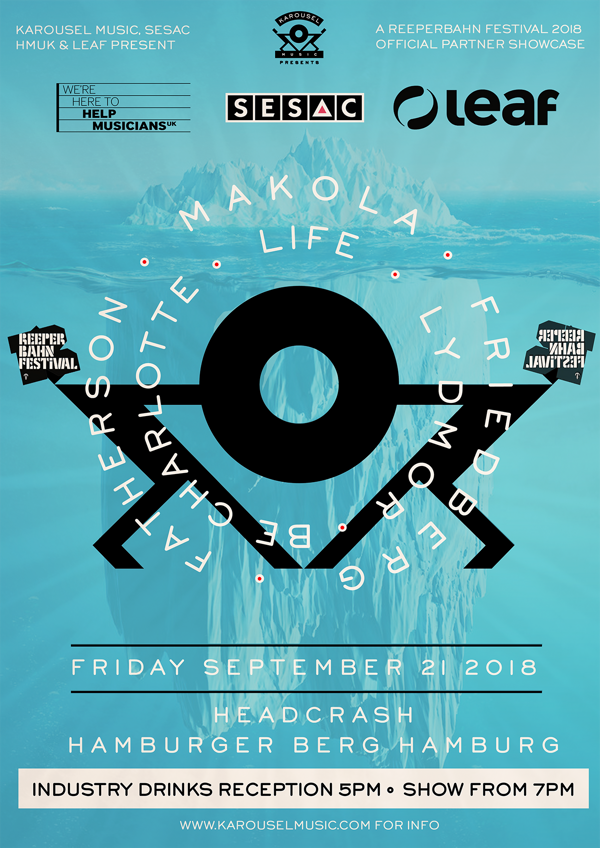 It's our great pleasure to welcome you to our pre Showcase Networking Drinks. Come along and say hello to the guys from SESAC, HMUK, Karousel and Leaf - as ever we'll be on hand to make any introductions. This is followed upstairs at 7pm by a 6 act showcase. It's our fifth year here with SESAC, our third with HMUK and our second with Leaf - If you're not aware of the charity and the amazing work they do, or you'd like to know more about US Collection giants SESAC and audience growth pioneers Leaf, then please do read on; below is info on all four partners. Members from all four will be around throughout the night at the showcase.
SHOWCASE TIMINGS
19:00 Lydmor
19:50 Friedberg
20:40 Be Charlotte
21:30 Fatherson
22:30 Makola
23:30 Life


About the partners:


KAROUSEL MUSIC is a music industry collective based in London. Under the Karousel Music umbrella falls a range of activities including a boutique music publisher, administered by Wixen Music UK; both London based and international conference showcases for the best breaking talent in front of fans and industry; a London based studio and a forthcoming singles label. This Reeperbahn show will make it 454 showcase slots that Karousel have given to acts since 2011, and where ticketed, the acts always keep 100%. In addition to this, Karousel organise a range of industry networking events and socials to help emerging artists, emerging industry, and established pro's come together. As well as 'Industry Speed Dating' events, an unlikely highlight in the Karousel calendar is the Music Biz Speed Quiz that takes place in Soho and has seen teams and team members from across the industry compete (fiercely!) including The Orchard, Believe, INGrooves, Phonofile, BMI, Universal, Communion, SESAC, FastForward, PledgeMusic, Music Glue, Recognition, Ticket Master, PRSF, BASCA, Air MTM, Wixen Music, Cadenza Box, HMUK and many more. Karousel Music is a Community Interest Company. www.karouselmusic.com
SESAC
SESAC is a US Performing Rights Organisation, and competitor to BMI and ASCAP. SESAC is the only U.S.-based Music Rights Organization that administers public performance, mechanical, synchronization and other rights. SESAC Holdings is unique in its ability to offer singular licenses for the works of its affiliated writers and publishers that aggregate both performance and mechanical rights in order to drive greater efficiency in licensing for music users, as well as enhanced value for music creators and publishers. Its businesses operate on a sophisticated information technology and data platform to provide timely, efficient royalty collection and distribution. Artists include Adele, Bob Dylan, Charlie XCX, Neil Diamond and Mumford & Sons. Come and say hello to John Sweeney, the Vice President, Creative Services International. SESAC recently announced a deal with US Radio that sees SESAC writers receiving a reported 50% more for radio plays than one of their competitors. www.sesac.com
Help Musicians UK
Since 1921, the charity has provided help, support and opportunities to empower musicians at all stages of their lives and the music community as a whole. HMUK has impacted 14,000 individuals in the music community in the last year alone and can offer a vital lifeline when problems strike, such as an accident or illness. The charity works to create a sustainable future for all musicians and the industry, supporting those who work in the music industry through grants, health and welfare services, campaigning, professional development and initiatives. It exists to advocate, educate and provide information around issues which affect musicians and the industry that surrounds them.
In Dec 2017 the charity launched Music Minds Matter, a mental health support line and service for the music industry. It provides a listening ear, information, signposting, specialist advice, counselling and access to the health and welfare services of HMUK all free of charge. People can call 0808 802 8008 in confidence at any time of day or night or email mmm@helpmusicians.org.uk HMUK is here to help. Find out more at www.helpmusicians.org.uk
Leaf
Leaf is an audience development platform built to empower the artist ecosystem with a suite of smart digital tools and services to engage, grow and monetise premium quality music fans, on a global scale. We help you reach the right fan in the right place with the right content, delivering unrivalled return on investment. For more info on their services check out their deck... Click here