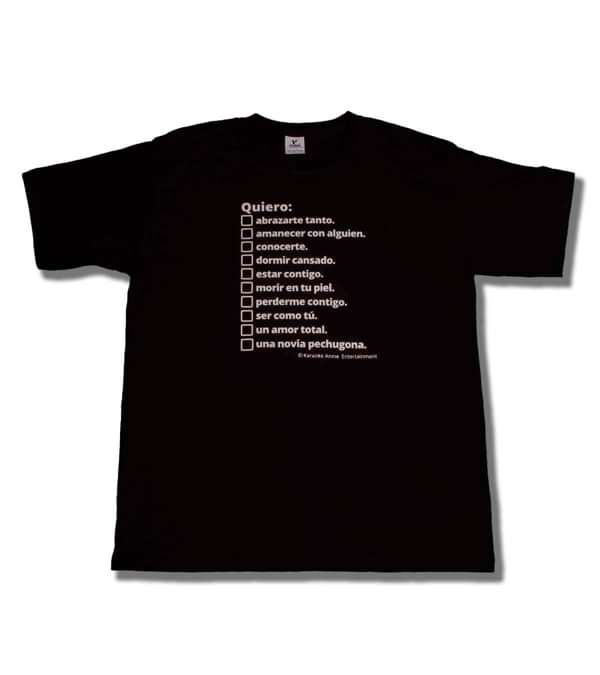 "Quiero..." Playera de Lista de Canciones (español)
¿Alguna vez has notado cuántas canciones son sobre el deseo? Deje que el mundo sepa lo que quiere, con referencias a 10 títulos de canciones populares de karaoke. Marque su deseo #1 con un etiqueta o un marcador permanente, o manténgalos adivinando. Serigrafía duradera, 100% de algodón. Hecho en Mexico. Lavable en la lavadora.
PARA EVITAR GASTOS DE ENVÍO, ORDENA PARA RECOGER EN LA PRÓXIMA NOCHE DE KARAOKE EN SAN MIGUEL DE ALLENDE, MÉXICO. ENVÍO EN MÉXICO $100MN.
TO AVOID SHIPPING COSTS, ORDER FOR PICKUP ON KARAOKE NIGHT IN SAN MIGUEL DE ALLENDE, GTO, MÉXICO. SHIPPING IN MÉXICO 100 PESOS. SHIPPING TO U.S. & CANADA $10USD FOR THE 1ST ITEM + $3USD PER ADDITIONAL ITEM. ALLOW 3 WEEKS FOR INTERNATIONAL DELIVERY.