Collage presents:
Notes from the Underground
Buy Tickets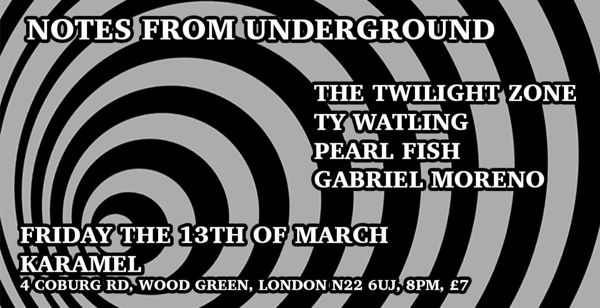 NOTES FROM UNDERGROUND RETURNS with a special country/folk/alternative singer-songwriter edition blessed with the likes of Ty Watling and Twilight Zone which includes the national treasure BJ COLE on pedal Steel and singer songwriters Grace Solero and Dan Beaulaurier.
TWILIGHT ZONE
Twilight Zone is the fusion of three songwriters who tap into their dreamy, spacey, atmospheric side, combining the ethereal and sometimes haunting voice of Grace Solero with BJ Cole on pedal steel guitar and Dan Beaulaurier on baritone guitar and vocals. It's like traveling in time where everything becomes possible, between light and shadows.
Guests TY WATLING and PEARL FISH are two of the most exciting, innovative and talented songwriters in the UK Alternative Folk scene.
Hosted and curated by Gabriel Moreno who will play a set too.
Gabriel hosts and curates the Poetry Brothel London, The Lantern Society, Poetry Mondays at The Empire and other events in the London underground scene.