Kaleidoscope HQ Farewell Party - Callum Pitt w/support from Cortney Dixon
Callum Pitt + Cortney Dixon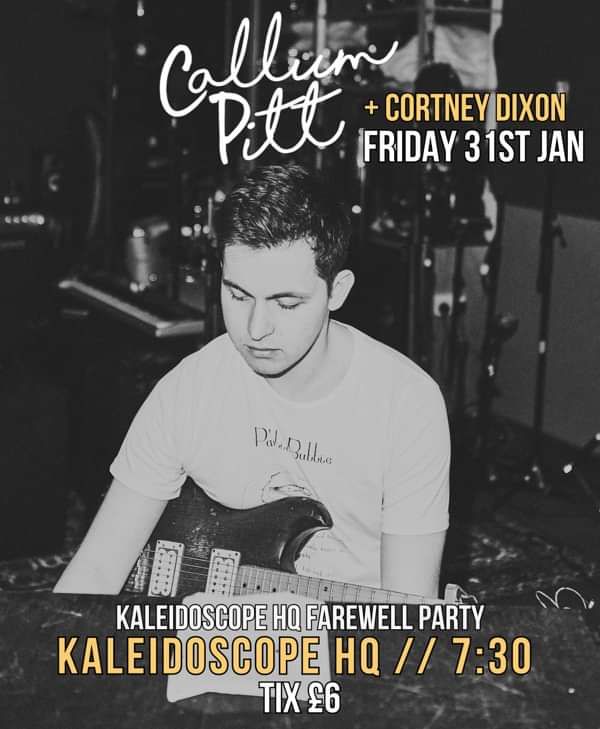 For the past 2 years we (Kaleidoscope) have lived in this building, recording, demoing and releasing music from Shields, Callum Pitt, Fever Days, Penguin, Grace Gillespie, Becca James and more alongside putting on gigs and sessions monthly. On 31st Jan we sadly/happily hand the building over to Little Buildings and will be commemorating this with a farewell gig and party!
Callum Pitt is headlining with support from Cortney Dixon. Spaces are very limited so get your tickets while you can.
Line Up
Rising indie artist Callum Pitt combines finger-picked folk riffs with a stunning falsetto voice and multiple layers of harmonies. Callum's 2017 debut "You'd Better Sell It While You Can" yielded immediate industry attention, piqued by coverage from the likes of DIY, Fresh On The Net and Crack In The Road. Follow up tracks "Least He's Happy" and "Rabbits" had more success still, landing on Spotify's coveted 'New Music Friday' playlists across Europe, with the latter track receiving airplay from BBC Radio 1 and BBC 6 Music. Callum also steadily built his live following throughout the year with support slots for Dan Owen, Cape Cub, Isaac Gracie, The Pale White, as well as a slot at Selfridges Music Matters new music gig series with Mullally and Joy Crookes. This string of live shows culminated in his first headline show November, which sold out within two days, a full month ahead of the show. Following an impressive debut year, Callum Pitt is one to watch closely in 2018.
"Callum Pitt… harnesses the lilting nature of Americana, producing some intricate guitar licks and roll-off-the-tongue lyrics that converge into a swelling chorus that sweeps you off your feet." (DIY)
View Profile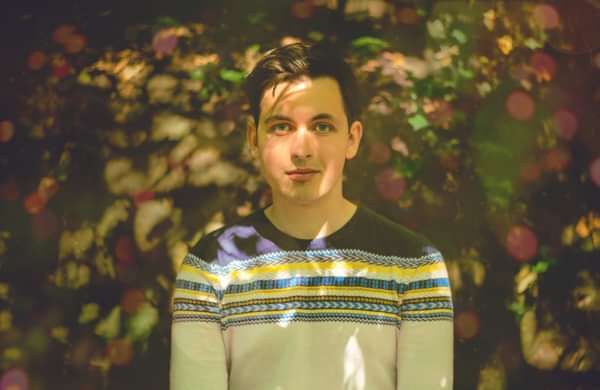 "...the same sort of songwriting gene pool as classic 70's stuff from the likes of Carly Simon and Fleetwood Mac...and there's more than a touch of - whisper it – Kate Bush about this ..." The Crack
Cortney Dixon, Newcastle UK's young award winning and rising star, released her hotly anticipated debut single "Summer's Eyes" at the end of the Summer. The first release from the forthcoming "Our Intuition" EP, produced by Jim Lowe (Stereophonics/Charlatans), sent her rapidly growing follower numbers racing. Hot on its heels, is Live favourite 'What You Wanna Do', championed by BBC Introducing in the North East with on-going playlist and Live radio session support.
A prolific writer and winner of 'Ubeat Songwriter of the Year', Cortney's creativity extends way beyond her music. She creates and produces her own videos, styles her photo sessions , visualises her own artwork and is a passionate collector of vintage clothes.
Raised on an eclectic mix of music, Cortney loves the likes of St Vincent, Maggie Rodgers, Bon Iver , is a fan of ska/punk bands including The Specials, The Clash and The Beat and grew up listening to Fleetwood Mac, Bowie and Kate Bush.
Engaging with authentic Geordie warmth, quirky charm and charismatic style, Cortney, also an unmissable Live performer, made her international debut with her full band at the Reeperbahn Festival in Hamburg in September and has more gigs in the run-up to the EP launch early in 2020 so keep an eye on her socials for more info!
View Profile