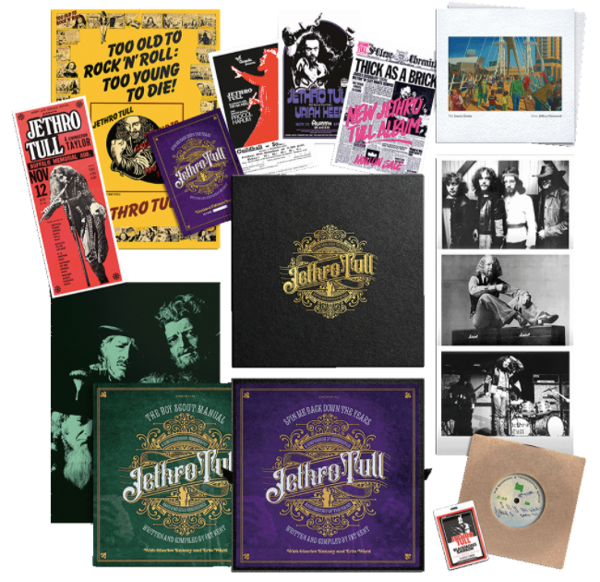 Pat Kent: Jethro Tull Spin Me Back Down The Years Deluxe Edition
Limited Deluxe Edition by Pat Kent!
SPIN ME BACK DOWN THE YEARS DELUXE DOUBLE HARDBACK EDITION!
The Deluxe Boxed Edition
It is the definitive book about Tull and the content is astounding!
A comprehensive guide to the history and pre-history of one of the greatest rock bands of the 1960's, 70's and beyond.
Once tagged by Melody Maker as being 'Bigger than the Beatles' this double volume set provides a history of the band as seen and recorded through the eyes of a life long fan together with contributions from other fans alongside contemporary and past interviews with former band members and guests.
Exploring the early days of 'The Blades', 'The John Evan Band, 'The Dwellers', The Motivation' and more, taking you through the fledgling days of 'Jethro Tull' to the glory days of 1970's stadium superstardom and the tensions that led to band splits press criticism and new directions.
The history references the staggering number of tours and shows undertaken by the band alongside discographies and rare memorabilia from the personal collections of the author Pat Kent, Charlie Kenney, Erin Ward as well as several other major collectors.
Unseen and rare photographs from several leading photographers litter the pages throughout providing a colourful insight to one of the worlds most dynamic bands.
The design by Martin Cook captures the sheer scale of the 'Tull' machine at its peak.
This book has been a long time coming and reflects a life long passion by Pat Kent, Erin Ward and Charlie Kenney, it's been a labour of love and it's been captured in these two substantial volumes of work.
**Volume One - 'Spin Me Back Down The Years' ** A hard backed 472 page history of the band as recounted by Pat Kent with contributions from Charlie Kenney, Erin Ward and other fans who detail some of their recollections. Lengthy interviews with Martin Barre and Dee Palmer and further input from Peter John Vetesse, Don Airey, Eddie Jobson, Andy Giddings, Clive Bunker and more.
Volume Two - 'The Boy Scout Manual' This companion hard backed book will contain, additional images of rare memorabilia, photographs, many previously unseen, selected from our own collections, as well as from renowned photographers across the years, including, Carl Dunn, Joe Astromowicz, Tom Holsclaw, Chris Fenger and Martin Webb. This volume will also incorporate biographies of some of the key members, and an insight into the post-Tull art work of Jeffrey Hammond along with a comprehensive look at the worldwide singles collection of Charlie Kenney along with other discographies and listings of filmed performances. As above but it will come in a presentation slipcase housing two 12"x12" volumes along with reproduction handbill, poster, passes and photographic memorabilia.
This edition will also contain a vinyl pressing of an acetate belonging to Clive Bunker of a 1968 recording featuring 'Clive Bunker & Friends'.
100% Unofficial!
Available for general pre order now!
Please note that the 7" vinyl will ship separately due to the long running lead times at the pressing plants
Notice for Customers Outside of the UK Please be aware that these orders will ship from the UK. If you are ordering from outside of the UK please check what Import Duties/Taxes you may be liable to pay before ordering. Local VAT is covered under IOSS IM3720002536 up to £125**