The Book of Iona - 17CD Box Set 2nd Pressing with FREE Dave Bainbridge 'To the Far Away' MP3 Sampler
Book of Iona with FREE MP3
This bundle also includes: Dave Bainbrige - To The Far Away Sampler
Special Preview 'To The Far Away' Sampler!
Hi
As you bought the Book of Iona box set, Dave would like to send you a free download of extracts from his new album 'To The Far Away'. Featuring former Iona band mates Troy Donockley, Frank van Essen and Martin Nolan as well as the voices of Sally Minnear (Lord of the Dance) and Iain Hornal (10CC / Jeff Lynne's ELO), 'To The Far Away' is already getting amazing initial responses from those who've received the download version:
"Truly is an amazing piece of Celtic prog, a masterclass, congratulations!! In fact, the hairs on the back on my neck stood up as soon as 'Sea Gazer' started!"
"I'm thrilled! Great compositions and arrangements! A lot seems somehow familiar and yet it sounds new. Harmonically edgier than before and I love it already. thank you!"
"Astonishing beautiful. A wonderful album."
"The music on 'To The Far Away' is blissful to my ears, and moving to my soul!"
"After listening to the track, 'Ghost Light', four or five times, I consider this a masterpiece."
"Absolutely sublime!!"
The download version is available now, with other formats out later next month. Order any format and receive the download version straight away.
This bundle also includes: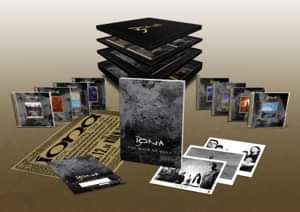 The Book Of Iona 17CD box set - 2nd Pressing
The Book Of Iona 17CD box set - 2nd Pressing
The second pressing of this amazing 17 disc set, capturing not only all the studio albums from Iona but featuring about the same amount of music again on a Companion Disc for each album. These Companion Discs, which Dave Bainbridge has personally overseen the assembly of include rare and unreleased studio recordings, different mixes, original demos, recordings from Iona rehearsal and writing sessions and more. Below are the full track listings for each Companion Disc. Also included are 'Snowdonia' (originally disc 4 of the now unavailable River Flows box set) and disc 17, 'The Sound of Iona', which is a full cd of new recordings of Iona pieces, mainly recorded during lockdown, featuring collaborations between Dave and various Iona members.
In addition to the extra audio content of the box, also included is:
24 page A4 Booklet (full of previously unseen photos of the band and thoughts on Iona from all past band members and journalist Mike Rimmer), new sleeve notes by Dave Bainbridge to accompany each disc, numbered Certificate (signed by Dave Bainbridge, Reproduction poster and publicity photos.
Order your set TODAY!!
IONA COMPANION DISC
Turning Tide (REMASTERED)

Flight of the Wild Goose 1 (ORIGINAL DEMO)

Flight of the Wild Goose 2 (REMASTERED)

The Island 1 (ORIGINAL DEMO)

The Island 2 (REMASTERED)

White Sands (ORIGINAL DEMO)

Dancing on the Wall 1 (ORIGINAL DEMO)

Dancing on the Wall 2 (REMASTERED)

A Machair (REMASTERED)

Vision of Naran 1 (ORIGINAL DEMO)

Vision of Naran 2 (REMASTERED)

Beijing 1 (ORIGINAL DEMO)

Beijing 2 (2003 REMIX)

Iona 1 (ORIGINAL DEMO)

Iona 2 (REMASTERED)

Trilogy (ORIGINAL DEMO)

Here I Stand (ALTERNATE MIX)

Columcille (ALTERNATE MIX)

Looking from Mull (UNRELEASED DEMO)
THE BOOK OF KELLS COMPANION DISC
Kells Opening Theme (ORIGINAL DEMO)

Revelation 1 (ORIGINAL DEMO)

Revelation 2 (STUDIO DEMO)

Revelation 3 (MONITOR MIX)

Matthew The Man 1 (ORIGINAL DEMO)

Matthew The Man 2 (MONITOR MIX)

Matthew The Man 3 (ORIGINAL DEMO)

Matthew The Man 4 (MONITOR MIX)

Chi-Rho (MONITOR MIX)

Mark the Lion (STUDIO DEMO)

Tree of Life (UNRELEASED)

The River Flows (ORIGINAL DEMO)

Virgin & Child (STUDIO DEMO)

John the Eagle (ORIGINAL DEMO)

Kells Theme (ORIGINAL DEMO)

Kells Theme Jig! (ORIGINAL DEMO)

Eternity (NEW VERSION)

Warrior of the Wasteland (UNRELEASED)

Lost Tribe (UNRELEASED DEMO)

Dun I (UNRELEASED DEMO)

Watching You (UNRELEASED DEMO)

Place of Kings (UNRELEASED DEMO)

My Town (UNRELEASED)

Hard Way to Learn (UNRELEASED DEMO)

Rèilig Odhrain (UNRELEASED DEMO)
BEYOND THESE SHORES COMPANION DISC
Prayer on the Mountain (ORIGINAL DEMO)

Treasure 1 (DEMO)

Treasure 2 (REHEARSAL)

Prayer on the Mountain/Brendan's Voyage (DEMO)

Brendan's Voyage (ORIGINAL DEMO)

Edge of the World (REHEARSAL)

Today (DEMO)

View of the Islands 1 (ORIGINAL DEMO)

View of the Islands 2 (DEMO)

Bird of Heaven 1 (ORIGINAL DEMO)

Bird of Heaven 2 (UNRELEASED DEMO)

Bird of Heaven 3 (ORIGINAL DEMO)

Bird of Heaven 4 (ORIGINAL DEMO)

Bird of Heaven (2007 REMIX)

Machrie Moor (SOLO HARP MIX)

Healing 1 (MONITOR MIX)

Healing 2 (REHEARSAL)

Burning Like Fire (REHEARSAL)

Adrift (ORIGINAL DEMO)

Beachy Head (REHEARSAL)

Murlough Bay (ORIGINAL DEMO)

Brendan's Return (ORIGINAL DEMO)

We Journey On (UNRELEASED DEMO)
JOURNEY INTO THE MORN COMPANION DISC
Bi-Se I Mo Shuil Part 1 (ORIGINAL DEMO)

Irish Day 1 (REHEARSAL)

Irish Day 2 (REHEARSAL)

Irish Day 3 (REHEARSAL)

Irish Day 4 (REHEARSAL)

Everything Changes (UNRELEASED/NEW DEMO)

Inside My Heart 1 (WRITING SESSION)

Inside My Heart 2 (WRITING SESSION)

Encircling 1 (ORIGINAL DEMO)

Encircling 2 (ORIGINAL DEMO)

Encircling 3 (ORIGINAL DEMO)

Encircling 4 (ORIGINAL DEMO)

Encircling 5 (ORIGINAL DEMO)

Encircling 4 (ORIGINAL DEMO)

Journey into the Morn 1 (WRITING SESSION)

Journey into the Morn 2 (WRITING SESSION)

Journey into the Morn 3 (WRITING SESSION)

Journey into the Morn (2007 REMIX)

Lindisfarne 1 (WRITING SESSION)

Lindisfarne 2 (WRITING SESSION)

The Search (ORIGINAL DEMO)

Divine Presence (ORIGINAL DEMO)

Heaven's Bright Sun 1 (ORIGINAL DEMO)

Heaven's Bright Sun 2 (ORIGINAL DEMO)

Be Thou My Vision (UNRELEASED DEMO)

I Am the Great Sun (UNRELEASED DEMO)

In Everything (NEW SONG)
OPEN SKY COMPANION DISC
1.Woven Cord (REHEARSAL)
2.Wave after Wave 1 (ORIGINAL DEMO)
3.Wave after Wave 2 (MONITOR MIX)
4.Open Sky (MONITOR MIX)
Hinba 1 (ORIGINAL DEMO)

Hinba 2 (MONITOR MIX)

Songs of Ascent Part 1 1 (DEMO)

Songs of Ascent Part 1 2 (DEMO)

Friendship's Door (MONITOR MIX)

Song of the Waves (MONITOR MIX)

Glittering Surf (UNRELEASED/NEW)

Lament for the World (UNRELEASED/NEW)

Bouzouki Fun (UNRELEASED DEMO)

My God I Thank Thee (UNRELEASED DEMO)

A Dhia Gheigil (Angel of God) (VOCAL DEMO)

I Cannot Understand (UNRELEASED DEMO)

The Spacious Firmament 1 (WRITING SESSION)

The Spacious Firmament 2 (WRITING SESSION)
THE CIRCLING HOUR COMPANION DISC
The Everbeating Sea 1 (DEMO)

The Everbeating Sea 2 (MONITOR MIX)

Children of Time (ORIGINAL DEMO)

Strength 1 (ORIGINAL DEMO)

Strength 2 (DEMO)

Factory of Magnificent Souls (DEMO)

Skymaps (ORIGINAL DEMO)

Fire (ORIGINAL DEMO)

Fragment (of a Fiery Sun) 1 (WRITING SESSION)

Fragment (of a Fiery Sun) 2 (WRITING SESSION)

Summer's Afternoon (UNRELEASED DEMO)

Strength Reprise 1 (ALTERNATE MIX)

Strength Reprise 2 (ALTERNATE MIX)

Strength Reprise 3 (ALTERNATE MIX)

Life is Precious (UNRELEASED MIX)

Faith (UNRELEASED DEMO)

Untitled Sketch (UNRELEASED DEMO)

Spirit of God (ALTERNATE MIX)

Almighty Father who Dost Give (ALTERNATE MIX)

Fragment (of a Fiery Sun) 3 (DEMO)
ANOTHER REALM COMPANION DISC
The Ancient Wells 1 (original demo)

The Ancient Wells 2 (2013 remix)

Another Realm 1 (original demo)

Another Realm 2 (demo)

Another Realm 3 (monitor mix)

Clouds (original demo)

And the Angels Dance 1 (original demo)

And the Angels Dance 2 (single remix)

Foreign Soil (original demo)

White Horse (demo)

All that we Have ever dreamed (unreleased song)

Between Heaven and Earth (unreleased piece)

Gotta Lift Our Eyes Up (unreleased demo)

The Crossing (unreleased piece)
THE SOUND OF IONA
To The Far Away Mike Haughton (Soprano Sax) & Dave Bainbridge (Keyboard)

Shell of Speech Tim Harries (Sound Manipulation & Bass), with Dave Bainbridge (Guitar & Keyboards).

Air from France Martin Nolan (Low Whistle) & Dave Bainbridge (Keyboards)

Angel of God Dave Bainbridge (Guitar & Keyboards)

I Will Give My Love an Apple Dave Bainbridge (Piano)

Wave after Wave Troy Donockley (Uilleann Pipes, Whistles, E Bow Guitar), Dave Bainbridge (Keyboards, 12 String Guitars, Goat Nails), Martin Neil (Tinkly Percussion)

Dun I Julie Darling (Celtic Harp), David Fitzgerald (Tin Whistle & Flute) & Dave Bainbridge (Keyboards)

Fragment (of a Fiery Sun) Frank van Essen (Violins & Keyboards) & Dave Bainbridge (Keyboards)

White Sands Nick Beggs (Chapman Stick), with Dave Bainbridge (Keyboards).

Yesterday, Today and Forever Dave Bainbridge (Piano)

Friendship's Door Frank van Essen (Violin & Keyboards)

Luke - the Calf Dave Bainbridge (Guitar, Roland VG8 Synth Guitar, Keyboards)

A Path Across Dave Bainbridge (Acoustic Guitars, Keys, Piano), Mike Haughton (Soprano Sax), Troy Donockley (Low Whistle), Robert Fripp (Frippertronics), Joanne Hogg (Vocals), Peter Whitfield (Violins, Viola), Francis Cummings (Violin), Mansell Morgan (Violin), Richard Williamson (Viola), Anna Frazer (Cello), Christopher Hoyle (Cello), Rebecca Whettan (Cello), Miriam Shaftoe (Double Bass)

Bright Sun Dave Bainbridge (Guitars, Keyboards & Percussion), Martin Neil (Percussion), Troy Donockley (Uilleann Pipes, Tin Whistle, Low Whistle, Vocals), Joanne Hogg (Vocal Loops), Terl Bryant (Tofran)