Ducking Punches 1000th show celebration coming in September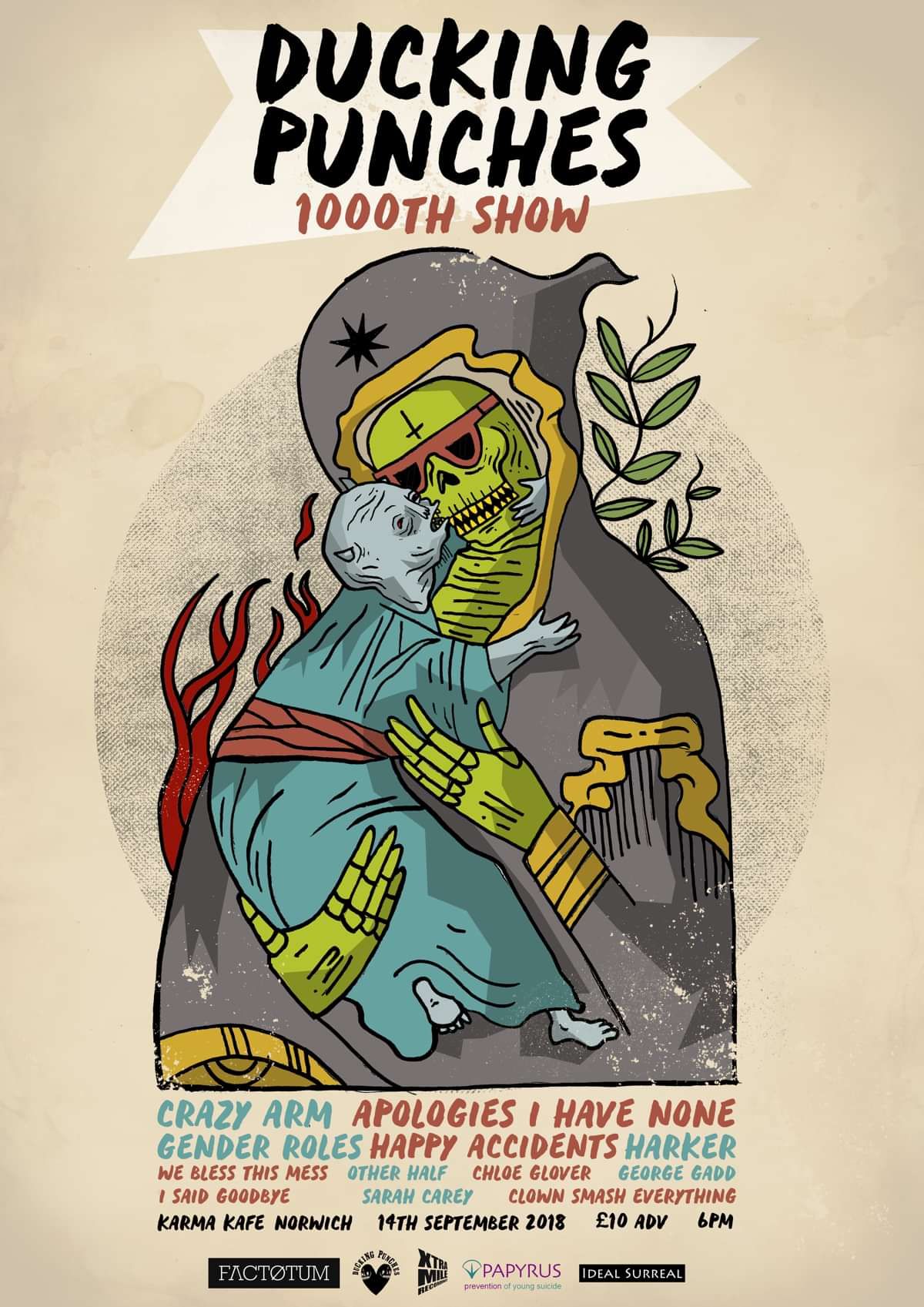 Ideal Surreal is pleased to present.........
Ducking Punches 1000th Show Celebration featuring;
Ducking Punches Crazy Arm Apologies I have None Happy Accidents We Bless This Mess Chloe Glover Other Half Gender Roles I Said Goodbye Clown Smash Everything Sarah Carey George Gadd
Followed by an alternative disco party until 3am
Karma Kafe Friday 14th September 18:00 – Close
We at Ideal Surreal have been enjoying our Summer holiday's recently however the workoholics we are have also lined up a couple of juicy Autumn 18 Karma Kafe Shakedowns for you lovely lovely people, the first of which is simply an absolute belter.
Ducking Punches join us on Friday 14th September for their 1000th show. That's correct, 1000, 999+1, or 'M' in Roman speak. The 'Punches' have also chosen their own supports in what we hope will become an ATP-esc - "these are my favourite bands" - melodic mixtape. I like asking bands to curate their own shows, I hope there'll be more of these!
Joining storytelling songsters Ducking Punches on the top floor, are melancholic Punk quartet Apologies I have None, Indie-Punk three piece Gender Roles and Post Punk Power Poppers I Said Goodbye.
Things are equally enjoyable in the basement where Plymouths favourite Americana Punks Crazy Arm are joined by Happy Accidents, your next new favourite band. Brightons best dancers Harker, who play crictally aclaimed Punk Rock, spooky Pop songsters Other Half and locals Clown Smash Everything.
Filling this musical sandwich is quieter collection of solo performers including Sarah Carey, George Gadd, Chloe Glover, We Bless This Mess.
The live showcase is followed by the usual Karma Friday club nights on floors top n middle and our own special 'alternative' disco party in the basement until 3am.
Doors are 18:00 – Close.
Entry is £10adv/£12door and tickets are available from https://idealsurreal.bandcamp.com/releases or www.idealsurreal.co.uk