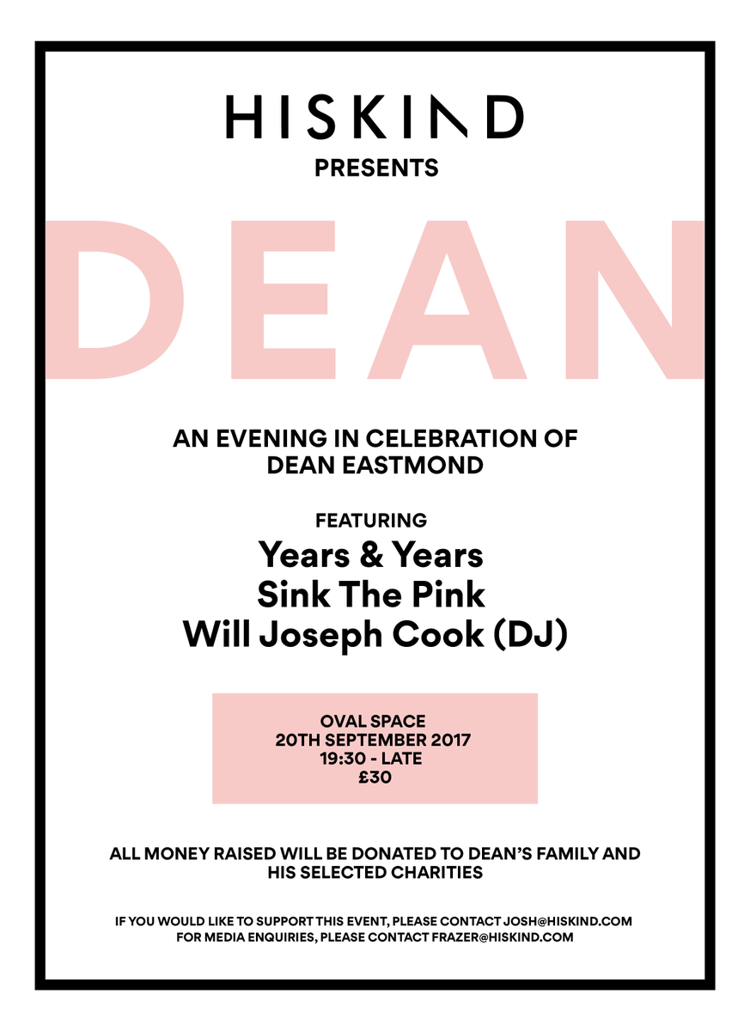 HISKIND Magazine presents:
HISKIND Presents - Dean
Years & Years + Will Joseph Cook + Sink The Pink + WUT? Club + Charles + Oscar King
£30
Entry Requirements: 18+ 6.30pm until late
AN EVENING CELEBRATING THE LATE DEAN EASTMOND: LGBT+ JOURNALIST AND CANCER ACTIVIST
OVAL SPACE // LONDON // SEPTEMBER 20
(London, UK – September 8, 2017) – LGBT+ journalist, HISKIND co-founder and cancer activist Dean Eastmond was diagnosed with Ewing's Sarcoma in 2015 and was given a 50% chance of survival. He was soon sent to Florida for specialist Proton Beam therapy treatment and following a gruelling 12-month fight with chemotherapy, was advised that the cancer had spread. Dean recently received the heart wrenching news that his cancer was terminal and that instead of the years he was hoping to fight for, he was fighting for just weeks.
Dean sadly passed away on Sunday morning surrounded by his family and boyfriend Adam. We were hoping Dean might make it to September 20 to see and feel all the love that has been so profound and forthcoming during these extremely difficult past few months.
Co-founder of HISKIND, Josh Fletcher, and the wider community came together a few weeks ago wanting to support Dean in his continued fight for equality. We are now more empowered than ever and are proud to present DEAN: an evening celebrating Dean Eastmond and his incredible achievements, whilst raising money for the charities closest to his heart and also his amazing family who have supported him throughout this horrible period.
Taking place at London's Oval Space on Wednesday September 20, the evening will capture everything Dean stood for and was passionate about from live bands, vogue dancers, spoken word, drag, live artists and live catwalk / models.
The evening will predominantly be open to Dean's family, friends and supporters. A limited number of general public tickets are available via a online ballot from 14th September.
The ballot will close this Friday.
At the time of his passing, Dean was just 21. He achieved so much and inspired so many people. Through his journalism, he tackled various issues within the community and even used his voice to launch his own publication, HISKIND.
HISKIND's mission is to make LGBT+ content accessible to all, adopting a mainstream distribution model for a more inclusive and tolerant society. When Dean was diagnosed with cancer, he used his platform to support other patients, raise awareness and fight the injustices he faced during his treatment.
Most notably, Dean has used his platform as a writer to share his journey with readers and to campaign against inequalities in the health-care system.
Due to the cancer treatment required, Dean was told early on that he would become infertile. After discussing the implications with his boyfriend Adam, his partner of two years, he decided to use the sperm bank at the hospital. However, he was told that because he was gay, if he did pass away or became mentally incapable, his partner wouldn't be able to use his sperm sample.
Dean set out to get the policy changed and whilst working with Buzzfeed UK, he was able to win an apology from the Human Fertilisation and Embryology Authority. The process for same-sex couples has now been brought in line with that for heterosexuals. Following this incredible achievement, Dean since went on to win an Attitiude Pride Award.
Dean was a huge advocate for LGBT+ equality and was incredibly passionate about the community that supported him during his diagnosis and treatment. In times of difficulty, we see shimmers of hope as members of the LGBT+ community go out of their way to support others in need.
If you would like to donate to Dean's chosen charities – Teenage Cancer Trust, Clic Sargent and Sarcoma UK – and his family, then please follow the link here: https://www.justgiving.com/crowdfunding/deaneastmond
Line Up
Years & Years
Will Joseph Cook
Sink The Pink
WUT? Club
Charles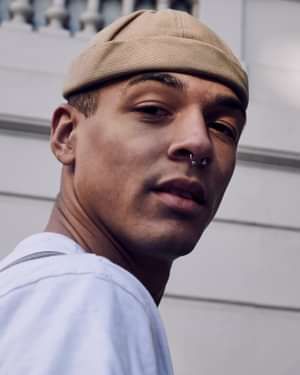 Oscar King