24th June NEW TOUR. With those mega chuffers in Black Peaks.
https://scontent-lhr3-1.xx.fbcdn.net/v/t35.0-12/13493743_10210223073041997_1708883462_o.jpg?oh=a8e646ed5c92265c65613a6c045c6471&oe=576F4CBA
Monday 1st February
We've Been Slack On This, 'ere News Thingy, But Just In Case You Didn't Know - The Greatest Band In The World Are Joining Us On TOUR - RAKETKANON.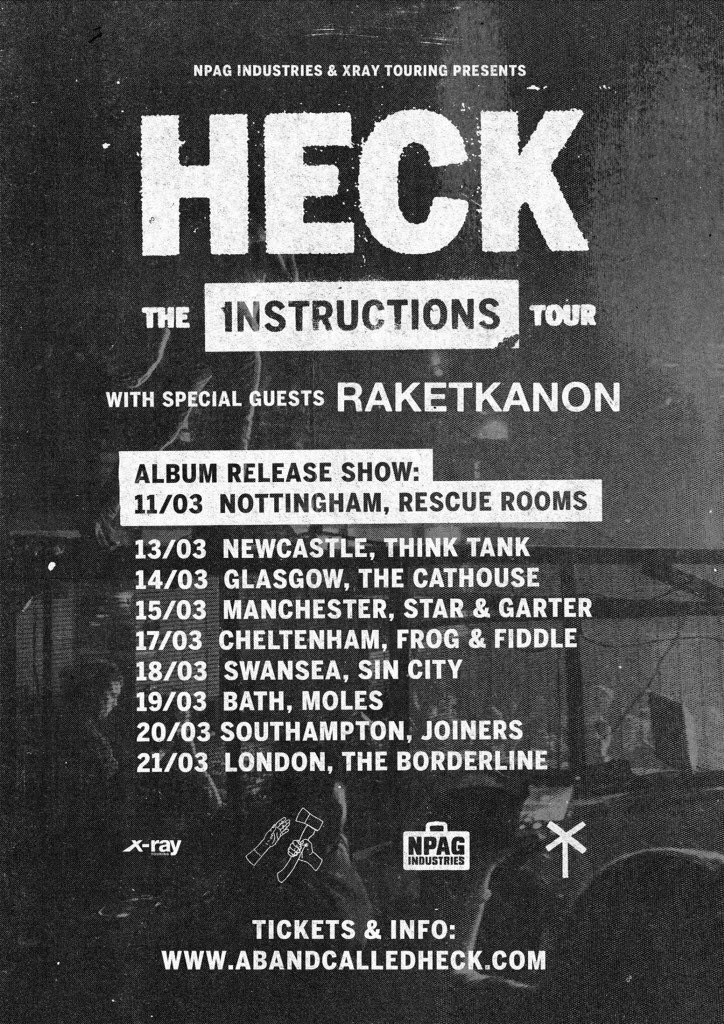 Tickets, stuff and things available from the HECKstore. Love HECK x
---
Wednesday 16th December
HECK TOUR 2016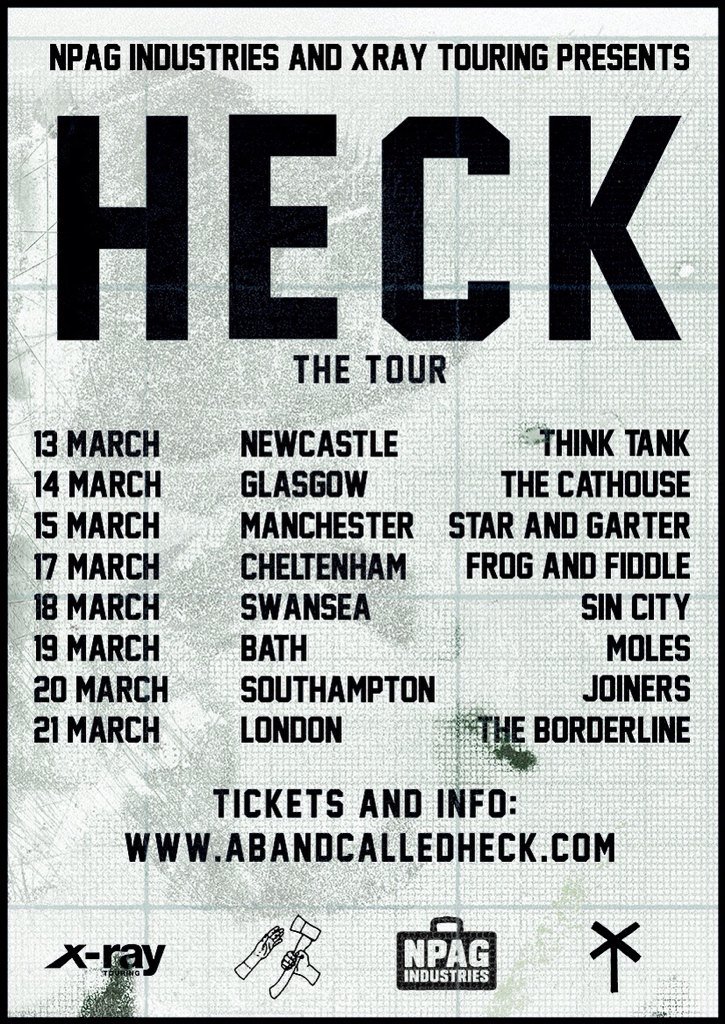 We head out for our biggest headline tour to date in March 2016. New set-up. New songs. New danger. Tickets available from the 'Gigs' page. Hope to see you all there, but in the mean time, have a bloody merry Christmas, a happy new year and be great to one-another. See you next year!
HECK x
---
Monday 14th December
INTRODUCING: HECK BULLHORN!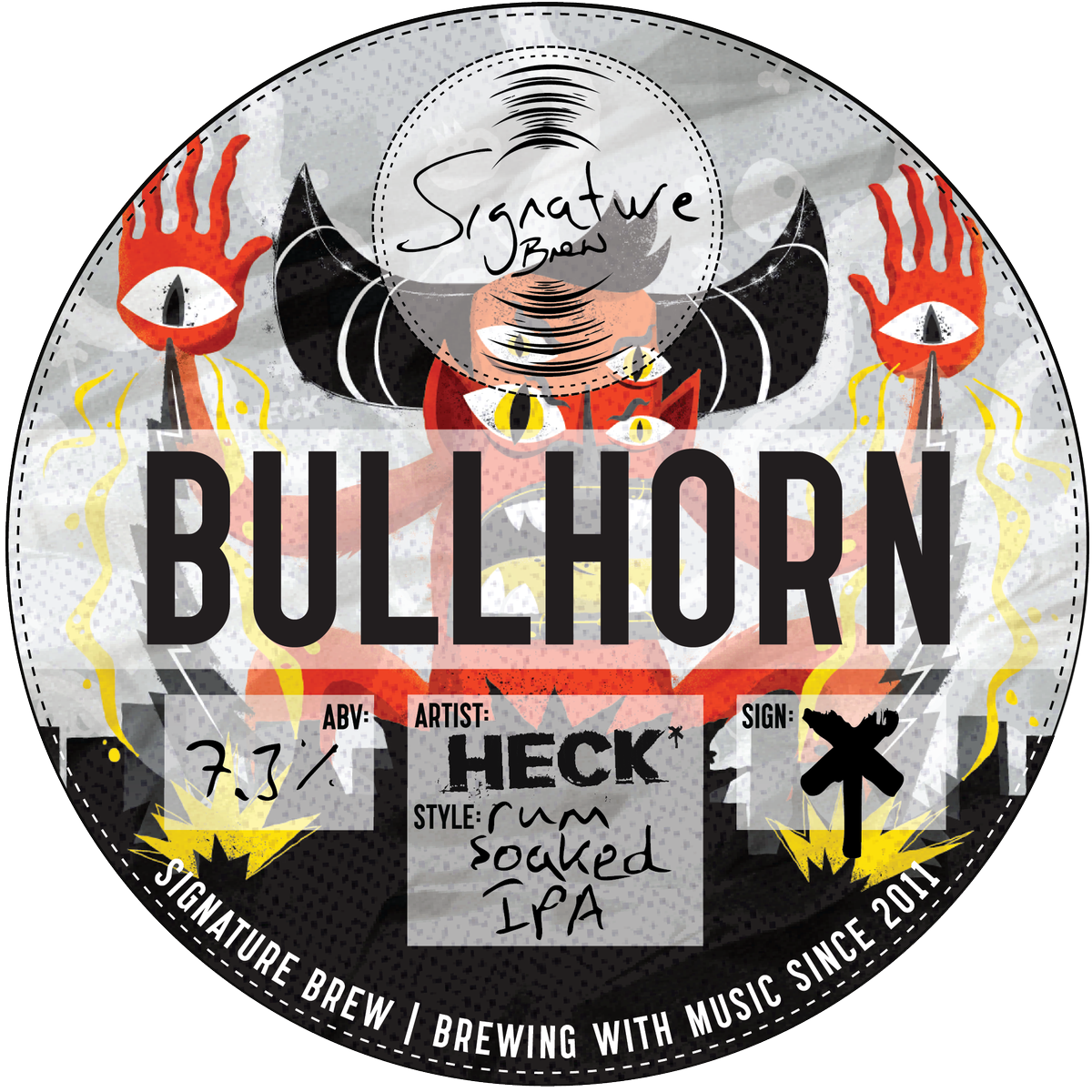 That's right my festive friends, to celebrate the winter season, the glory of rock music and everything being generally awesome, we've teamed up with the absolute gents at Signature Brew and can now unveil our beast of a beer. A 7.3% rum-soaked Imperial IPA, it was brewed to compare to the intensity of a HECK gig. This fucker's got power.
It'll be finding it's way to bars around the country soon so let us know what you think of it!
We've also printed a super special limited run of BULLHORN themed t-shirts to celebrate this fact. It's got our mate on it who got gored by a bull. Brutal. Check in the store for deets yo.
Cheers x
---
Friday 30th October
THE BREAKERS - OUT NOW
Yup! It's finally here! The Breakers has been unleashed upon the world and all is well again. We've also put up a video for Brain, the bangin' B-side. You can see it o'er there --->
Love x
---
Friday 16th October
The Breakers Video
The good folks at Vevo have decided to premiere our video. It was shot by the magnificent Dan Sturgess. That's all there is to say really. Click on the video tab and enjoy.
---
Wednesday 7th September
The Breakers - Pre-order
That's right you snotty lot, our new single The Breakers is available to preorder now! To get it, click hither and it shall be delivered to you forthwith, along with the 'ripping'* B-side, Brain. You can't hear Brain yet, but trust me, it's awesome.
Also, tickets are shifting for these gigs, so get 'em while they're hot!
*this word was genuinely used to describe Brain.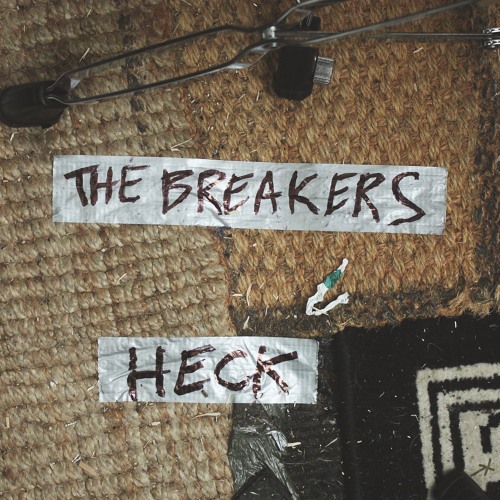 ---
Thursday 24th September
THE BIRTH OF NPAG INDUSTRIES
Yup, after a long and arduous search, we have finally found a home for our music with the formation of NPAG Industries. Naturally, we're all really fucking excited, and have been swanning around in pinstripe suits chuffing cigars being all label fat-catty for the last few days, but we did take a little time out to announce THE BREAKERS - our new 'single' - and A BITCHIN' TOUR.
Details of how to get the single for keeps will be with you shortly, but until then get to our GIGS page and grab yourself a ticket for what will be the most punishing tour we've ever done. Word.
---